10 Great Movies To Watch Before Netflix Gets Rid Of Them On March 1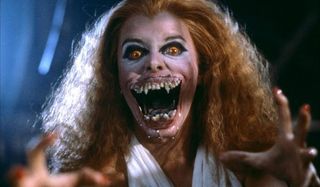 The end of the month is soon approaching, and that's a rather big deal for Netflix subscribers. That's because the flip of the calendar page means that a good number of movies will both arriving and departing from the online streaming service. We've already given you the run down on the new titles that will be debuting, but now it's time to looking at the features that will soon be getting the boot.
When the date changes to March 1st we will see a number of great films leaving Netflix (opens in new tab), but we've highlighted 10 of the best ones below. We highly recommend watching each and every one of them before the end of the week!
Se7en
In 2014, director David Fincher put more than a few chills down our spine with his movie Gone Girl, but for the next few days on Netflix you'll be able to catch what is widely considered to be the filmmaker's first great film: Se7en. Creating a killer pairing with Brad Pitt and Morgan Freeman, the movie creates an intense, epically dark atmosphere and unfolds as one of the best mystery films of the modern era. It features some of the most iconic cinematic moments from the 1990s, and if nobody has ruined the end of the movie for you yet, you should watch this one ASAP so that you can experience the glorious shocks of its final moments without knowing what's coming.
Desperado
When writer-director Robert Rodriguez was first starting out in the 1990s, he became best known for his motif defined by ridiculously over-the-top action that came with a Mexican twist. To this day Desperado still represents the pinnacle of that style. Though the movie was made on an extremely tight budget, its shootout scenes are still thoroughly exciting and captivating from beginning to end, and the film features a parade of great stars and fan-favorite character actors, including Antonio Banderas, Salma Hayek, Steve Buscemi, Cheech Marin, Danny Trejo, and even Quentin Tarantino. It's the kind of movie that you can really watch on an endless loop, and you shouldn't miss your opportunity to watch it at least once before it leaves Netflix.
Arachnophobia
Like a lot of people on this planet, I have a rather deep fear of spiders. I find pretty much every aspect of their existence terrifying, from their eight eyes to the way that they digest their prey. Obviously having this fear isn't exactly a great thing, but it does have one positive element to it: it makes Frank Marshall's Arachnophobia one of the most effective horror films I've ever seen. Pretty much anyone who is even modestly afflicted by the film's titular condition will find that this movie will get under their skin in the worst way - and as a result it's a pretty fantastic horror experience. Plus, you also get to enjoy the presence of both Jeff Daniels and John Goodman together in a feature, so that's a win-win.
Pretty In Pink
Earlier this month we celebrated the 30th anniversary of The Breakfast Club, and while that brilliant teen film is sadly not currently available on Netflix streaming, in the next few days you can catch another classic from the mind of John Hughes. Pretty In Pink - which Hughes wrote but didn't direct – assembles many of the teen actors known as the Brat Pack, and is considered one of the quintessential movies of the 1980s. Its plot following a girl who must romantically choose between her childhood friend and a hunky new guy sounds understandably dull in a modern context, but the film was still a key part of a growing teen movie genre back in its day, and is still quite entertaining.
Fright Night
Due to issues with the rights, the original Fright Night is actually hard to find on Blu-ray, so if you want to enjoy some of the best vampire movies that the 1980s had to offer, right now Netflix is your best bet. While it's definitely more of a Halloween film than one to watch in mid-winter, the frozen air outside might actually harmonize with the chills in the atmosphere the movie creates, and somehow make Chris Sarandon's Jerry Dandrige all the more threatening. If you haven't seen the feature before, it's worth catching for the special effects magic alone, which continue to look disgusting and awesome even in an age of CGI and remakes.
The Blair Witch Project
I'm not sure what it is about March that has all of the horror movies spooked, but you may have noticed that The Blair Witch Project is now the fourth film in the genre on this list – and it's a shame it's going. While the film definitely does have its haters, and the originality of its found footage format has been perverted to an extreme degree over the last five years or so, it's still pretty easy to appreciate what this film has to offer and the scares it delivered. In addition to setting up a pretty cool little legend, the movie also has a rather fascinating story behind how it was created – and it's a story best appreciated after seeing the film in full. So take advantage of its Netflix placement while it's still around!
The Graduate
At this point, Mike Nichols' The Graduate is basically The Godfather of coming of age movies. What more can really be said about it that hasn't already been said? Despite being released almost 50 years ago, the movie is still as relevant as ever, chronicling the tumultuous and rather insane time in young adulthood when we all question what the future has in store for us. It's a movie that will be passed from generation to generation, and one that can be watched at infinitum – so you should take advantage while it's still on Netflix. If not, you're missing out on both some of the best moments and performances that the world of cinema has to offer.
Robin Hood: Men In Tights
Mel Brooks will likely long be remembered more for his earlier work – including titles like Blazing Saddles, History of the World Part 1, and Young Frankenstein, but as far as his later work goes, Robin Hood: Men In Tights is still a rather fantastic bit of fun. Some of the humor is a bit dated due to the film being derived from parodying Robin Hood: Prince of Thieves, but the movie also stands on its own as a funny and weird take on the Robin Hood legend (with Cary Elwes doing a wonderful job creating his own interpretation of the titular character). It's perhaps not the greatest feature in Brooks' decades-spanning career, but it will definitely have you laughing.
Dumb and Dumber
Last year's Dumb and Dumber To turned out to be a rather massive disappointment, but the good news is that movie hasn't done anything to tarnish the original. It's still very easy to enjoy the idiotic antics of Harry (Jeff Daniels) and Lloyd (Jim Carrey) as they make their way cross-country to bring a beautiful woman a briefcase that they don't realize is actually filled with a hefty ransom payment. The movie's most ludicrous moments – from the chili pepper prank to the laxative gag – both remain quite hysterical, and even now have a touch of nostalgia attached to them (provided you're of the right age group). It's one of the Farrelly brothers' earliest and best, and worthy of either a rewatch or a discovery before Netflix is forced to get rid of it.
Ordinary People
The end of Hollywood's award season surely has a lot of cinema fans looking into the history of the Academy Awards and searching out previous big winners to watch – and Robert Redford's Ordinary People is surely a movie worthy of consideration within those parameters. In 1981, the prestigious and darkly dramatic film won in four of the Oscars' six main categories, including Best Picture, Best Director, Best Actor In A Supporting Role (Timothy Hutton) and Best Adapted Screenplay. Given that the film is about how a family deals with the loss of a son, you should probably grab a box of tissues before watching this one, but it's considered by many to be one of the best films ever made, and is definitely worth your consideration before March gets here.
Your Daily Blend of Entertainment News
Assistant Managing Editor
NJ native who calls LA home and lives in a Dreamatorium. A decade-plus CinemaBlend veteran who is endlessly enthusiastic about the career he's dreamt of since seventh grade.