The 10 Greatest Part 3 Movies Of All-Time, Ranked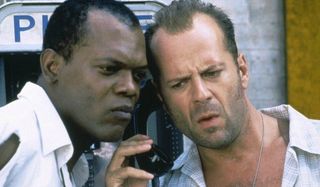 The release of Taken 3, according to early chastening reviews, appears to prove the common consensus that while sequels are mostly awful, threequels are even worse.
That isn't always the case though. In fact, some Part 3 movies have actually added depth and characterization to the cinematic universes that they're set in thanks to the introduction of intriguing new characters and narratives that pay homage to previous installments. They're also able to sturdily stand strong as singular movies, too. On the other hand, there is Rush Hour 3, which is so bad it even makes you hate the world's most loveable man, Jackie Chan.
But which part 3 movies are the antithesis of the alleged threequel curse? Which have evolved their franchise? And which deserve to be rightly recognized as great movies even without considering their predecessors? Here are the 10 Great Part 3 movies of all-time. Sadly, Transformers: Dark Of The Moon just didn't make the list.
10. Mission: Impossible 3
Release Date: May 5, 2006
Box Office: $397.8 million
Why We Love It: J.J. Abrams showed moviegoers that he was one of the most exciting new blockbuster filmmakers in the world with his feature film debut back in 2006. Technically flawless, Mission: Impossible 3 moves at a break-neck speed and its relentless action is only paused to introduce clichéd characterization that despite being wholly unoriginal is still key to making the audience care. However the real star is Phillip Seymour Hoffman, who hams it up to the extreme and delivers a coldly calculated performance that in the process brings out the best of Tom Cruise as Ethan Hunt. The film's stellar ensemble, which includes Michelle Monaghan, Simon Pegg, Maggie Q, Billy Crudup and Ving Rhames, also help to keep a bloated script afloat with their involvement. Mission: Impossible 3 proves that even a predictably plotted, run-of-the-mill blockbuster can still be truly enthralling when it is done properly.
9. Iron Man 3
Release Date: May 3, 2013
Box Office: $1.2 billion
Why We Love It: Iron Man 3 is the character's most successful/finest installment to date. Robert Downey Jr. gallivants around screen delivering zingers and emanating charisma with such ease it should really be illegal. Shane Black, who had previously worked with Robert Downey Jr. on Kiss Kiss Bang Bang, knew exactly how to get the best out of the actor, and in the process he immeasurably adds to the world that Jon Favreau had established with 2008's Iron Man and 2010's hugely disappointing Iron Man 2. Plus he pisses all over the history of one of the comic book's most famous villains, the Mandarin. Most aficionados were incensed by Shane Black's treatment of Ben Kingsley's character, but it made sure that Iron Man 3 was one-step ahead of its audience. Dark, witty and inventive, Iron Man 3 is arguably the best Marvel movie to date.
8. The World Of Apu
Release Date: May 1, 1959
Box Office: $16,000 (US)
Why We Love It: Satyajit Ray's influence on the likes of Martin Scorsese, Danny Boyle and Wes Anderson, especially in Taxi Driver, Slumdog Millionaire, and The Darjeeling Limited respectively, is there for all to see. The Indian filmmaker's most popular work is The Apu Trilogy, which consists of 1955's Pather Panchali, 1956's Aparajito and 1959's Apur Sansar, the latter of which translates into The World Of Apu. They showcased India in a gritty realism that had never been shown on celluloid before, while giving its various cast of characters ideals, ambitions and issues that resonated with a universal audience. The World Of Apu is lusciously shot by Satayjit Ray who is able to eke out beauty and poignancy despite the films harsh locales. It's still revered to this day, too, and constantly appears on all-time best movies list.
7. Star Wars: Return Of The Jedi
Release Date: May 25, 1983
Box Office: $475.1 million
Why We Love It: After the rousing success that was The Empire Strikes Back, Return Of The Jedi was given the impossible task of not only eclipsing its beloved predecessors but providing a rousing finale for them too. And while it never strays from the obvious with its plot and characters, it's a perfect example of how light mainstream cinema should be handled. John Williams' score has never been more integral as it lifts and sways Return of the Jedi through its foibles, while the battle with Jabba on Tattoine and the final assault on the Death Star are as enjoyable as any of the action scenes in Star Wars' cannon. Yes, the ending is preposterously cheesy, and the inclusion of the Ewoks seems like a cynical attempt to sell more movie merchandise, but The Return of the Jedi is still looked upon as the perfect way to conclude a trilogy.
6. Jackass 3D
Release Date: October 15, 2010
Box Office: $170.3 million
Why We Love It: Anyone who claims that they've sat through any of the Jackass films and not laughed is either dead or a stone-cold liar. The final installment to the death-defying franchise – I still hold hope that a fourth film will be released at some point in the future – utilizes its $20 million budget to evolve its vignettes of stunts. The cinematic luminaries that are Johnny Knoxville, Chris Pontius, Bam Margera, Steve-O, Ryan Dunn, Dave England, Wee-Man, Preston Lacy and Ehren McGhehey showcase the true potential of 3D technology by incorporating it into their antics. My personal favorite moment is Ehren McGhehey's tooth being yanked out by a Lamborghini, while the gang exploiting Bam Margera's fear of snakes to the point that he cries is a close second. Jackass 3D is cruel, crude and preposterously silly, and we wouldn't want it any other way.
5. Die Hard With A Vengeance
Release Date: May 19, 1995
Box Office: $366.1 million
Why We Love It: Die Hard With A Vengeance is the only installment to the Die Hard franchise that can truly claim to rival the seminal 1989 original. John McClane is once again a fish out of water, but this time in the city he calls home, as he is paired up with Samuel L. Jackson's Zeus Carver and told to zigzag across New York City in an attempt to stop Jeremy Irons' Simon Peter Gruber. The first hour is a fast-paced tour de force of perfectly pitched action set pieces that utilizes New York City's locations expertly. All while Bruce Willis and Samuel L. Johnson bounce off of each other with aplomb, and director John McTiernan films the relentless action with poise and composure. The film does ultimately disappointingly fizzle out, with Jeremy Irons' villain not coming close to matching Alan Rickman's peerless Hans Gruber, but it is still good-old fashioned blockbuster fun.
4. Goldfinger
Release Date: September 18, 1964
Box Office: $124.9 million
Why We Love It: The quintessential James Bond film, Goldfinger propelled 007 into the cinematic stratosphere and helped turn the character into a bona-fide pop culture icon.Goldfinger is full of characters (Pussy Galore), scenes (Jill Masterson's corpse covered in gold paint) and quips ("No, Mr Bond, I expect you to die") that are still regarded as the pinnacle of the entire franchise over 50 years and 20 James Bond film later. Sean Connery never looked better, James Bond has never been more suave and the film is fast and furious while remaining delicately plotted. Each James Bond film that followed Goldfinger, up until Goldeneye, used 007's third outing as its template. This is obviously to the detriment of these installments but it proves just how much of an impact and how big a hold Goldfinger had over the series. Even now, while slightly dated, it is still preposterously cool.
3. Lord Of The Rings: The Return Of The King
Release Date:December 17, 2003
Box Office: $1.12 billion
Why We Love It: The final installment to Peter Jackson's epic Lord of the Rings trilogy, The Return Of The King manages to provide a fitting farewell to each of the film's vast array of characters while remaining well paced and full of action. Peter Jackson deserves praise for adapting the almost unfilmmable conclusion, and even though its epilogue still seems to go on for a week and a fortnight, he emits parts that seemed integral and elongates moments to create pathos. But The Return Of The King's crowning glory is the fact that its final battle scenes somehow manage to build upon the ambition and beauty that had been prevalent in The Fellowship of the Ring and The Two Towers. Blockbuster spectacle at its very best. Plus, its 11 Academy Awards weren't too shabby, either.
2. Before Midnight
Release Date:May 24, 2013
Box Office: $20.7 million
Why We Love It: There really didn't look like there was much more for Ethan Hawke's Jess and Julie Delpy's Celine to go through after 1995's Before Sunrise and 2004's Before Sunset. Before Midnight flourishes because it celebrates the stark realization of the characters' cataclysmic choices. But rather than trying to subtly approach these issues , director Richard Linklater, Ethan Hawke and Julie Delpy, each of whom co-wrote the film together, go for the jugular and intimately pounce upon them. Before Midnight intelligently uses the history and characterization generated in the first two films to its advantage and the audience are tantalizingly left to pick which of the characters to side with. Linklater tenderly allows the film to grow, and the result is a raw examination of marriage, love and self-sacrifice. Before Midnight truly is a rare cinematic gift. And after its thought-provoking 109-minute running time is over you feel as if you have undergone a life-changing event. Fingers crossed there will be a 2022 addition to the series.
1. Toy Story 3
Release Date:June 18, 2010
Box Office: $1.063 billion
Why We Love It: Toy Story 3 is the finest installment of the best movie trilogy ever created. There really can be no argument with that. It seamlessly and eloquently walks a cinematic tightrope that sees it examine loss, home and freedom while remaining jovial, warm and funny and masquerading as a Prisoner of War film. Toy Story 3 utilizes its vast array of fully realized characters perfectly, while it ebbs and flows in such an enchanting fashion that you go from howling with laughter to being on the verge of tears seamlessly. It builds and builds to a perfect conclusion that not only heartbreakingly teases the ensemble's combined death but even shows Woody, Buzz, Rex and the gang stoically preparing themselves for it too. However watching Andy have one final play with his toys before handing them over to Bonnie gave the character an impeccable and emotional send-off while hinting that there are still plenty more adventures for the gang to go through in the future. Bring on Toy Story 4.
Your Daily Blend of Entertainment News
Thank you for signing up to CinemaBlend. You will receive a verification email shortly.
There was a problem. Please refresh the page and try again.