The 10 Marvel Characters Most Likely To Die In Phase 3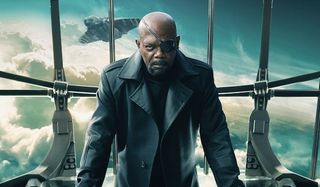 The Marvel Cinematic Universe may be a colorful world full of incredible things, but it's not without death. Over its seven year history, many have fallen during the battle between good and evil, whether they were heroes, villains or supporting characters falling somewhere in between. In 2015 alone, we saw the deaths of Quicksilver, Ultron (unless he somehow downloaded into another body), Baron Strucker, Darren Cross and more - and that's just on the movie side of things. This is a dangerous world these characters live in, and things are probably only going to get worse from here on out.
Looking ahead to what's coming between 2016 and 2019, we've picked the 10 likeliest contenders to die in Marvel's Phase Three film slate. Obviously none of these have been confirmed yet, but going off comic book history and analyzing how events will go down in the near future, we're fairly confident that most, if not all, of these characters will perish in their upcoming movies.
The Vision
The Mind Stone currently is held by The Vision, and it's the only thing that's keeping him alive. Unfortunately, it's inevitable that at some point during the Avengers: Infinity War movies it's going to get ripped from his forehead by Thanos. Presumably at that point the Mad Titan will have collected the other five Infinity Stones, leaving only the yellow rock missing from the Infinity Gauntlet. Vision is powerful, but going up against Thanos with nearly all of these powerful artifacts, he doesn't stand a chance. There's always the possibility that Vision could be revived later on, but it's practically guaranteed that he'll be rendered inert when Thanos takes the Mind Stone from him… and rips him apart for good measure. The future doesn't look good for the Avengers' android member.
T'Chaka
Although Wakanda is one of the most technologically advanced countries on Earth, it was T'Chaka, the king of the African nation, who decided to establish trading ties with other countries, feeling his nation was better off with allies than being hidden from the world. Unfortunately, while on a trip to meet with the United Nations, he was assassinated by Ulysses Klaw. Years later, his son T'Challa inherited the Wakandan throne, and become the Black Panther we know and love. It's been hinted that T'Chaka will still alive when T'Challa makes his MCU debut in Captain America: Civil War (played by Chadwick Boseman), though several rumors have suggested he'll be dead or killed off in the film. That has yet to be confirmed, but whether it happens in the third Cap installment or the Black Panther solo film, T'Chaka's death is on the way, and whether it's Ulysses Klaue (as its spelled in the MCU) or someone else that pulls the proverbial trigger, T'Challa will be looking for revenge.
Pepper Potts
Even though it's inevitable that Robert Downey Jr. will eventually leave the MCU, we find it hard to believe that Tony Stark will be killed off. It's likelier he will be recast. That said, we wouldn't be surprised if someone close to Tony died, and James Rhodes, a.k.a. War Machine, gets a little leeway being one of the Avengers. That leaves Pepper Potts. It hasn't been revealed yet when Pepper will appear next, but she's too big of a supporting character to just never be heard from again. We suspect that she'll return in the Avengers: Infinity War films, but meet her demise during the battle with Thanos. Tony has lost his parents and a few other friends, but losing the love of his life would be especially crippling and be the catalyst for leaving the superhero game permanently. No really, he'd mean it this time!
Yondu
Aside from his grandpa, the only father figure Peter Quill has ever had in his life is Yondu, leader of the Ravagers. Those two didn't leave on the best of terms in Guardians of the Galaxy, but judging by Yondu's amused expression when he realized Peter switched out the Orb with a Troll doll, it doesn't look like the pirate will eat Peter the next time he sees him. Still, we can't help suspecting the future doesn't look bright for Yondu, as in the pirate business the odds of living to old age aren't good. Who would be his murderer? That's hard to say, though if Peter's mysterious father is as much of a jackass as Yondu said he was, maybe he'll be the one who does the deed in Guardians of the Galaxy Vol. 2 - possibly for not delivering Peter to him as promised.
Odin
Odin's whereabouts in the MCU are currently a mystery. At the end of Thor: The Dark World, Loki disguised himself as the All-Father and sat on the Asgardian throne, but it wasn't clarified whether Loki was just screwing around while Odin was out of the room or if Loki had done something to his adoptive father. This plot thread will almost certainly be addressed in Thor: Ragnarok, but if you ask us, Odin isn't dead yet. Incapacitated maybe, but not dead. However, it's possible Odin will be one of the first to fall during the apocalyptic Ragnarok, either in battle or from a natural force. This would necessitate Thor finally become Asgard's king, though whether there will still be an Asgard when the 2017 blockbuster concludes is a different question.
The Ancient One
The MCU's Ancient One may not look the same as in the comics, but their backstory is expected to at least be similar. In the comics, the Ancient One trained Stephen Strange and Baron Mordo in the ways of mysticism and magic. After Strange officially became "Doctor Strange, the Sorcerer Supreme," the Ancient One assisted him in several battles, but was later killed by Strange when their body was inhabited by the demon Shuma-Gorath. This may be amended in the movie so that Mordo or Dormammu is responsible. However, comic book fans know that the Ancient One's soul continued to advise Strange from the great beyond, so just because they're dead doesn't mean they won't appear again in a Doctor Strange sequel.
Baron Mordo
As mentioned in the last section, Baron Mordo was one of the Ancient One's pupils, but while Stephen Strange uses his magic for good, Mordo is only concerned with grabbing more power for himself, making him a great foil for the hero. Chiwetel Ejiofor is a talented enough actor that he could make Mordo a great recurring antagonist in the MCU, both in Doctor Strange sequels and maybe even a separate team-up movie. However, Marvel doesn't have the greatest track record with keeping major villains in solo films alive, and we suspect that Mordo will die next year, either in a magical duel with the Sorcerer Supreme or be offed by his master/partner Dormammu. This is a world filled with magic, so he could be revived later on, but right now his chances for survival aren't great.
Nick Fury
Nick Fury isn't quite as important as he used to be in the MCU. During Phase One, he was the guy popping up in post-credits (or in Iron Man 2's case, a supporting role), and eventually brought the Avengers together. Then Captain America: The Winter Soldier happened, which saw S.H.I.E.L.D.'s collapse, and Nick stripped of most of his resources. Although S.H.I.E.L.D. is still kicking on TV, Nick is no longer working directly with them and is now part of the Avengers 2.0 program. Samuel L. Jackson recently said he won't be appearing in Captain America: Civil War, so it's unclear when we'll see the one-eyed spy again. If you ask us, though, since Jackson has two films left on his contract, it's possible he'll make his final two appearances in the Avengers: Infinity War movies, and during those he'll fall in battle. The world has changed a lot since he joined S.H.I.E.L.D., and his passing would signify the transition from Phase Three to Phase Four.
Thanos
Thanos is powerful, there's no denying that. When he finally obtains the six Infinity Stones and puts them in the Infinity Gauntlet, he'll achieve near-invincibility. However, this is a world where good triumphs in the end, and even with all that power on his side, Thanos will lose and, probably, be wiped from the land of the living in Avengers: Infinity War Part 2. It's a necessary end for one so tyrannical and sinister as him. The question is, how? Will the Avengers and other heroes be able to take him down with their combined efforts? Or will the power of the Stones be too much for him, and he'll somehow be destroyed by their abilities? This is all speculation, but in any case, we predict there's a messy end coming for the Mad Titan.
Captain America
Aside from Quicksilver, the MCU has yet to kill of any of its superheroes. If we had to place bets on which of the founding Avengers were to die next, it's Steve Rogers, a.k.a. Captain America. The patriotic Avenger "died" last decade following the events of Civil War in the comics, giving precedence for possibly offing him in the film universe. Since Chris Evans will be filming Avengers: Infinity War Part I and Part II, we know he won't die at the end of Captain America: Civil War. Instead, he'll die in battle as a soldier during Earth's Mightiest Heroes' conflict with Thanos. Evans has said that he's up for more movies if Marvel wants him back, but if Steve's survival doesn't fit into their grand plan, then he won't be returning. That would leave the door open for another to inherit the Star Spangled mantle, be it Bucky Barnes (a.k.a. Winter Soldier) or Sam Wilson (a.k.a. Falcon), to make sure that the Captain America legacy lives on.
Your Daily Blend of Entertainment News
Connoisseur of Marvel, DC, Star Wars, John Wick, MonsterVerse and Doctor Who lore. He's aware he looks like Harry Potter and Clark Kent.
Your Daily Blend of Entertainment News
Thank you for signing up to CinemaBlend. You will receive a verification email shortly.
There was a problem. Please refresh the page and try again.