10 Years Ago Today, Elf And Love Actually Changed Your Christmas Traditions Forever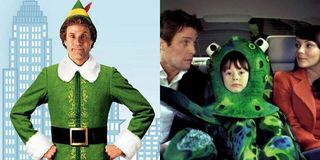 I personally don't remember my world changing forever on this day 10 years ago, but in retrospect it's obvious. November 7, 2003 was a Friday. It was the opening weekend of The Matrix: Revolutions, a threequel I didn't even bother to see. But it was also the weekend that Christmas traditions changed forever.
By some unbelievable, magical convergence, November 7, 2003 marked the debut of what are inarguably the two most popular modern Christmas movies: Elf and Love Actually. One a goofy fable starring a former SNL standout, one a multi-stranded romance starring basically everyone in England, they were two wildly different spins on the sentimental Christmas standard, a genre that hadn't turned out a hit since 2000's How The Grinch Stole Christmas (and, if you're looking for movies that people actually still watch, since 1993's The Nightmare Before Christmas). Every holiday season brings at least a movie or two designed to be seen by the whole family on a holiday and then rented or watched on DVD for years after; every season, if we're lucky, brings one that's watchable (other years we get stuck with Fred Claus). But no single year, much less single day, has brought two movies as popular and eventually iconic as Love Actually and Elf.
Their fates, at first, were fairly different-- Elf leapt past the third Matrix to become the #1 movie at the box office in its second week, and had made more than $150 million by the time Christmas came around. Love, Actually rolled out slowly and only played in half the number of Elf's theaters even at its peak; it left theaters in late February of 2004 with a $59 million tally in North America, a respectable number that put it on par with Mona Lisa Smile and, somehow, Gothika. Elf earned some MTV Movie Awards and Teen Choice Awards nominations; Love Actually had a handful of award nominations and even wins for its high-profile cast (especially Bill Nighy). But both were buried in the late-year fervor around The Lord of the Rings: Return of the King, which opened around Christmas and swept the Oscars the next year.
Elf and Love Actually are exactly the Christmas movie success stories that studios hope for each year-- well-liked when they open, but beloved more and more each season, until there are millions of families who can't imagine the season going by without putting either in the DVD player. The slow-roll success of Love, Actually isn't especially surprising-- the movie has a massive cast and a wealth of stories, so that there's always a new favorite moment to pick, and a good chance that, even if you don't fall for one romance, another will catch your eye. It was the first film directed by Richard Curtis, but he had written the screenplays for Four Weddings and a Funeral and Notting Hill, and still knows his way around perfectly calibrated sentiment better than nearly anyone (see: About Time).
But it's downright freakish that Elf, the seventh-highest-grossing movie of its year, has managed to maintain its reputation, never victim to the kind of backlash you might expect for a movie about Will Ferrell running around New York City in yellow tights. Elf remains Ferrell's highest-grossing film as a star, and though it can't match Anchorman for fan passion, it has an incredible level of affection around it. Ferrell was fresh off Old School and about to launch a very successful movie career, and Elf could have been his embarrassing sell-out moment. Instead it became a hit, and then a beloved classic, without a single hitch in the way. (That hitch would be Land of the Lost, many years later, but that's neither here nor there).
I'm going to make you guys vote and choose between Love, Actually and Elf in the poll at the bottom of this post, because I am a power-mad monster, mostly. But I'm also curious if this choice is as difficult for you as it is for me. I probably watch Elf more often, because watching Buddy eat his plate of spaghetti makes me laugh every single time, and it's so familiar I can watch it while doing various other Christmas errands. But I wouldn't want to go through a Christmas season without "Christmas Is All Around," or the kid in the octopus costume, or even Emma Thompson crying to Joni Mitchell's "Both Sides Now" (hey, it's not the holiday season if something isn't unexpectedly depressing). My family's Christmas traditions are still mostly old-school, revolving around White Christmas and It's A Wonderful Life and Holiday Inn. But for the last 10 years, with the odd twins of Elf and Love, Actually to guide us, Christmas has been immeasurably better. Christmas spirit really is, actually, all around.
This poll is no longer available.
Your Daily Blend of Entertainment News
Staff Writer at CinemaBlend