12 Fascinating Frozen Facts And Trivia We Learned From The Reddit AMA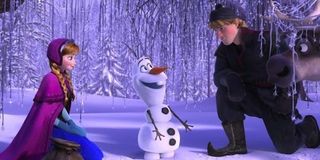 Reddit readers were in for a treat yesterday as Frozen director Chris Buck and Jennifer Lee, producer Peter Del Vecho and song writers Bobby and Kristen Lopez were on hand to participate in an Ask Me Anything to talk about the beloved animated musical. Among the topics of discussion were the planned Broadway version of the film, how "Let it Go" changed Elsa and who the Trolls are inspired by.
These are twelve of the highlights from the AMA. If you want to read through the whole thing, find it here.
FROZEN SPOILERS AHEAD - Some plot details about the movie are referenced in this list, but we're assuming you've seen the movie already. (And if you haven't, what are you waiting for?)
There was originally an intro for Kristoff that involved action and climbing with pick axes, mountain man-style but it was cut from the movie. Chris says there was a fun surprise there and it'll be on the DVD. Kristen added that there was a troll song about walking in other people's shoes, "But it had this romantic music in the middle of it where Anna and Kristoff literally walked in each other's shoes and saw how each other saw the world. But it had a lot of lyrics about foot fungus."
The "Do You Want To Build a Snowman" scene almost wasn't in the movie. Bobby said it was :so nearly not in the film" and from the sound of it, it was a lot of work to put together. "It took so much work to construct but was well worth it." I think a lot of fans would agree!
Kristoff will get a bigger, longer song in the Broadway version of Frozen. Bobby & Kristen said that they had to fight the process to get Kristoff a song because he's such an introvert who wouldn't really sing until Anna helped complete him. "And by then we were into action all the way through the film," they explained. But added that he'll have more to sing in the Broadway version, and that "There is a ballad - a love song to Anna that exists in an undisclosed location."
Originally, Kristoff punched Hans. Near the end of the movie, Anna takes a swing at Hans, knocking him off the boat, but from what Jennifer and Chris said, it was originally Kristoff's punch and it happened sooner. "Originally, Kristoff punched Hans right after Anna froze but it took away from the moment. We really wanted it to be a POP, to be a surprise."
They have all sorts of Disney-related theories about the fate of Elsa and Anna's parents. The movie indicates that the king and queen were lost at sea, but when asked where they were going when they set sail, everyone had their own theories. Jennifer said a wedding (Rapunzel and Eugene's perhaps?), while Chris theorizes that they didn't actually die and went on to describe a scenario that sounded a lot like the start of Tarzan, complete with a jungle island and a treehouse. Kristen said they were going to Fantasy Island. "To fix the tensions in their marriage in a way only Ricardo Montalban," she added.
Kristen Bell and Idina Menzel sang "Wind Beneath My Wings" at an early table read. When talking about wanting Idina Menzel for the lead, they revealed that she and Bell sang "Wind Beneath My Wings" at an early table read with John Lasseter. And from the sound of it, while they wanted Idina for the film, they needed to figure out who Elsa was first. "She didn't come on officially until we figured out Elsa. We wished it would fit her." And then when Menzel sang with Bell, Bobby and Kristen said "Oh crap. Now we have to write something just as emotional for them".
Cut song "We Know Better" is only the first half of the song. The second half sounds drastically different. Based on how they describe the second half of the cut "We Know Better" song (featured on the Deluxe edition of the soundtrack), it sounds like the story was going to go in a much different direction at one point. "What you hear on the soundtrack is only half the song. The rest of the song showed the evolution to the point where they split and Elsa became a villain using her powers for evil and Anna was a prissy princess. So obviously, that told us what the movie shouldn't be."
They knew "Finish each other's sandwiches" was an Arrested Development joke. Bobby said his brother alerted him to the fact that "finish each other's sandwiches" was a joke used in Arrested Development, and added that they tried "sausages" and "sauerkraut." They also said, "I will carry to my grave that I was eating a sandwich when I wrote that lyric and occurred spontaneously."
Expect a musical surprise about the making of the movie on the DVD. Jennifer and Chris mentioned this when asked why there was no commentary for the movie on the DVD/Blu-ray. They also promised "a ton about the making of Frozen."
The trolls are based on Book of Mormon and Kinky Boots cast members. They said the Trolls are inspired by a combination of cast members from both stage productions. "It's not a coincidence that Stephen Oremus directed both," they added with a wink.
At this point, someone on Reddit noted the Book of Mormon line "The land of gnomes and trolls!" during the "Two by Two" song...
"Let it Go" is what changed Elsa from a much darker character and Anna to a more feisty character.. Chris and Jennifer said Elsa was originally a lot darker before Bobby & Kristen wrote "Let it Go." "She even had dark, spikey hair and was colored blue. Anna went from a "somebody rescue me girl" to a fearless, feisty girl - from a sarcastic to optimistic place." So it seems the Oscar nominated tune really had an effect on the direction of the story.
And finally, don't get your hopes up about a Frozen concert held for Oscar week. Yesterday we shared some photos and video from a private Frozen concert featuring Idina Menzel, Kristen Bell and Josh Gad. From what Jennifer said, it doesn't sound like that's something that'll be repeated for Oscar week, as it was "something the cast put together for us." And from what we saw, it was a pretty fantastic expression of appreciation for the movie and the music.
But Disney did release this new snippet of Idina Menzel singing "Let it Go."
Kelly joined CinemaBlend as a freelance TV news writer in 2006 and went on to serve as the site's TV Editor before moving over to other roles on the site. At present, she's an Assistant Managing Editor who spends much of her time brainstorming and editing feature content on the site.
Your Daily Blend of Entertainment News
Thank you for signing up to CinemaBlend. You will receive a verification email shortly.
There was a problem. Please refresh the page and try again.