15 Brilliant Hollywood Stars We Lost In 2014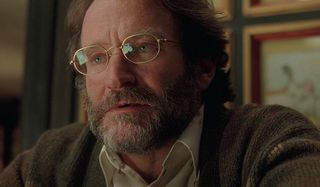 We lost legends in 2014. Looking back over the notable celebrity deaths, names like Robin Williams and Joan Rivers mix with Hollywood icons such as Mickey Rooney, Lauren Bacall and Sid Caesar. The industry is a darker place because the shining talents of these amazing performers have been extinguished. Lucky for us, we'll always have the creative work they left behind to remind us of their incredible abilities to entertain, to make us laugh, to make us think, and to make us smile.
Take a moment today to remember these outstanding artists who died in 2014:
Joan Rivers
Age: 81
Died: September 4, of cardiac arrest.
Best Known For: Her brutal honesty as a comedian, both on the stage, and on the E! Network as a fashion consultant. Rivers was a staple of the stand-up world for decades, running with the greats (Johnny Carson, Ed Sullivan) before establishing her own unique voice.
Watch This As A Tribute: The recent, eye-opening documentary Joan Rivers: A Piece of Work took audiences behind the curtain and showed how this brilliant comic truly lived.
Sir Richard Attenborough
Age: 90
Died: August 24, of natural causes.
Best Known For: Despite an incredible career both in front of and behind the camera, where he directed such incredible films as A Bridge Too Far and Ghandi, Attenborough will always be known for playing John Hammond in Steven Spielberg's Jurassic Park.
Watch This As A Tribute: Do a double feature. Watch Jurassic to honor Sir Richard's most-recognizable role. Then watch Chaplin to see how he and Robert Downey Jr. paid tribute to the brilliant silent-film star.
Lauren Bacall
Age: 89
Died: August 12, of a stroke.
Best Known For: Her on-screen partnership with the equally great Humphrey Bogart. The icon went on to conquer the stage and the small screen, earning multiple awards and nominations for roles in projects like Applause and The Mirror Has Two Faces.
Watch This As A Tribute: But it's her Bogart-and-Bacall movies that will define her career, so fire up either crime noir The Big Sleep or Key Largo. Neither disappoints.
Mike Nichols
Age: 83
Died: November 19, of a heart attack.
Best Known For: Winning a damn EGOT. Seriously, no matter the field, Mike Nichols dominated it. Stage? Screen? He was a master, and the legacy he left behind proves it.
Watch This As A Tribute: My favorite Mike Nichols movie is The Birdcage. But if you are watching anything in his honor, it would have to be The Graduate, the film that earned him a Best Director trophy.
Robin Williams
Age: 63
Died: August 11, after committing suicide.
Best Known For: His rapid-fire comedic approach, initially, which boosted such movie and television projects as Mork and Mindy, Happy Days and Good Morning, Vietnam. But Robin Williams cemented his status as a legend when he deftly switched gears to drama, all without drifting too far from his amazing stand-up career.
Watch This As A Tribute: For comedy? Pop in Aladdin, and see how animation truly set Williams' mind free. For drama, revisit Good Will Hunting, and skip to all of his heartwrenching scenes with Matt Damon.
James Garner
Age: 86
Died: July 19, of a myocardial infraction.
Best Known For: Two towering television personalities, Maverick (in the late 1950s) and Jim Rockford in the 1970s program The Rockford Files.
Watch This As A Tribute: Either of those television shows are appropriate, though if you want to see Garner's natural Midwestern charms writ large, rent Murphy's Romance and watch him chew scenes alongside Sally Field. Garner earned his first and only Oscar for his performance in the winning romantic comedy.
Ann B. Davis
Age: 88
Died: June 1, of a subdural hematoma.
Best Known For: Helping to raise the Brady kids on the seminal sitcom The Brady Bunch.
Watch This As A Tribute: As many episodes of the timeless ABC show as possible, particularly any that focus on Alice's steamy relationship with Sam the butcher.
Bob Hoskins
Age: 71
Died: April 29, of pneumonia.
Best Known For: Being a fireplug character actor in several crime dramas. Bob Hoskins played the stereotypical Brit thug for films like The Long Good Friday, but finally spread his wings (so to speak) when directors gave him more chances in movies like Mermaids, Brazil, Made in Dagenham and, of course, Who Framed Roger Rabbit.
Watch This As A Tribute: It has to be Roger, which gave Hoskins his most animated co-star (har har) but also allowed the actor to rise to the occasion and show up his more energetic side.
Mickey Rooney
Age: 93
Died: April l6, of natural causes.
Best Known For: Being a consummate professional, a "lifer" in the entertainment industry who dabbled in virtually everything over the course of his entire career. Mickey Rooney started as a child actor, and was still acting when he died in his sleep. The man lived for entertaining, and he lived very, very well.
Watch This As A Tribute: Not Breakfast at Tiffany's, that's for sure. Rent The Black Stallion, which cast the tender and warm-hearted Rooney as a retired jockey who helps train the titular beast. Rooney earned yet another Oscar nomination for this part, one of his best.
Harold Ramis
Age: 69
Died: February 24, of complications of autoimmune inflammatory vasculitis.
Best Known For: Directing some of the funniest comedies in recent memory, from Caddyshack to Vacation and Groundhog Day. In front of the camera, Ramis was a Ghostbuster… and it doesn't get cooler than that.
Watch This As A Tribute: Groundhog Day. It's one of Bill Murray's best movies, thanks to Harold Ramis' whipsmart script and stellar direction.
James Rebhorn
Age: 65
Died: March 21, of melanoma.
Best Known For: Being a brilliant character actor for decades, transitioning seamlessly between television and film by being one of the classic "Oh, THAT guy!" actors. And yes, James Rebhorn regularly played a sinister dude, but don't old that against Rebhorn.
Watch This As A Tribute: Homeland fans might point you to the Showtime hit, where Rebhorn recently played Carrie's bipolar father. I'm sending you to Meet the Parents, where Rebhorn's incredulous reading of the line, "It's only a game, Focker," during the pool volleyball scene gets a huge laugh.
Shirley Temple
Age: 85
Died: February 10, of emphysema.
Best Known For: Being one of the industry's most recognizable child actors. Shirley Temple broke on the scene at the ripe old age of five when she went on her first audition. The following year, she had at least three films under her belt, and had a nation wrapped around her adolescent finger.
Watch This As A Tribute: Bright Eyes was Temple's first real hit, and contained what eventually became her signature song, "On the Good Ship Lollipop."
Sid Caesar
Age: 91
Died: February 12, after a short illness.
Best Known For: The live entertainment program Your Show of Shows, the 90-minute television program that paved the way for Saturday Night Live, MadTV and basically every sketch-comedy program you have ever watched.
Watch This As A Tribute: Sid Caesar was one of the billions of stars in the ensemble comedy It's A Mad, Mad, Mad, Mad World. And while it might not have shown off his sharp comedic skills, it emphasized what a major movie star he was considered to be at the time.
Maya Angelou
Age: 86
Died: May 28, after months of poor health.
Best Known For: Poetry and writings that inspired millions, notably Hollywood's top actors, writers, producers and directors. There are very few lives that weren't touched by the celebrated author.
Watch This As A Tribute: The television mini-series Roots struck a chord back in the 1970s the way that Selma is resonating now. Angelou played the part of Nyo Boto, so dig up a copy if you want to see her act on screen.
Philip Seymour Hoffman
Age: 46
Died: February 2, of acute mixed drug intoxication.
Best Known For: Being the greatest character actor of his generation, arguably. Philip Seymour Hoffman made most movies better. And when a director was smart enough to hand him a significant role – from Truman Capote to Caden Cotard – Hoffman hit home runs.
Watch This As A Tribute: There are too many parts one could pick, and an infinite sadness when you realize that there will be no more roles on the horizon. Why not go with Boogie Nights, which features Hoffman as a mild-mannered porn crew member with an unfortunate crush on a rising star. Heartbreaking, in every sense of the word.
Sean O'Connell is a journalist and CinemaBlend's Managing Editor. He's frequently found on Twitter at @Sean_OConnell. ReelBlend cohost. A movie junkie who's Infatuated with comic-book films. Helped get the Snyder Cut released, then wrote a book about it.