15 Famous Character Actors We Bet You Can't Name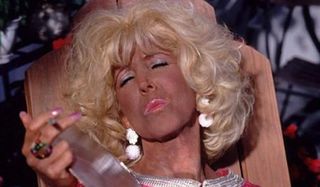 The motion picture industry is a lot like professional sports. Both industries are fueled by a small group of gigantic names that make millions and millions of dollars. They're the ones that drive revenues, get their faces on billboards and command command police escorts. They're the ones who do interviews and get casual fans excited, but beyond those mega-stars, the ultimate success or failure of many of these films actually relies with all the supporting players.
You can't win the NBA Title without a reliable and competent bench, and you can't make a brilliant movie or television show without a few character actors who can be relied upon to steal scenes and perhaps more importantly, go toe-to-toe with the biggest names in Hollywood. Often referred to as "that-guys", they occasionally get their moments in the sun. Hell, the Internet has more than a few lists entirely devoted to them, and today, we're going to use them to test your movie knowledge.
I'm going to give you two pictures, an age, a list of movies and a basic description. All you need to do is come up with the name before you hit the next page and get the answer. Ready? Then let's go…
Round #1
Year Of Birth: 1968
IMDB Credits: 107
Random Credits: Beltway Butcher Leon West on Veep, Chet on Children's Hospital, Headless Man in This Is The End
Best Known For Playing…: well-meaning business types who are shocked by the ridiculousness of the people they're surrounded by.
He also crushes the world of commercials too.
Brian Huskey
Round #2
Year Of Birth: 1944
IMDB Credits: 171
Random Credits: Magda in There's Something About Mary, Elise in Insidious, Jam's terrifying mother in Detroit Rock City.
Best Known For Playing…: really creepy, sometimes sexually forward women. She's also not above altering her appearance in order to make these characters even weirder or really hideous.
She's appeared in a ton of Farrelly Brothers movies.
Lin Shaye
Round #3
Year Of Birth: 1956
IMDB Credits: 227
Random Credits: Mary's Step-Father in There's Something About Mary, Big Tim in Requiem For A Dream and Lester Wallace in Barbershop.
Best Known For Playing…: Borderline criminal types and strange neighborhood characters.
He also does a ton of voicework and narrations.
Keith David
Round #4
Year Of Birth: 1961
IMDB Credits: 72
Random Credits: Lane Pryce on Mad Men,Russel in Igby Goes Down and Mac McGrath in Mr. Deeds
Best Known For Playing…: Eccentric weirdos, villains and people from another time.
He's English and typically has an accent in his films.
Jared Harris
Round #5
Year Of Birth: 1969
IMDB Credits: 42
Random Credits: Heather Dunbar on House Of Cards, Alicia Corwin on Person Of Interest, Missy in Hyde Park On Hudson.
Best Known For Playing…: Skillful, intelligent women capable of commanding respect and being very presentable.
She's really started coming into her own over the past decade or so. In fact, her first acting credit didn't even come until 1998.
Elizabeth Marvel
Round #6
Year Of Birth: 1975
IMDB Credits: 52
Random Credits: Joshua Speed in Abraham Lincoln: Vampire Hunter, Tyler in White House Down and Liam McPoyle on It's Always Sunny In Philadelphia
Best Known For Playing…: Hackers, oddballs, prodigies, wiseasses and more generally, dudes who keep weird hours.
He used to be married to Melanie Lynskey, in what was quite possibly the greatest character actor couple in the history of Hollywood, apart from William H Macy and Felicity Huffman.
Jimmi Simpson
Round #7
Year Of Birth: 1953
IMDB Credits: 172
Random Credits: Rachel McAdams' dad in Midnight In Paris, Mr. Glotter in Elvira, Mistress Of The Dark and Woody The Coroner on Psych.
Best Known For Playing…: Business types, nerds, concerned fathers and other reputable middle-aged white dudes.
If it's a television show that ran for an extended period of time during the 1990s or 2000s, chances are he made a one-off appearance as a killer, a victim, a witness or someone capable of aiding the investigation.
Kurt Fuller
Round #8
Year Of Birth: 1960
IMDB Credits: 170
Random Credits: Lew Ashby on Californication, Cylon Leoben Conroy on Battlestar Galactica and Asher in Blade Trinity
Best Known For Playing…: Sketchy men who can't be trusted and sexually forward men who live life on the edge.
He's English, but he could just as easily pass for American or Canadian.
Callum Keith Rennie
Round #9
Year Of Birth: 1954
IMDB Credits: 92
Random Credits: Kevin's Mom in Home Alone, Cookie Fleck in Best In Show and Penelope's Mother in Penelope.
Best Known For Playing…: Funny women, frazzled women and slightly kooky women. If there's a way for her to find laughs, either understated or over the top, she'll find them.
She's a Christopher Guest regular, and she was a major character in The Nightmare Before Christmas.
Catherine O'Hara
Round #10
Year Of Birth: 1970
IMDB Credits: 44
Random Credits: Alby Grant on Big Love, Charles Montgomery on American Horror Story and Glenn Odekirk in The Aviator
Best Known For Playing…: Psychos, cruel and evil villains and visionaries in a position of power.
He's been seen most recently as Gavin Belson on HBO's brilliant new offering Silicon Valley.
Matt Ross
Round #11
Year Of Birth: 1929
IMDB Credits: 61
Random Credits: Mama Fratelli in The Goonies, Momma in Throw Momma From The Train, Bag Lady on Murder, She Wrote
Best Known For Playing…: Angry, vicious and mean-spirited old women, many of whom made it their mission to ruin people's days.
Sadly for her, she passed away from cancer just as her career was really starting to take off in the late 1980s.
Anne Ramsey
Round #12
Year Of Birth: 1977
IMDB Credits: 60
Random Credits: Joe Stafford in Argo, Tom in Non-Stop and Gordon Clark on Halt and Catch Fire.
Best Known For Playing…: Mostly silent, hyper-intelligent loners, many of whom are very nervous but capable of coming through when needed.
Given his age and the sharp upward trajectory on his career, it's possible he's not going to be a character actor his entire career.
Scoot McNairy
Round #13
Year Of Birth: 1962
IMDB Credits: 79
Random Credits: Jonathan Carnahan in The Mummy, Batiatus on Spartacus and Terry in The Hurricane.
Best Known For Playing…: Mild-mannered men who get bossed around by others and bumbling wannabe criminals.
He's great in Four Weddings And A Funeral too.
John Hannah
Round #14
Year Of Birth: 1963
IMDB Credits: 106
Random Credits: Announcer John Smith in Pitch Perfect, Walter Ferris in We Bought A Zoo and Scott Donlin in Best In Show
Best Known For Playing…: Silly, artistic men, flamboyant gay guys and awkward men who try too hard.
Comedies love to call this guy in when they need a ringer who can steal one or two scenes.
John Michael Higgins
Round #15
Year Of Birth: 1969
IMDB Credits: 16
Random Credits: Lau in The Dark Knight, Frank Chen on Arrow and Councilman Yen in Captain America: The Winter Soldier
Best Known For Playing…: Brilliant foreigners with high end jobs and business connections.
He's incredibly famous in Asia and has only started trying to make a big dent in America over the past few years.
Chin Han
This poll is no longer available.