2008 MTV Movie Award Winners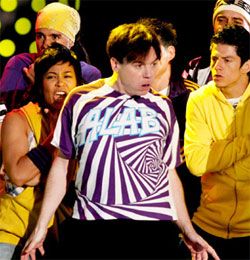 It's MTV Movie Awards night, the only awards show where the winners don't matter and we're only tuned in for the self-serving blather in between. Though in the past MTV has pre-recorded the show and announced the results before even airing it, in recent years they've been experimenting with a more traditional awards show format and been rolling live.
Since it's live, and because we love us some Moon Man presenting, I'll be updating this page live with the results tonight, along with various rumblings about what's happening, from my point of view on my couch in my underwear. At the bottom of this page below my live blending, you'll find a listing of all the nominees which I'll live update with the winners as they're announced. So if you're here only to find out what won and want to skip on my textual meandering, just click here for an auto-scroll to the bottom. Winners will be red and in bold. In the meantime, here we go. Here's what's happening with 2008 MTV Movie Awards right now!
7:40 The pre-show is rolling, and it's so boring my wife has opted to go shave her legs, rather than spend another second sitting in the living room being forced to stare at the TV with me. If I thought it was a viable excuse for getting out of watching this, I might consider a good leg shave too. Note to MTV: You're "exclusive" clip of Hancock was released about a month ago. Granted, your clip contained an additional 2 seconds of film, but basically, we've seen it. It's not an exclusive. You can do better!
7:50 Clip from Twilight introduced by the author. Another MTV exclusive. I know a lot of people are excited about this movie, but the way it's filmed, it barely even looks like a movie. Forever Knight had better special effects than this.
8:00 The show starts! Mike Myers kicks things off with a recorded intro in which he wears angel wings and kicks Seth Green in the nuts during a surreal black and white, art film spoof. Not bad.
8:02 And we're live. Myers called out for doing lame monologue jokes and spamming his movie. Ha ha jokes about how shameless celebrities are. Never seen that before. Now a dance battle! Never seen that before either. Sarcasm indicated.
8:04 Will Smith, Jason Bateman, and Charlize Theron to spam Hancock and give the award for Best Female performance. Damn, they aren't wasting any time with this thing. Four minutes in and we're already on an award! Yet they have more time for more spamming. Self-promotion stopped being funny 5 years ago, now it seems to be a substitute for actual entertainment and jokes. Promotion is not in itself entertainment folks! Ugh. Anyway… and the winner is… Ellen Page for Juno! Literally the only person on that list who even remotely deserved it.
8:08 Rainn Wilson, huge movie star, sits in the audience with a mic, and threatens extermination for anyone whose acceptance speech goes too long. First funny bit in the last 8 minutes.
8:14 Back from commercial, I think. Actually it's kind of hard to tell where the commercials stop and the show begins. But Danny McBride and Will Ferrell are on stage together. Time to pimp The Foot Fist Way… and present the award for Best Fight. First though, a speech about the fight against illiteracy. Let's reads the books to the little childrens! And the winner of Best Fight is… Never Back Down. I didn't know anyone had seen it. Weird. Boring speech from the Never Back Down guys. Rainn Wilson's enforcer chases them off stage.
8:19 Ed Norton and Liv Tyler to introduce a performance by Coldplay. God Liv looks more perfect than ever. Being single again agrees with her.
8:20 Coldplay performs the new song from their commercials. Speaking as a music idiot, it's good. They don't seem to have many instruments. Is that a Casio?
8:29 Mike Myers makes a Madame Curie joke and intros Seth Rogen and James Franco. Way to connect with the MTV audience Mike.
8:30 Will Smith seems excited to see Seth Rogen and James Franco. They're presenting the award for Best Summer Movie So Far… whatever in the world that means. Franco and Rogen claim they don't smoke weed, and that it's all fake. Pull out bags of weed, joints and a lighter and claim it's also fake. Light up on stage!!! James Franco and Seth Rogen are smoking pot on stage, but MTV pulls the camera back so far you can't see what they're doing. They look like tiny ants. What a total fucking copout MTV. If you didn't want to show it, why did you let them do it? It was obviously planned, they knew it was going to happen. What garbage. Cheers to Rogen and Franco, BOOO for MTV. And the winner is… Iron Man.
8:38 Pre-recorded Mike Myers short in which he plays a washed up British porn star who now does food service for celebs. Calls Jessica Alba fat. Claims to have had some "sweet love making" with Russell Crowe, who has problems ingesting wheat.
8:40 Sara Jessica Parker and Jennifer Hudson to present Best Male Performance and bask in the glow of their number one movie. Either SJP is tiny or Jennifer Hudson is a giant. Holy height difference Batman! And the winner of Best Male Performance is… Will Smith for I Am Legend. Will brings his son Jaden on stage with him. Talks about the 80s. MTV audience goes to sleep. Smith admits he hasn't always made great movies. Camera pans to Michael Bay. Is that a shot??
8:45 Commercial time. Weird mashup trailer for all of Universal Pictures' upcoming summer films. Wanted, Hellboy II, and Incredible Hulk all crammed into a single trailer. I guess they're buying into the notion that MTV audiences have the attention span of an over-caffeinated gnat.
8:48 Wayne's World! Party Time! Excellent!!!! Wow! Awards come back with a Wayne and Garth reunion!!! Suddenly watching this whole bloated mess was worth it! Biggest news since 1994: Garth got pubes. Named them Fred and Tony. Tila Tequila talk. Top ten list! Top ten porno names based on hit movies of 2008. Example: I Am Legend… in Bed. Alvin In The Chipmunks. Wayne and Garth have still got it. Best moment of the night. Unbeatable. Mike Myers and Dana Carvey hug. Do any of the teenagers watching this even know who Wayne and Garth are? Probably not. Well screw them. We know. Me and you.
8:53 The Rock, Steve Carell, and Anne Hathaway to present Best Comedic Performance. Anne Hathaway is wearing a trash bag. Steve Carell makes ball jokes. And the winner is… Johnny Depp for Pirates. My wife reacts by proclaiming that he will be the hottest man in the world until the day he dies. Even when he's 100. Seth Rogen reacts by shaking his head in dismay. We all know he's really the hottest. I'd do him. Rogen, not Depp. Rogen has weed after all.
8:57 Verne Troyer pre-recorded bit/advertisement for Orbitz gum, in which he licks a popcorn statue which has just been humped by a monkey, barfed on by a delivery guy, and knocked under a bathroom stall. At least this commercial is slightly entertaining. More than can be said about the all the live, celeb spamming.
8:59 Tom Cruise on stage to present the MTV Generation Award. Cruise may in fact be aging backwards. And the award goes to… Adam Richard Sandler! Cruise calls him "The Sand Man" and somehow it sounds wrong coming out of his mouth. Sandler will apparently be the starting Point Guard in next year's NBA All-Star game. Also, he has a Nobel Prize. Cruise credits Sandler for getting him in his undies for Risky Business. WTF is going on here? How is Tom Cruise the funniest guy on stage tonight? But he is. Go Cruise! Roll the Sandler clips!
9:05 Sandler on stage to accept his award. Rises from the floor in a puff of smoke and begins to sing "Nobody does it better!" Rob Schneider dances on stage in a unitard with Kevin James while Sandler sings! Insanity! "Sand Man you're the best! Sand Man you're the best!" Sandler's tribute to himself brings the house down. LOLing is had by all.
9:15 Robert Downey Jr., Jack Black, and Ben Stiller in an extended version of the video we showed you in our sneak peek yesterday here. Iron Man kicks Kung Fu Panda in the nuts. Jack Black's head explodes! Funniest pre-recorded bit of the night.
9:19 P. Diddy, Lindsay Lohan, and Verne Troyer on stage. Weirdest presenting group ever. Presenting Best Breakthrough Performance P. Diddy claims to be the first African American to open the envelope. Extremely lame back and forth with Lindsay. Verne underutilized. And the winner is… Zac Efron for Hairspray. Notice it's not Nikki Blonsky, even though she was the real star and breakthrough performance in that movie. Let's face it, this is MTV. They went with the pretty guy. Typical.
9:27 Brendan Fraser: Canadian. On stage to present Best Villain. Gets right to the point. Thank god. And the winner is… Johnny Depp for cutting things up in Sweeney Todd. My wife has just informed me that I am now required to go get my hair cut like Johnny's. This will not end well.
9:31 Pussycat Dolls take the stage to pretend they're a legitimate musical act and not just a traveling Burlesque show. Their outfits do a good job of making the case for them. Burlesque dancers have better taste. The song they sing is the equivalent of a 3-year-old clutching his toys and screaming "mine". Also, I think Burlesque dancers can actually dance. Of course musicians can actually sing, and they don't seem to be capable of that either. I'm not sure what that makes them. Oh wait, I know. MTV ready.
9:40 Rainn Wilson and Megan Fox on stage. Rain Wilson is naked. If only it was the other way around and Fox was naked. Alas. Luckily, Rainn's nethers are covered by a strap-on Teddy Bear. "I got banned from the build-a-bear workshop for this little guy." Funny. And the winner of Best Kiss is… random people from Step-Up 2 The Streets. I'm so too old for this shit. What a pair of horny, vapid idiots.
9:43 Pre-recorded Mike Myers comedy bit in which he plays a Hollywood animal trailer with a speech impediment, a proclivity for diphtheria, and a sheep hoof for a right arm. Cameo by Jon Favreau! Elijah Wood cameo! Myers randomly asks if anyone is menstruating… for no apparent reason. Mike Myers eats poop. Does not proclaim it a "bit nutty." Like Mike Myers, I too think of my nutsack as half full, and not half empty.
8:50 Commercial break note: I now hate Usher.
8:51 Ben Stiller, Jack Black, and Robert Downey Jr. come out to "Rock You Like A Hurricane" for the presenting of Best Movie. Scratch that, Robert Downey Jr. is missing and Jack Black's head looks as if it has been taped back on. Funny reference to their earlier sketch in which his head was removed via bomb. Jack re-introduces Downey as the greatest actor of all time, and finally Robert walkd out standing in front of a giant picture of himself and looking badass. Robert Downey signs Jack Black's tits. Tropic Thunder is going to rock my comedy socks. Best Movie nominees clips shown using rock clips that have absolutely nothing to do with the movies as the soundtracks. Weird. And the winner of Best Movie is… Transformers! Will Optimus Prime take the stage to accept? No, just Michael Bay and Megan Fox. Well, Megan Fox is prettier… I guess. Bay says they're starting Transformers 2 tomorrow! Megan Fox has a potty mouth and may be drunk: "The second one's gonna be fuckin badass!"
8:57 Show ends with Mike Myers yet again plugging The Love Guru. Night everyone, thanks for following along. Say what you want about the MTV Movie Awards, but at least it's short. 2 hours is the perfect length for an awards show, though it's a bit long for a commercial, which was basically all this was. Ah well. Full list of winners is below. Browse at your own pace.
Best Comedic Performance
Amy Adams - Enchanted
Johnny Depp - Pirates of the Caribbean: At World's End
Jonah Hill - Superbad
Seth Rogen - Knocked Up
Adam Sandler - I Now Pronounce You Chuck and Larry
Best Female Performance
Amy Adams - Enchanted
Jessica Biel - I Now Pronounce You Chuck and Larry
Katherine Heigl - Knocked Up
Keira Knightley - Pirates of the Caribbean: At World's End
Ellen Page - Juno
Best Fight
Alien vs. Predator - Alien vs. Predator: Requiem
Hayden Christensen vs. Jamie Bell - Jumper
Matt Damon vs. Joey Ansah - The Bourne Ultimatum
Sean Faris vs. Cam Gigandet - Never Back Down
Tobey Maguire vs. James Franco - Spider-Man 3
Chris Tucker vs. Jackie Chan vs. Sun Ming Ming - Rush Hour 3
Best Kiss
Amy Adams and Patrick Dempsey - Enchanted
Briana Evigan and Robert Hoffman - Step Up 2 the Streets
Shia LaBeouf and Sarah Roemer - Disturbia
Ellen Page and Michael Cera - Juno
Daniel Radcliffe and Katie Leung - Harry Potter and the Order of the Phoenix
Best Male Performance
Michael Cera - Juno
Matt Damon - The Bourne Ultimatum
Shia LaBeouf - Transformers
Will Smith - I Am Legend
Denzel Washington - American Gangster
Best Movie
I Am Legend
Juno
National Treasure: Book of Secrets
Pirates of the Caribbean: At World's End
Superbad
Transformers
Best Summer Movie So Far
The Chronicles of Narnia: Prince Caspian
Indiana Jones and the Kingdom of the Crystal Skull
Iron Man
Sex and the City: The Movie
Speed Racer
Best Villain
Javier Bardem - No Country For Old Men
Johnny Depp - Sweeney Todd
Topher Grace - Spider-Man 3
Angelina Jolie - Beowulf
Denzel Washington - American Gangster
Breakthrough Performance
Nikki Blonsky - Hairspray
Chris Brown - This Christmas
Michael Cera - Superbad
Zac Efron - Hairspray
Megan Fox - Transformers
Jonah Hill - Superbad
Christopher Mintz-Plasse - Superbad
Seth Rogen - Knocked Up
Your Daily Blend of Entertainment News
Thank you for signing up to CinemaBlend. You will receive a verification email shortly.
There was a problem. Please refresh the page and try again.