Will 23 Jump Street Happen? Here's What Lord And Miller Had To Say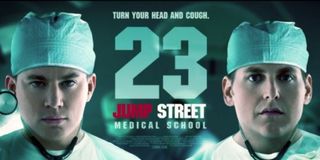 The Jump Street franchise has turned into one of the most surprisingly successful comedy movie series of the past few years. Not only have both 21 Jump Street and 22 Jump Street made a killing at the box office but they've both been critical darlings too. Because of these past triumphs, you would have thought that 23 Jump Street would be a formality. But the previous films' directors Phil Lord and Christopher Miller still sound a little cagey.
During a discussion with Empire Online the pair revealed that Rodney Rothman, who previously helped to write 22 Jump Street, is currently developing a script for another instalment to the franchise. However they still aren't counting their chickens just yet, with Chris Miller stating:.
I'd be very surprised if 23 Jump Street didn't ultimately make it to the big screen. 21 Jump Street and 22 Jump Street have made a combined total of $530 million at the box office. But almost as important, the sequel proved that there was still plenty of comedic juice left. Jonah Hill and Channing Tatum's comedic patter also showed no signs of abating, and there still seems to be plenty of cinematic avenues left to explore for the series.
It's just unfortunate that Phil Lord and Christopher Miller won't be continuing their sterling work in the directors' chairs. The writing and directing pair have blossomed into two of the most important talents in Hollywood. Over the past five years, they have overseen work on three films (Cloudy With A Chance Of Meatballs, 21 Jump Street and The Lego Movie) which have each been riotously fun, provocatively alternative, and have gone on to become huge successful franchises. They will still be involved in 23 Jump Street's development as producers, however their work as consultants on The Lego Movie 2 means that they won't be able to completely oversee the film's production.
Fans of the Jump Street series will also be aware that the decision to team up Channing Tatum and Jonah Hill for a third time is hardly revelatory. Those of you who stuck around to see the end credits sequence for 22 Jump Street were given a sneak peak at the future antics in store for Schmidt and Jenko as Phil Lord and Christopher Miller created 20 hilarious short clips and posters for potential follow-ups. But what will 23 Jump Street actually entail? They are off to medical school, bitches. Sorry, I really shouldn't have said that. That language is only appropriate coming out of Ice Cube's mouth. They will then return for an adventure as foreign exchange students in Moscow.
After that they will then go on to tackle art school and culinary school. But due to Jonah Hill's demands, he is then kicked out of 29 Jump Street: Sunday School, and is replaced by one of his BFFs, instead.
Don't worry though, Hill eventually returns for 31 Jump Street: Ninja Academy, and the duo will continue all the way up to 2121 Jump Street where they seem to take on an intergalactic mission. I'm just hoping that George Clooney's corpse from Gravity will make a cameo.
Your Daily Blend of Entertainment News
Thank you for signing up to CinemaBlend. You will receive a verification email shortly.
There was a problem. Please refresh the page and try again.