The 29 Cameos Zoolander 2 Squeezes In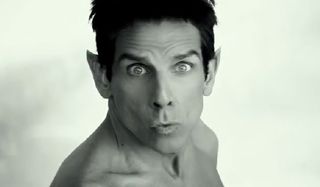 There are many reasons why Ben Stiller's Zoolander has gained cult status in the last fifteen years, but certainly one of the movie's biggest claims to fame is the number of celebrity cameos. While certain appearances do have the effect of dating the film a bit, a part of the movie's fun is seeing just how many of the famous faces you recognize. This is certainly a tradition that is continued in the newly-released sequel.
Like its predecessor, Zoolander 2 is packed with special appearances from all parts of the entertainment industry – and there are even a few surprising names from the original who make their way back for the follow-up. In case you missed anyone, we've put together this handy list of all the cameos for your reading pleasure, so enjoy!
SPOILER WARNING: The following article contains massive spoilers for Zoolander 2. If you haven't had a chance to see the film yet, and don't wish for any part of it to be ruined, please click away to one of our other wonderful articles!
Justin Bieber, Demi Lovato, Madonna, Miley Cyrus, Lenny Kravitz, Usher & Bruce Springsteen
Might as well start this list with the famous faces that show up right at the start of Zoolander 2, right? Justin Bieber is gunned down by a couple of masked motorcycle riders, getting a significant amount of screen-time before dying, but he is one of many celebrities who met untimely ends in the movie – photographs revealing the deaths (and Zoolander-esque looks) of Demi Lovato, Madonna, Miley Cyrus, Lenny Kravitz, Usher and Bruce Springsteen.
Billy Zane
Billy Zane is easily one of the most beloved cameos in the original Zoolander (delivering the famous "It's a walk off" line), and he's back in Zoolander 2 with a significant role to play. Not only does he deliver Netflix DVDs to both Derek Zoolander and Hansel, but he's also the one that gives them their respective messages from Atoz and gets them back in the game.
Kiefer Sutherland
Hansel isn't in a committed relationship with one person at the start of Zoolander 2 - he's in a committed relationship with a lot of people. It turns out that in the last 15 years he's gotten really serious with a particular group of orgy participants – with the mouthpiece for the group being none other than 24 star Kiefer Sutherland. And they're all pregnant, so Mazel Tov!
Susan Boyle
It's no secret that both Derek Zoolander and Hansel are vain idiots, and it never seems to occur to them that the world has forgotten about them. Case in point, when they see a team of paparazzi at the airport, they think that they're about to be assaulted with flashbulbs. Instead, it's really all a setup for Susan Boyle's Zoolander 2 appearance – and he's really none too happy about all of the cameras either.
Andy Dick, Benedict Cumberbatch & Skrillex
The fashion show thrown by Don Atari featuring Derek Zoolander and Hansel is mostly an opportunity to throw a spotlight on Benedict Cumberbatch as the gender-less All, but the sequence throws in two other quick cameo appearances as well. You'll notice that it's Skrillex spinning the discs in the Zoolander 2 scene, and also spot Andy Dick as a Terry Richardson-inspired photographer (he also had a heavily disguised cameo in the original as a woman working in Mugatu's day spa).
Christina Hendricks, Susan Sarandon & Willie Nelson
Hansel may be committed to the odd collective led by Kiefer Sutherland, but he finds himself cheating on that orgy with another orgy. While this is yet another strange group of individuals, it's also a bit more star-packed – featuring Christina Hendricks and Susan Sarandon. Willie Nelson was apparently also involved with all of the action, but makes a less than subtle exit during a dramatic moment.
Katy Perry & Neil DeGrasse Tyson
In the world of Zoolander 2, apparently you can go up to a random rooftop in Rome and spot a number of celebrities standing on their own rooftops and questioning their place in the universe. Specifically, Derek winds up running into both Katy Perry (who isn't sure who her target demographic really is) and Neil DeGrasse Tyson (who is a bit more concerned with the astrophysics side of that question instead of the philosophical one).
Alexander Skarsgard
Fans of the original Zoolander will probably remember that Alexander Skarsgard had a small part in the 2001 comedy, playing one of the idiot male models who winds up dying in the gasoline fight accident. In Zoolander 2 he's back in a much different kind of role: playing Adam in the sequence explaining the biblical history of Adam, Eve and Steve.
MC Hammer & John Malkovich
It's made pretty clear in Zoolander 2 that Mugatu is perhaps the greatest fiend that the fashion police have ever apprehended, but he's not the only one who has been thrown away in a deep, dark cell. Other inmates caged along with the creator of the piano key necktie include MC Hammer (for the introduction of hammer pants), and John Malkovich as Skip Taylor – the creator of the Member's Only jacket.
Mila Jovovich & Justin Theroux
Because of their roles in the original Zoolander, Mila Jovovich and Justin Theroux have what could be argued as supporting roles in Zoolander 2, but because their parts are so small we're going to designate them as cameos. Theroux – known as the Evil DJ – appears as the headmaster who winds up kidnapping Derek's son, and after showing up in a flashback, Jovovich's Katinka Ingabogovinanana reveals herself as having been around the whole time, disguised as Alexanya Atoz.
Marc Jacobs, Tommy Hilfiger, Anna Wintour, Valentino, Alexander Wang & Vera Wang
The Zoolander movies are obviously built around sending up the fashion industry, but some of the top designers in the world wind up getting in on the fun in the sequel. In the big finale of Zoolander 2, Mugatu collects some of the biggest designers in the world for a big ceremony, and it's a guest list that includes Marc Jacobs, Tommy Hilfiger, Anna Wintour, Valentino, Alexander Wang, and Vera Wang.
Did we miss anyone? Who was your favorite? Sound off in the comments section below.
NJ native who calls LA home; lives in a Dreamatorium. A decade-plus CinemaBlend veteran; endlessly enthusiastic about the career he's dreamt of since seventh grade.
Your Daily Blend of Entertainment News
Thank you for signing up to CinemaBlend. You will receive a verification email shortly.
There was a problem. Please refresh the page and try again.