3 Big Signs That Batman Is Becoming The Crown Jewel Of The DC Comics Films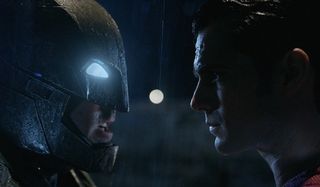 In just over six months, Warner Bros. and DC will dive deep into their very own connected universe of superhero films based on the comic book giant's stable of characters and titles. After Batman v Superman: Dawn of Justice, we'll get Suicide Squad, Wonder Woman, a two-part Justice League, and many between now and 2020.
For all of the other big-name heroes about to be brought to life on the screen, however, it is truly Batman, played in this latest incarnation by Oscar-winning writer and director Ben Affleck, that will form the center of this rapidly expanding cinematic world. The superhero movie news hounds over at Heroic Hollywood shared a new rumor this morning about how the Caped Crusader will take a bigger, increasingly central role in the action moving forward. It's the latest of many signs that DC is moving their chips to Batman's side of the card table. Take a look at what we know so far:
More Batman, Less Superman In Dawn Of Justice
According to Heroic Hollywood's industry sources, Warner Bros. has requested that Dawn of Justice, which is deep into the post-production process, feature more of Affleck's Batman and less of Henry Cavill's Superman. For all the concerns fans had when the Argo director and star was cast in the role, he is apparently killing it as the Dark Knight. To the point where the report says he is blowing the Man of Steel "right off the screen."
Thanks in part to Christopher Nolan's Dark Knight trilogy, Batman has been, and still is, one of the most popular movie superheroes going, so it makes sense that WB and DC would want to capitalize on that. And though Zack Snyder's 2013 Man of Steel was a hit, it proved hugely divisive to fans and critics, and it feels like they are having a more difficult time figuring out precisely what they want to do with the character, and how to fit him into that dark, gritty mold they're going for with their films (while still remaining true to the character). With Batman, on the other hand, it feels like they know exactly what they're going for and what they want. They also want more of it.
Batman Is Getting Way More Movies Than Superman
If this report pans out, we'll be seeing far more of the Caped Crusader next year in Batman v Superman: Dawn of Justice. But even outside of that single movie, the Dark Knight is going to get far more screen time in the DC Extended Universe than Superman, or any other DC character for that matter. In addition to BvS, Affleck's Batman will show up later in the year when David Ayer's supervillain team up Suicide Squad hits theaters—we've seen footage of Bats clinging to the roof of Joker's car as it zips around.
Beyond those 2016 offerings, Batman will also play an integral part in the Justice League movies. Granted, Superman is a founding JLA member as well, so he'll be around, but there have also been rumblings of multiple solo Batman movies to come, including one that could very well be directed by Ben Affleck himself. Not only do they have one of the biggest actors in the world playing a beloved and iconic character, but they have an Academy Award-winner in the director's chair as well. Not a bad two-fer. And then there's the fast-tracked LEGO Batman movie in the works, a hot series of video games, and the precursor TV series Gotham. Meanwhile, as all of this is going on for the Caped Crusader, Man of Steel 2, which Mad Max: Fury Road's George Miller was recently rumored to direct, is on "permanent hold." Oof.
Ben Affleck's Right-Hand Man Punched Up The BvS Script
After working with Ben Affleck to bring Argo -- the story of the CIA pretending to make a science fiction movie to rescue six Americans trapped in Iran during the 1980s -- to life, Chris Terrio came in to overhaul the Batman v Superman script. He was brought on board to take a whack at punching up the script originally written by Man of Steel scribe David S. Goyer (who also had a hand in the scripts for Christopher Nolan's Dark Knight films). He reportedly did heavy rewrites to what Goyer turned in.
Moving forward, Terrio, who also has an Oscar on his shelf thanks to Argo, has been tapped to tackle the scripts for the superhero team ups we'll see in Justice League, Part One in 2017 and Justice League, Part Two, which drops in 2019. As Affleck and Terrio's stock continues to rise, it's becoming more and more clear who the focus of the DCEU is going to be, and that it's Batman. On the other hand, Henry Cavill is still struggling to find an identity outside of his role as Superman, and this summer's flop The Man From U.N.C.L.E. is not doing him any favors (which is a shame, because the movie is actually a lot of fun).
We'll see how all of this shakes out over the next few years, starting when Batman v Superman: Dawn of Justice opens on March 25, 2016.
Your Daily Blend of Entertainment News
Thank you for signing up to CinemaBlend. You will receive a verification email shortly.
There was a problem. Please refresh the page and try again.