Michael Shannon's Latest Batman v Superman Quotes Are Somehow Even Crazier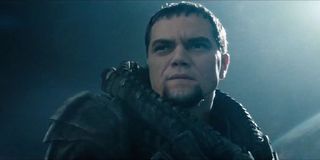 Despite his neck being snapped in Man of Steel, Zod still has a part to play next year in Batman v Superman: Dawn of Justice. The Kryptonian general's corpse was glimpsed in the latest trailer for the 2016 blockbuster, and multiple reports indicate that the body be transformed into Doomsday. However, while there are curious developments in store for Zod, actor Michael Shannon has some bizarre things to say about his actual involvement, namely that he never appeared on camera as his character.
During an interview with The Daily Beast, Shannon admitted that while he did do some voice work for Dawn of Justice, he wasn't actually present on set. He said:
Shannon went on to say that Zod's appearance in Batman v Superman: Dawn of Justice is akin to how Jor-El's consciousness was still kicking around in Man of Steel, comparing this to being a "ghost." Even if we assume that the Zod we'll see in the film was created via CGI and stand-ins, Jor-El's consciousness was only around in Man of Steel because he downloaded a copy of it into the codex before sending his son to Earth. Unless Zod did the same before his neck was snapped, it's unclear how he's still able to exist, but that's a discussion for another time.
More importantly, why is Shannon saying he wasn't involved with the production when not long ago he made us believe he was on set? Two weeks ago, Shannon told a story about how he wore these strange flippers on his hands while filming that resulted in him getting stuck inside a bathroom. Now he's attempting to pass of that tale as something he made up during the interview. As he put it:
There's two ways to interpret that quote. The first is that Shannon really did lie and simply toyed with our minds telling that flippers-in-the-bathroom story. If that's the case, then how dare you, sir?! The second option is that Shannon was telling the truth the first time, but inadvertently spilled a few too many beans, and Warner Bros. told him to ease off on the intricate details, thus why he's now trying to pass the story off as fake. Either way, until we hear from someone in the production or see a behind-the-scenes featurette that actually shows Shannon mingling with the rest of the cast and crew, we have to assume the 99 Homes star not only didn't shoot any actual scenes, but unfortunately didn't wear flipper hands either.
Whether Shannon was involved with the film or not, moviegoers will find out what is going on with Zod when Batman v Superman: Dawn of Justice hits theaters on March 25, 2016.
Connoisseur of Marvel, DC, Star Wars, John Wick, MonsterVerse and Doctor Who lore. He's aware he looks like Harry Potter and Clark Kent.
Your Daily Blend of Entertainment News
Thank you for signing up to CinemaBlend. You will receive a verification email shortly.
There was a problem. Please refresh the page and try again.