To 3D Or Not To 3D: Buy The Right Despicable Me 2 Ticket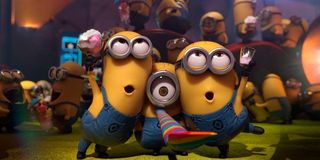 Nowadays it's pretty hard to find a mainstream feature-length animated film that isn't released in 3D. This year has already seen the release of movies like Epic, The Croods and Monsters University and each one of them was put out in both 2D and 3D – albeit with varying degrees of success. So now the question is, where will the next one land on the scale?
During this weekend's July 4th holiday the big 3D release is Cinco Paul and Ken Daurio's Despicable Me 2. The first movie came out in the headwear-required format when it was released back in 2010, but is its sequel worth paying a few extra dollars to see with an added dimension? Read on to find out!
Does 3D Fit?
? Making an environment look 3D is a hell of a lot easier if the environment is being built from scratch, which is why animated movies tend to be some of the best examples of 3D we've seen since the fad returned a few years ago. Obviously, Despicable Me 2 fits in that respect. Add in the fact that the film is a spy story with a good dose of action and projectile gadgets and you have the makings of a movie that's well-suited with an extra-dimension.
Planning & Effort?
?When Illumination Entertainment first started working on how to make Despicable Me 2, the choice to whether or not to use 3D probably was never even discussed – just assumed. As mentioned above, when the first movie came out in 2010, it was also released in the format. Having that bonus surely helped when it came to box office earnings, and by the end of its run Despicable Me made over $500 million worldwide. It's hard to imagine that there was ever a chance that Despicable Me 2 was not going to be in 3D.
Before the Window?
?As the more "fun" aspect of 3D, the "before the window" part of the technology is found more often in family-friendly animated movies that than live-action films, and in this regard Despicable Me 2 actually fully delivers. Whether it's a hose flying around the screen vacuuming up minions or a gun shooting jelly out at the audience, the format works to make the film-going experience an interactive one. And if you're looking to get the most out of the 3D, stay through the end credits as the minions put on a little show
Beyond the Window
The best use of 3D in Despicable Me 2 is the "Before The Window" stuff, but it delivers fairly well "Beyond the Window" as well. There aren't a huge number of scenes that are set in wide open, expansive areas that make you feel like you could step into the world, but Paul and Daurio definitely make use of the space around their characters, and use the 3D effectively during action sequence, whether it's Kristen Wiig's Lucy kidnapping Gru and taking him back to her secret headquarters, or Benjamin Bratt's El Macho doing a tango number in the middle of his restaurant.
Brightness
?Despicable Me 2 may have a former supervillain as its main character, but the world of the film is anything but dark. In fact, much of the movie's world is filled with bright light and pastel colors, both of which help cancel out the fact that the 3D forces audience members to wear shaded lenses while watching. There are a few scenes that take place at night, but it never feels murky or hard to watch. Provided that the projectionist at your local theater knows what they are doing and/or isn't being forced to cut corners, the film's brightness shouldn't be an issue for the 3D.
The Glasses Off Test
? Taking off your glasses during a 3D movie is a way to test just how much the effect is being used in a given scene. In simple terms, the blurrier a shot looks, the more layered (and better) the 3D is. While watching Despicable Me 2 I made a habit of occasionally flipping up my glasses to take a peek at the screen, and I was mostly impressed. While more relaxed scenes where characters are having ordinary conversations weren't all that impressive, the more active scenes were notably distorted.
Audience Health?
One of the significant downsides of 3D is that it can cause some members of the audience to get a headache or feel sick to their stomach. While this can be an entirely subjective experience – our brains, eyes, and organs are not all built the same way – there are steps that can be taken by filmmakers to ensure that everyone in the audience is thinking about the story and characters rather than the sharp pain developing between their eyes. Walking out of Despicable Me 2 I was perfectly fine health-wise, and I'm confident most of you will be fine too.
Swipe to scroll horizontally
SCORES RECAP
3D Fit
5
P&E
5
Before The Window
5
Beyond The Window
4
Brightness
5
The Glasses Off Test
3
Audience Health
5
Total Score
32 (out of a possible 35)
Final Verdict: As I mentioned in my review of the film, I can't recommend attending a screening of Despicable Me 2 in a general sense, but I will say that if you have to go see it that you should see it in 3D. I give a lot of credit to the film's animators, as they created a vivid and interesting looking world, and the 3D actually does a good job of making it pop. Taking a family of four to a screening may end up being a bit on the expensive side, but if you're really looking to get the most out of the experience I would have to suggest paying the extra cost.
This poll is no longer available.
Assistant Managing Editor
NJ native who calls LA home and lives in a Dreamatorium. A decade-plus CinemaBlend veteran who is endlessly enthusiastic about the career he's dreamt of since seventh grade.
Your Daily Blend of Entertainment News
Thank you for signing up to CinemaBlend. You will receive a verification email shortly.
There was a problem. Please refresh the page and try again.