New 3D Tarzan Animation In The Works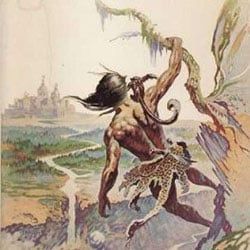 Variety reports that German studio Constantin Film has recently acquired the rights to a new Tarzan animated feature (and full disclosure, it's taking a lot of effort to avoid making "swinging" puns). The studio has a pretty decent filmmography, having been behind films such as The Neverending Story, Downfall, Perfume, and the Fantastic Four and Resident Evil movies; a mixed, but interesting, track record. The new Tarzan will aim for 3D, and while plot details are slim, Constantin has bought the rights to all of Edgar Rice Burroughs' Tarzan novels, so they have plenty of source material to work with.
The pic will be produced by Robert Kulzer and Reinhard Klooss. Kulzer is currently producing on two upcoming 3D films, Resident Evil: Afterlife, and The Three Musketeers, the latter of which will begin shooting later this month. Kloos is the writer, director and producer of an upcoming CGI animted 3D film, Animals United which will release this fall. Ambient Entertainment did the animation on United, and will return to collaborate on the pair for Tarzan . Other than that, details on the project are very scarce, but many speculate that Paul W.S. Anderson, a frequent collaborator with Kulzer, may be signed to direct.
Tarzan of course is no stranger to film. Johnny Weismuller starred in a series of MGM films in the 1930s; and in 1999, Disney's animated take on the character grossed over $448 million worldwide. Warner Bros. and producer Jerry Weintraub have been trying to get a live-action Tarzan made since 2003. Will the two eventually compete? It'll be interesting to see how an animation vs the live-action competition plays out.
Your Daily Blend of Entertainment News