4 Key Roles That Show Star Wars' Max von Sydow's Dark Side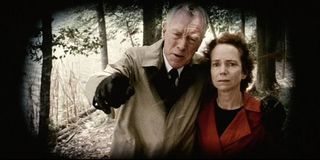 Over the last 65 years, actor Max von Sydow has established himself as one of the true legends of the silver screen. His work in films like The Seventh Seal, The Exorcist, and Three Days of the Condor has more than secured his place in history as one of the greats of his craft – but he's not done adding iconic movies to his resume just yet. While he wasn't featured in the announcement photograph that will undoubtedly become considered iconic with time, von Sydow was one of the 13 actors announced this morning as being part of the Star Wars: Episode VII cast – and there's few things that we want more than to see him play one of the film's central villains.
Von Sydow, of course, has played many great antagonists over the course of his career, but why do we think he would be absolutely perfect to join the dark side in Star Wars? Read on to find out.
Minority Report
Because "old" is such a bad word in Hollywood, I'm going to use polite phrasing and say that Max von Sydow is what you might call a well-versed cinema legend. Born in 1929 in Sweden, the star got his first big screen acting job in the 1949 Alf Sjöberg-directed Only A Mother, and he has been credited for nearly 150 titles since then. By the time Star Wars: Episode VII arrives in theaters next year, the actor will be 86 years old, but don't start thinking that his age might detract from his villainy. The acting legend was a stately 73 years old when he played Director Lamar Burgess in Steven Spielberg's Minority Report, and that fact only added to his performance in that he was able to be unsuspecting while also intensely sinister. In Star Wars: Episode VII he could wind up being a great mentor who slowly reveals his malevolent intentions before breaking out the force lightning on a bunch of children.
Ghostbusters II
Okay, so Max von Sydow doesn't actually appear in Ghostbusters II and he went without a credit as well, but the reality is that he plays one of the most significant roles in the movie. While Wilhelm von Homburg provided the physicality of the character, the villainous Vigo The Carpathian was voiced by von Sydow. While it's not entirely clear why von Homburg couldn't just voice the character himself, what is fairly obvious is why director Ivan Reitman cast the Swedish Oscar nominee: when speaking in his commanding voice, von Sydow is quite intimidating. You know who else you could say that about? James Earl Jones, the voice of Darth Vader. Here at Cinema Blend, we are sincerely hoping that the star gets an actual a live action role in Star Wars: Episode VII, but we would also not have any reason to complain about a voice-over part. Perhaps that's what Abrams is hinting at by not featuring von Sydow in the table read photo?
Flash Gordon
It's true: history has turned 1980's Flash Gordon - which starred Max von Sydow as the tyrannical Ming the Merciless – into a bit of a punchline. It may have one of the greatest theme songs of all time (courtesy of Freddy Mercury and Queen), but its cheap effects and laughable performances have not allowed it to age well with time – and it was pretty damn bad even when it was first released. So why on Earth would we want to tie any links between it and Star Wars: Episode VII? It's true that von Sydow's role in Flash Gordon was far from the best of his career, but it does reveal an inherent, strange comfortability in him within a larger-than-life sci-fi world, particularly as a caricature villain. Andy while it's not directly von Sydow related, let's also not forget that Flash Gordon served as a tremendous influence on a young George Lucas and was one of the key titles that inspired him to make Star Wars in the first place.
Never Say Never Again
Every great pop culture hero has their nemesis, be it Batman and The Joker, Captain America and Red Skull, or Sherlock Holmes and Professor Moriarty. For super spy James Bond there is no one but Ernst Stavro Blofeld. In the legacy of 007 movies, we have seen many actors take on the classic role, and it is one of many that von Sydow has taken on in his career. Sporting a white goatee and stroking an ever-present white cat, the actor fit perfectly into the iconography of the Bond franchise starring in Never Say Never Again while also bringing his own villainous charisma to the part. Star Wars: Episode VII is an equally epochal series with a great legacy of villains, and von Sydow is exactly the type of veteran star you want to blend with the background and stand out at the same time.
Your Daily Blend of Entertainment News
Assistant Managing Editor
NJ native who calls LA home and lives in a Dreamatorium. A decade-plus CinemaBlend veteran who is endlessly enthusiastic about the career he's dreamt of since seventh grade.