Star Wars Episode VII Official Cast Announced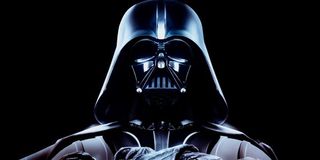 The official Star Wars: Episode VII cast has been announced. Among the names included on the list that was revealed today are original Star Wars stars Harrison Ford (Han Solo), Carrie Fisher (Princess Leia), Mark Hamill (Luke Skywalker), Anthony Daniels (C-3PO), Peter Mayhew (Chewbacca) and Kenny Baker (R2-D2). Also Announced are John Boyega, Daisy Ridley, Adam Driver, Oscar Isaac, Andy Serkis, Domhnall Gleeson and Max von Sydow.
This news was posted moments ago at the Star Wars Facebook page, along with the following statement from J.J. Abrams:
Star Wars: Episode VII is being directed by J.J. Abrams from a screenplay by Lawrence Kasdan and Abrams. Kathleen Kennedy, J.J. Abrams, and Bryan Burk are producing, and John Williams returns as the composer.
The originals...
Rumors have been circulating about original cast members returning for Star Wars Episode VII, some as recent as this week, so we're not especially surprised to hear that Harrison Ford, Carrie Fisher, Mark Hamill, Anthony Daniels, Peter Mayhew and Kenny Baker are returning. But it's exciting news nonetheless, as these actors played the heroes of the original trilogy. When Star Wars Episode VI: Return of the Jedi left off, the rebels were celebrating their victory, on Endor, while Luke cremated his father's remains on a funeral pyre.
John Boyega
22-year-old British actor John Boyega is no stranger to science fiction. Among the actor's first credits is the 2011 sci-fi film from Joe Cornish, Attack the Block, in which he played Moses. He caught what might have been a break when he was cast in the role of Donnie in the HBO pilot Da Brick, but the project didn't go to series. We'll see him soon enough on the small screen, however, as John Boyega is set to play the recurring role of Chris Tanner in 24: Live Another Day, which debuts on Fox early next month.
Daisy Ridley
Daisy Ridley's credits include a handful of appearances in British TV series, including a recent episode of the current season of Mr. Selfridge, which you can catch on ITV in the UK and PBS, Stateside. In addition to her role on Star Wars: Episode 7, she's set to star in a horror from Peter Hearn called Scrawl, which is currently in post-production.
Adam Driver
There's been talk of Adam Driver joining Star Wars: Episode VII for a while now, including talk of him playing a central villain in the film. While the San Diego native and former Marine has been acting for a few years now, he garnered some much deserved attention and praise (including an Emmy nomination) for his role as Adam Sackler on HBO's Girls. Since then, he's appeared in Inside Llewyn Davis, which earned him a Hamptons International Film Festival award for Breakthrough Performer, and he has a host of upcoming projects lined up, one of which is now officially Star Wars: Episode VII.
Oscar Isaac
Speaking of Inside Llewyn Davis, Oscar Isaac -- who was nominated for a Golden Globe for the 2013 film -- is also among the cast of Star Wars: Episode VII. Born in Guatemala but raised in Florida, Isaac's credits include Drive, Sucker Punch and the role of Prince John in Ridley Scott's Robin Hood film. Coming up, he's set to star alongside Jessica Chastain in J.C. Chandor's A Most Violent Year. He's also lined up to star in Alex Garland's Ex Machina, which will have him appearing alongside fellow Star Wars: Episode VII star Domhnall Gleeson.
Andy Serkis
The possibilities for Serkis' casting in Star Wars Episode 7 are endless when we take into account Serkis' work in motion capture. Serkis made a name for himself in motion capture for his role as Gollum in the Lord of the Rings films. He since reprised that role for the Hobbit films, and he went a bit furrier for his role as Kong in Peter Jackson's King Kong, and then as Caesar in Rise of the Planet of the Apes and the upcoming Dawn of the Planet of the Apes. If they're looking to do some motion capture work in Star Wars: Episode VII, Andy Serkis is an obvious and excellent choice. But Serkis also plays human roles from time to time, so who knows what they have planned for him.
Domhnall Gleeson
You may not recognize the name Domhnall Gleeson just yet, but there's a good chance you've seen the Irish actor around. He's the son of Brendan Gleeson, and he played Bill Weasley in the final two Harry Potter films. He played the role of Moon in True Grit and more recently, he charmed our socks off starring opposite Rachel McAdams in Richard Curtis' time travel romantic dramedy About Time. If you haven't seen it, get to it. It's well worth a look and a fine demonstration of Gleeson's talents. Coming up, in addition to Star Wars, Gleeson has Ex Machina in the works, which has him working alongside Oscar Isaac. We'll also see him in Unbroken, which is penned by the Coen Brothers and directed by Angelina Jolie.
Max von Sydow
Last but most definitely not least among this cast of talented actors, we have Max von Sydow, known for playing Father Merrin in The Excorcist ("The power of Christ compels you!") and Ming in Flash Gordon... and maybe less known for playing the uncredited voice of Vigo in Ghostbusters II (you are like the buzzing of flies to him.) In addition to playing the role of Director Lamar Burgess in Minority Report, the Swedish actor also shares a Robin Hood credit with Oscar Isaac, having played the part of Sir Walter Loxley in the 2010 film. His other recent credits Extremely Loud & Incredibly Close and Shutter Island.
Image 1 of 1