4 Major Star Wars Surprises We Think Could Happen On May The Fourth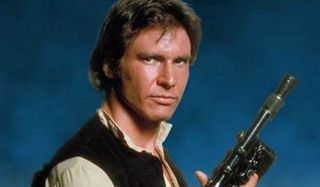 While not an official holiday on the calendar, May 4 has become an adopted day of celebration for all things Star Wars (as in, May the Fourth be with you). Last year, we picked up some new information on the Boba Fett movie. This year, however, is anyone's guess.
With the launch of Star Wars: The Force Awakens, Disney and Lucasfilm took the first step toward what is quickly becoming a vast and healthy Star Wars universe. At the moment, there are a number of Star Wars projects in development, which means news on May 4 could come from several different directions. These are our best guesses at stories we think could develop on May 4, keeping fans invested in these upcoming Star Wars properties.
Star Wars: Episode 8 Could Get A Subtitle
Director Rian Johnson recently revealed that he has reached the halfway mark on 2017's Episode 8, so why don't we stop calling it "Episode 8" and start calling it by its proper name? Fans went crazy analyzing the possible meanings of The Force Awakens when J.J. Abrams revealed that it would be the subtitle of the first Star Wars movie in decades. Heck, many of us still debate the meaning of "Awakens," as in, "Who had the Force awaken inside of them?" We know that Johnson's sequel will continue the stories of Rey (Daisy Ridley), Finn (John Boyega) and even Kylo Ren (Adam Driver). But he's also bringing Luke Skywalker deeper into the fold, so a new title could address the plans for all of these characters. Will we learn the subtitle later this week? We shall see.
Young Han Solo May Get Cast
We think we know who the frontrunner is. Recent reports have put Hail, Caesar! co-star Alden Ehrenreich at the front of the pack to claim the role of Han Solo in the planned prequel spinoff story that's dated for May 25, 2018. Granted, there's still plenty of time to cast, as this movie doesn't have to go into production any time soon. But, an image of Ehrenreich – or a different, up-and-coming actor – in the Han Solo vest, and holding a blaster, would set the Internet on fire, and make May 4 memorable this year.
Darth Vader Could Be In A New Rogue One Trailer
It has been about a month since Gareth Edwards' Rogue One: A Star Wars Story dropped its first official trailer, giving fans the first look at the story that would take place between Revenge of the Sith and A New Hope. But the character missing from the footage was Darth Vader, and in all honesty, we were more than a little disappointed. At the time, we speculated that Disney could be holding Vader's first Rogue One reveal for a Comic-Con panel. However, a May 4 reveal of the villainous Sith Lord would be even better. Make it happen, Disney?
Episode 8 Could Reveal More Details On Its Mystery Characters
If Rian Johnson's Star Wars sequel isn't going to reveal its subtitle, perhaps it could drop a still of one or two of its most mysterious characters, the ones played by either Benicio Del Toro or Laura Dern. These were high-profile castings, and yet, we know nothing about the characters these actors are playing. Star Wars fans loved discussing Ben Mendelsohn's role in Rogue One just based on his costuming. We could easily start to break down Benicio Del Toro's possible alliances with an official still of his character, fully clothed. Or... imagine a shot of Dern standing next to Daisy Ridley in a mother/daughter pose? Hot fire! At the same time, May 4 could be a GREAT opportunity to reveal to the world who Kelly Marie Tran is playing, as we heard she could be the heroic lead of Episode 8. Will any of these happen? Cast your vote in our poll, and brace yourself for (hopefully) a very busy Wednesday!
This poll is no longer available.
Movie junkie. Infatuated with comic-book films. ReelBlend cohost. Resident dad. Extroverted introvert. Wants to see the Snyder Cut. Managing Director at CinemaBlend.
Your Daily Blend of Entertainment News
Thank you for signing up to CinemaBlend. You will receive a verification email shortly.
There was a problem. Please refresh the page and try again.