What Rian Johnson Brings To Star Wars Episode 8, According to Benicio Del Toro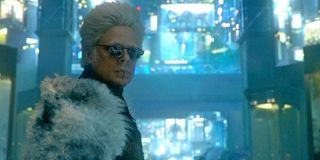 Even though Star Wars: The Force Awakens hasn't actually been released yet, it's impossible not to look beyond the seventh installment of the franchise. Not only is the saga going to continue on with Star Wars: Episode VIII and Episode IX, but there's also Rogue One and Han Solo and Boba Fett films planned, as well. Benicio Del Toro will be involved in Episode VIII, as the film's villain, and he's recently been talking about what attracted him to the project, and why Rian Johnson is the perfect director for this world.
Benecio Del Toro made these comments to Empire Magazine while out promoting his impressive turn in Sicario. The Puerto Rican actor was asked what Johnson would bring to Star Wars: Episode VIII, which led him to insist that the Brick and Looper director is going to bring a new energy to proceedings. Del Toro explained in more detail:
Rian Johnson was immediately labelled as a savvy choice to oversee the eighth addition to the Star Wars franchise when his inclusion was announced. In fact, looking at this career, he has actually been building to this for a while. Brick is a terrific ensemble piece, that is majestically plotted and beautifully paced. Meanwhile, The Brothers Bloom has a cheeky charm and humor that would lend itself well to any Star Wars film, and Looper was a grounded and intimate story that existed in a sci-fi world that thrives just as much because of its characters as because of its action. All of these traits would be perfect for Episode VIII.
When it was announced that the Star Wars franchise was being brought back and expanded in such a huge and impressive fashion, the powers that be immediately sought out some of the most prestigious mainstream, blockbuster writers and directors in cinema. After much deliberation, with Brad Bird and Matthew Vaughn among numerous filmmakers who were considered, J.J. Abrams was finally hired as Star Wars: Episode VII's director, producer and co-writer, before it was then announced that Rian Johnson would director Episode VIII from a script written by Lawrence Kasdan and Simon Kinberg.
The same approach was made for Rogue One: A Star Wars Story, as well as the Han Solo and Boba Fett anthology films. Rogue One is being overseen by Gareth Edwards, who previously excelled in the field of visual effects before bringing to life the beguiling blockbusters Monsters and Godzilla.
Meanwhile Han Solo's adventure will be directed by Phil Lord and Christopher Miller, who over the last few years have become one of the most in-demand pairs in cinema thanks to their work on 21 Jump Street, The Lego Movie, and Cloudy With A Chance Of Meatballs.
Unfortunately, plans for the solo Bob Fett movie moved back to square one earlier this summer when the original choice to direct, Josh Trank, announced that he was no longer directing. It was widely assumed that this was because of his botched attempt to film Fantastic Four, with rumors surrounding his on-set behavior having been swirling for months.
Still, that hasn't come close to taking the wind out of the Star Wars franchise's sails. And after Star Wars: The Force Awakens is released in December, we can expect one Star Wars film a year for quite some time.
Your Daily Blend of Entertainment News
Your Daily Blend of Entertainment News
Thank you for signing up to CinemaBlend. You will receive a verification email shortly.
There was a problem. Please refresh the page and try again.