Will Michael Fassbender Do More X-Men Movies? Here's What He Says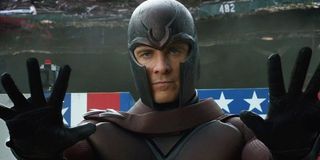 With the prevalence of the comic book movies, which, like their source, go on for a number of installments featuring the same superheroes, multi-picture contracts for actors have become commonplace. Sometimes you can tell a performer can't wait for their deal to be done so they can cut and run screaming for the door, but Michael Fassbender, who plays the young Magneto in 20th Century Fox's X-Men films, is not one of those.
Talking to Variety about his increasingly jam packed filming schedule, he revealed that he's shooting X-Men: Apocalypse next, and when asked if he was down for more mutant adventures after this, he replied:
The fact that a movie star the size and stature of Fassbender is at least open to making more movies in this vein has to be a welcome bit of news to Fox. The franchise is already losing Jennifer Lawrence, who has said Apocalypse will be her last time onscreen as Mystique (that makes a decent amount of sense since sitting naked in makeup for hours a day while someone paints you blue and glues pieces of rubber to your skin has to get old real quick). Add to that, the fact that Hugh Jackman, who plays the massively popular Wolverine in the X-Men movies, is also moving on soon, there are some changes in the works. (We've also heard rumblings that director and general creative force Bryan Singer could also be leaving the X-Men family before long.)
It would be a huge coup to get Fassbender back, but with a busy slate of projects lined up ahead of him, the plausibility of signing him to more movies is questionable. Or at least the schedule will become even trickier. His western Slow West is making the festival rounds, he has MacBeth in the pipe, as well as Steve Jobs, Prometheus 2, and Assassin's Creed all lined up over the next year or so. And that is, of course, in addition to X-Men: Apocalypse, which is filming now.
Even though the X-Men franchise is losing some key players, they're restocking to a degree with Apocalypse. We met Evan Peter's Quicksilver in X-Men: Days of Future Past, and the next film introduces Sophie Turner as Jean Grey, Tye Sheridan as Cyclops, Alexandra Shipp as Storm, Kodi Smit-McPhee as Nightcrawler, Ben Hardy as Angel, Olivia Munn as Psylocke, and Lana Condor as Jubilee, among others. With all of these new players, some if not all presumably signed to multiple film contracts, the studio definitely has some characters to work with moving forward, regardless of who returns.
X-Men: Apocalypse is set for release in just over a year, scheduled to hit theaters on May 27, 2016.
Your Daily Blend of Entertainment News
Thank you for signing up to CinemaBlend. You will receive a verification email shortly.
There was a problem. Please refresh the page and try again.