Why Apocalypse Will Be Longer Than The Other X-Men Movies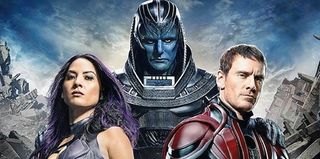 Next year, when you sit down to watch X-Men: Apocalypse, you will be sitting there in the theater a bit longer than you might normally expect for an X-Men movie. Talking recently, director Bryan Singer revealed that the runtime of his latest epic mutant adventure will longer than earlier installments, but there is a very good reason, it has a lot to wrap up.
Talking at the San Pedro International Film Festival yesterday, as filmed by The Movie Report, Singer revealed that X-Men: Apocalypse will have a longer runtime than the previous offerings, and expounded on why that is. He said:
Despite what Singer says, the last X-Men movie, Days of Future Past clocked in at a robust 132 minutes (more if you count the subsequent "Rogue Cut" that inserted an excised storyline back into the film) though that's still within the "two hour" ballpark. And he doesn't say how much longer Apocalypse will be.
But, as this does serve as a conclusion of sorts, there is quite a bit to deal with. This reconfirms that not only is this the closing chapter of the so-called First Class trilogy, it's a kind of culmination of the X-Men franchise as a whole. We're obviously going to get a ton of movies still set in this world—Deadpool, Gambit, New Mutants, and Wolverine 3 are all in the works—but it may be a while before we see another proper X-Men team up movie.
Check out what Singer has to say below:
It may be the final chapter, but X-Men: Apocalypse certainly chose one hell of a villain to close out with. Apocalypse, played by Oscar Isaac, is the first and most powerful mutant in the X-Men universe. First appearing in ancient Egypt, he wakes up in the 1980s after thousands of years, and, disillusioned with the world that greets him, he gathers a powerful team—the Four Horsemen—to wreak havoc on the world and reshape it to his liking. Yeah, that's going to tough for our heroes to deal with.
X-Men: Apocalypse stars Michael Fassbender, Jennifer Lawrence, James McAvoy, Nicholas Hoult, Rose Byrne, Evan Peters, Lucas Till, Alexandra Shipp, Sophie Tuner, Ben Hardy, Tye Sheridan, Lana Condor, and Olivia Munn. The mutant apocalypse begins on May 27, 2016.
Your Daily Blend of Entertainment News
Thank you for signing up to CinemaBlend. You will receive a verification email shortly.
There was a problem. Please refresh the page and try again.