The 5 Biggest Flops Of Summer 2015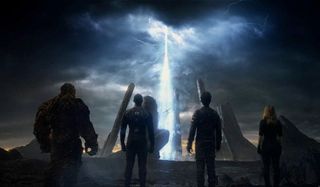 Compared to last year's summer box office season, 2015 was an absolutely gigantic success. Blockbuster titles like Jurassic World, The Avengers: Age of Ultron and Inside Out made ridiculous money while in worldwide release, and overall it was the second biggest summer season in Hollywood history. But with the good, of course, comes the bad – and there were five movies in particular that massively underperformed these past few months.
The Hollywood Reporter has crunched the numbers, an in analyzing reported budgets plus marketing costs against worldwide box office totals, they have determined the five biggest flops of the 2015 movie season. And while you may think you know what's going to be on here, you may be surprised by some of the titles, and their order. Read on!
5. Aloha
Reported Budget: $37 million
Worldwide Box Office: $26.2 million
Cameron Crowe will forever be the guy who brought us titles like Almost Famous, Say Anything…, Jerry Maguire, and the script for Fast Times At Ridgemont High, but his career has been suffering from blow after blow these last few years. Aloha may wind up being his bottom, because while the film was just a tiny drama with a modest budget, it still wound up being a significant loser.
Aloha got poor reviews, stirred up race-related controversy, and earned a B- from CinemaScore – and all of this came together to create an expected loss of approximately $65 million for the folks at Sony and Fox. Surely nobody expected it to make the money of Jurassic World, but it still managed to crawl under the low bar that was set for it. We can only hope that Crowe finds a way to dig out of the hole in which he's found himself.
4. The Man From U.N.C.L.E.
Reported Budget: $75 million
Worldwide Box Office: $72.1 million*
It's important to note that Guy Ritchie's The Man From U.N.C.L.E. is still in theaters, having only been released on August 14th here in the United States (hence the asterisk above). Because of this, there is a chance that some kind of miracle will happen, and people will suddenly start climbing over each other for their chance at tickets. That's seriously unlikely, though, and instead it looks like the feature will cost the studio a pretty penny.
Warner Bros. had a handful of disappointments this past summer – with Hot Pursuit, Entourage, and others making less than expected – but the numbers suggest that The Man From U.N.C.L.E. will be the biggest disappointment of all. According to The Hollywood Reporter's figures, the film is looking at a loss of around $80 million – which becomes a whole lot worse when you realize that number is higher than the reported budget of the movie.
3. Pixels
Reported Budget: $88 million
Worldwide Box Office: $186.4 million*
Adam Sandler's presence as the lead of a movie used to guarantee huge box office results – the actor's resume riddled with titles that made more than $100 million domestically. In the last few years, however, his star has faded significantly, and the most recent bummer in Pixels - which is predicted to cost Sony about $75 million by the time that it's done in its worldwide theatrical release.
When Sandler teamed up with his comedian buddies for Grown Ups 2 in 2013, it helped break the losing stream that started with 2011's Jack and Jill - but teaming with an ensemble didn't help him at all this time. Here in the U.S., Pixels was unable to wrestle the number one spot away from Marvel's Ant-Man when it first came out in late July, and it sank like a stone in the weeks that followed. No matter how you slice it, Adam Sandler had a really bad summer.
2. Fantastic Four
Reported Budget: $120 million
Worldwide Box Office: $146.7 million
Many of you reading this list probably predicted that you'd hit Josh Trank's The Fantastic Four at some point – though I imagine that there are also many of you who thought it would hold the number one spot. As it turns out, the comic book movie's reduced budget helped prevent it from being too extreme a loss – but it was still a flop of the highest order.
This was supposed to be the movie that turned Marvel's First Family back into a viable franchise, but after getting crushed by reviews and terrible buzz, Fantastic Four never really stood a chance. The movie has made only a little over $50 million here in the United States, and it looks like 20th Century Fox may wind up losing $100 million on the investment. As of now, the studio has not yet announced what they plan to do with the future of the series, but things definitely don't look good for a sequel.
1. Tomorrowland
Reported Budget: $190 million
Worldwide Box Office: $208.4 million
Thanks to the success of The Avengers: Age of Ultron and Inside Out, Disney actually had an impressive summer – but Tomorrowland didn't help them in any way, shape or form, and has been declared the biggest flop of the summer. With director Brad Bird at the helm, George Clooney's name all over the marketing, and a giant budget attached, there were a lot of expectations for this movie, but The Hollywood Reporter says that it will wind up costing the studio $120-$150 million – which is in unfortunately deep in Lone Ranger territory (though not as bad as John Carter).
There are many aspects to blame, from the confusing marketing, to the poor reviews, and all of those issues resulted in a big ol' pile of disappointment. The good news is that the people behind it are talented enough to bounce back, and hopefully impress us with their next outings.
NJ native who calls LA home; lives in a Dreamatorium. A decade-plus CinemaBlend veteran; endlessly enthusiastic about the career he's dreamt of since seventh grade.
Your Daily Blend of Entertainment News
Thank you for signing up to CinemaBlend. You will receive a verification email shortly.
There was a problem. Please refresh the page and try again.