5 Cool Secrets To Look For In The Batman v Superman Superhero Costumes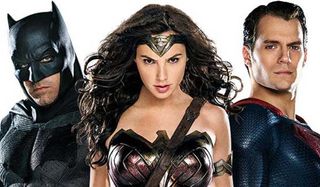 As the DC Cinematic Universe grows, one of the most exciting elements of the movies will be seeing all of the classic comic book costumes adapted… and things are off to a great start in Zack Snyder's Batman v Superman: Dawn of Justice. So far we've seen the outfits for the Dark Knight, the Man of Steel, Wonder Woman and Aquaman, and while certain fans have made select complaints, the reaction overall has been positive. The man who made these cinematic outfits is costume designer Michael Wilkinson, and he's just revealed some great details about the new supersuits of the DC Universe.
People's Choice recently had the chance to work with the filmmaker – who previously collaborated with Zack Snyder on 300, Watchmen, Sucker Punch, and Man of Steel - and while discussing the various costume designs for Batman v Superman: Dawn of Justice he made mention of some key details that you probably won't notice in the film unless you're really paying attention. There's some pretty great stuff here, so read on!
How The Superman Suit Changed From Man Of Steel
At first glance, you might think that Henry Cavill's costume in Batman v Superman: Dawn of Justice is exactly the same as the one from 2013's Man of Steel, but take it from the guy who designed both suits: they're not identical. Michael Wilkinson admits that the changes are only slight, but that there is a reason for them. He explained
Surely there are already many fans out there who are already trying to spot the changes. They're clearly not obvious, but we take Wilkinson's word that they're there.
The Batsuit Approach Was A 180 Degree Turn From The Dark Knight Trilogy
The Batsuit featured in Christopher Nolan's Dark Knight trilogy was used for more than just being a symbol; it was also a very practical design. Batman used his specially designed costume to both help defend against attacks, and enhance his own. For Batman v Superman: Dawn of Justice, however, Wilkinson decided to go in a completely different direction. He explained,
Obviously the new Batsuits are seen as armor to a certain degree – especially the metal-covered one Bruce Wayne wears to throw down with Superman, but Wilkinson's quotes makes sense in consideration of the philosophical approach to the design.
The Best Detail Of The New Batsuit
Michael Wilkinson may have not been thinking of the new Batsuit as armor when he designed it, but that didn't stop him from including some weaponry in the design. As it turns out, this idea actually led to his favorite element of Ben Affleck's costume:
These brass knuckles are surely covered by the fabric in the gloves that Batman wears, and it's entirely possible that Batman v Superman: Dawn of Justice will make no direct reference to them, but while you watch the movie next year, think about them every time that the Dark Knight punches a guy in the head (and imagine just how much it must hurt).
Wonder Woman's Armor And Weapons Feature Kryptonian Script
Superman and Wonder Woman have a long history in the comics, both as teammates and as each one's significant other, but it seems that Zack Snyder will be bringing the two together in a new and different way in Batman v Superman: Dawn of Justice. According to Michael Wilkinson, fans should be looking very closely at the armor and weapons that Gal Gadot carries around in the film. Said the costume designer,
This is so interesting that it makes me wonder if Wilkinson hasn't given away something here that is more significant than he knows. Could this mean that there are ties between Krypton and Wonder Woman's origin?
Jason Momoa Really Loves His Aquaman Costume
Fans don't have a great deal of expectations from Jason Momoa's Aquaman in Batman v Superman: Dawn of Justice, as the sense that has been given is that the character will quickly be in the movie just to set up both a solo film and Zack Snyder's Justice League. This in mind, one has to wonder if it's because his role in the movie is so small that the actor actually wanted to wear the get-up as much as he could. Discussing the King of the Sea's look, Wilkinson added,
Considering that it's much less bulky and body-covering than most superhero costumes, it's not a big surprise that he enjoys it so much.
We'll get to see all of these heroes – and maybe more – in action on the big screen when Batman v Superman: Dawn of Justice arrives in theaters March 25, 2016.
NJ native who calls LA home; lives in a Dreamatorium. A decade-plus CinemaBlend veteran; endlessly enthusiastic about the career he's dreamt of since seventh grade.
Your Daily Blend of Entertainment News
Thank you for signing up to CinemaBlend. You will receive a verification email shortly.
There was a problem. Please refresh the page and try again.