5 DC Easter Eggs Found In The First Justice League Photo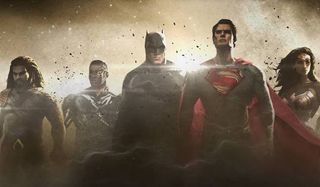 When Warner Bros. announced their DC film slate in late 2014, one of the entries was Justice League: Part One in November 2017. Fast forward to the last several weeks, and there were concerns online that the studio might delay the first Justice League movie due to some reported uneasy reactions of Batman v Superman: Dawn of Justice. Well, fans looking forward to seeing the DC heroes officially unite for the first time on the big screen can rest easy now. Yesterday, it was officially announced that Justice League: Part One will begin filming on April 11, and to commemorate the occasion, director Zack Snyder sent out this photo later in the day.
Posing with Aquaman actor Jason Momoa, Snyder made it clear to fans that they're "deep in it" with Justice League: Part One preproduction. However, it's not those two that have everyone's attention, but what's lurking in the background, and as is usually the case with these behind-the-scenes teases, those items weren't placed there accidentally. Although we went over the basic highlights yesterday, we thought we'd go deeper today with the main Easter Eggs on display in the photo. Take a look!
The Flash
After reading descriptions and seeing concept art, this technically counts as our first photographic look at the DCEU's Flash's costume…even if it is far away. Right away, you can see that, like with Grant Gustin's Flash costume on The CW, this speedster suit is a darker shade of red compared to what Barry Allen wears in the comics. The familiar lightning bolts are also on display on the ear area of the cowl, but beyond that, no other important details can be made out.
Perhaps Ezra Miller's Barry will wear a different costume for his solo movie the following year, but for Justice League: Part One, and likely Batman v Superman: Dawn of Justice, this is the suit he'll be running around in while fighting crime. Since Momoa got his own promo image as Aquaman last year with that "Unite the Seven" line, hopefully we'll get a similar image of Miller in this costume later in the year.
Bat-Cowl
Unlike most superheroes, Batman keeps a variety of suits on hand for specific situations, whether it's just dealing with regular criminals or throwing punches at a Kryptonian. Over on the right hand corner of Snyder's picture, there's a Bat-cowl resting on the table, and if we had to guess, we figure this will be part of a new Batman costume that Ben Affleck's Bruce Wayne will wear.
His gray and black suit is fine for everyday threats, but whatever the heroes are dealing with in Justice League: Part One, he'll need to upgrade in order to participate. Then again, maybe this cowl is just part of the same costume he's wearing in Batman v Superman: Dawn of Justice, and he'll have that on at the beginning of the first Justice League adventure.
Aquaman Armor
From what we've seen of Momoa's Aquaman look in Batman v Superman: Dawn of Justice from that promo image, concept art, and toys, it's pretty casual. Aside from some armored pieces on his arms, he's shirtless, has his tattoos on full display, and, like his comic book counterpart, he's wearing green pants and a golden 'A' belt. In Justice League: Part One, it looks like the King of Atlantis will be wearing something more official, judging by that armor in the back adorned with the same classic 'A.'
That looks like something Aquaman would wear charging into war. Granted, if the DCEU's Aquaman like the Aquaman from the comics, he already has bulletproof skin, so wearing armor is more ceremonial than practical. Still, it will be cool to see him have it on while he's in battle, although the coloring is really bland, so let's hope that some extra green and gold highlights are added to make it pop more.
Mera
Near the bottom, left-hand corner of the photo, there is some artwork that looks like it depicts Mera, Aquaman's wife, queen of Atlantis and a superhero in her own right. Mera was first rumored to appear in Justice League: Part One last November, and it was recently reported that The Danish Girl star Amber Heard is the frontrunner to play her.
There's no word yet on whether she'll fight alongside the other Justice Leaguers or if this appearance is merely to set her up for a prominent role in the Aquaman movie. Regardless, it looks like Mera will factor into Justice League: Part One somehow, so be on the lookout for her in any official stills or trailers that come out in the near future. And hey, it looks like she'll retain her classic red hair.
Mystery Black Suit
The most mysterious costume on display in Snyder's picture is a black suit with no distinguishing features. I thought it might be a new Batman suit at first given how the Caped Crusader loves the color of the night, but a popular guess online is that this is the costume for Dick Grayson, a.k.a. Nightwing. If you look closely, there appears to be a triangular design on the chest that could easily be the Nightwing symbol, whether it's colored classic light blue or New 52 red.
The only hint we've gotten to Batman's sidekicks in the DCEU so far is the spray-painted Robin suit in the Batman v Superman: Dawn of Justice previews, confirming that The Joker did kill a Boy Wonder in this world. Assuming the dead Robin is Jason Todd like in the comics, that also means his predecessor, Dick Grayson, left the identity to become Nightwing and battle crime on his own. Although Nightwing has been rumored to appear in the DCEU, there's been no word on a Justice League: Part One appearance, so if he does show up, it'll be interesting to see why.
As an alternative, it's also possible this suit might be an early design of the Green Lantern costume that has yet to be colored. Rather than go all CGI like in the 2011 movie, they've decided giving the actor something to actually wear is the better course of action.
Connoisseur of Marvel, DC, Star Wars, John Wick, MonsterVerse and Doctor Who lore. He's aware he looks like Harry Potter and Clark Kent.
Your Daily Blend of Entertainment News
Thank you for signing up to CinemaBlend. You will receive a verification email shortly.
There was a problem. Please refresh the page and try again.