5 Hilarious Co-Stars Who Stole Sex Tape From Cameron Diaz And Jason Segel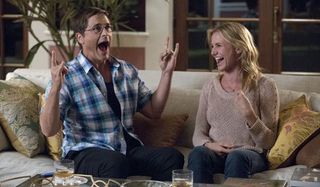 Despite starring two affable comedy stars and boasting a bawdy premise that seemed ripe for laughs, Sex Tape failed to impress at the box office this weekend, coming in 4th, behind the Cars spin-off sequel Planes: Fire and Rescue, The Purge: Anarchy and Dawn of the Planet of the Apes. But if you opted out of exposing yourself to Sex Tape this weekend, you also missed out on some really stellar supporting performances.
Cameron Diaz and Jason Segel front Sex Tape as Annie and Jay, a married couple that has hit a sex rut. So to get their groove back, they decide to record a sex tape using Jay's new iPad. But whoops - a new app automatically uploads the vid to all the synced iPads Jay has doled out to friends, family and acquaintances, throwing the couple in a mad dash quest to delete the files before their private lives go very public.
I've already opened up about how I felt Sex Tape got marriage right, now I'd like to shine a spotlight on some of the supporting cast that added some serious laughs to this sweet and raunchy comedy.
Rob Lowe
Let's just say it: Rob Lowe is the best, most insane part of Sex Tape. When his casual executive Hank is introduced, it's easy to think Lowe could go on cruise control, and just give us Parks and Rec's Chris Traeger 2.0. Instead, Lowe gives us a character whose loves are so bizarre and seemingly conflicting that it's dizzying. An affluent, white family man who holds a deep passion for cocaine, Disney movies, and old school hip hop, Hank is a character that shouldn't make sense. And yet he does because Lowe commits entirely, playing it straight no matter what madness Hank is up to.
Best Moment: It's a tie. It's either when he introduces Annie to his commissioned portrait of a still from The Lion King where his own face has been superimposed over Rafiki (the first of many bad Disney-inspired art we'll see in his home). Or, it's when he expresses his love for N.W.A. by proudly flashing Annie his hip tattoo, a portrait of Eazy-E, who Hank tells us he thinks of Every. Single. Day.
Rob Corddry & Ellie Kemper
When Annie and Jay's sex tape hits the cloud, the pair first rush to their best friends Robby and Tess, hoping to prevent them from watching their "full Lincoln." Corddry and Kemper's characters are in one respect foils to Annie and Jay. They've been married 12 years (their anniversary is today, but who cares about a 12th anniversary, right?), but their sex life gets a wanted jolt by living vicariously through their more adventurous besties.
Kemper and Corddry have a great onscreen chemistry, and it's easy to buy them as a couple. But what's most surprising/engaging about the pair is that Sex Tape doesn't force either into tired gender roles where the male is endlessly horny and the woman is bored/frigid. Instead, when they find out about the titular tape, both are intrigued and intensely interested in watching it. Seeing an over-eager Corddry and a sweet-faced Kemper gently trying to secure a copy of the sex tape is pretty damn funny. Yet it's not the pair's best moment.
Best Moment: When trying to help Annie and Jay get back an iPad she lent her boss, Robby & Tess indulge in some ill-planned improvisation, making themselves not-so-local royalty. In an extended scene full of intentionally awkward moments, Corddry wins major laughs by bellowing out an introduction to a bloody, battered Jay, "Hello! I'm the mayor!"
Giselle Eisenberg
Cutie pie Giselle Eisenberg made her screen debut last winter as the daughter of Jordan Belfort (Leonardo DiCaprio) in The Wolf of Wall Street. In Sex Tape, Eisenberg has one key scene, and positively she kills it. As Jay drives the kids to school, little Eisenberg as daughter Nell asks a big question: What is the point of life. She wants to know why bother when every day is just school and sleep and school and sleep and school. She asks this depressing question with such a child's sense of innocence that it's all the more devastating to daddy Jay, whose sexual frustrations are becoming a mounting cause of misery. But with her big smile and curls, Nell's heavy question won huge laughs from our audience.
Best Moment: Immediately thereafter, Nell leaves behind the world of philosophy to engage in her other hobby, sticking her finger in her butt. When her older brother complains, she promptly pokes him with the newly freed finger, giggling with unrepentant glee.
Jack Black
Going into Sex Tape, I had no idea Jack Black would be popping by for its climactic moment, and neither did anyone else, judging by the squeals of delight that rippled through the theaters as he storms down the hall of YouPorn's corporate offices. Instantly, Black--who has been making a name for himself in childrens' entertainment with Kung Fu Panda, Gulliver's Travels and Goosebumps (pictured above)--reminds us how he can play dirty by spewing out a list of graphic YouPorn competitors to the point where Annie and Jay twitch uncomfortably. The surprising appearance gets a great reaction, but it's Black's final moments that are among the best in the entire movie.
Best Moment: Having ushered Annie and Jay away from their kids, the YouPorn exec breaks down a lot of information about sex tapes. 1) There is no shortage of them. 2) It's not the sex tape that matters, it's what made you want to make it to begin with. This moment plays out like an afterschool special moment for adults, and proves to be both tender and twisted. It's easily Sex Tape's shining moment.
Staff writer at CinemaBlend.
Your Daily Blend of Entertainment News
Thank you for signing up to CinemaBlend. You will receive a verification email shortly.
There was a problem. Please refresh the page and try again.