5 Marvel Fan Bases Left Disappointed By The Big Phase Three Announcements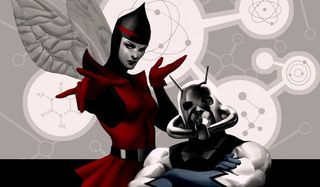 There are many reasons to be excited about today's big Marvel Studios announcements. We love the fact that Hope Van Dyne will finally get the chance to get her superhero on in Ant-Man And The Wasp, and it's great to know that the company has extended their run of three-movies-per-year to 2020. But while there are many properties that got a huge win from today's news, there are some Marvel fan bases who are probably at least a little upset about the way things have shaken out.
Looking at both the direct effects of today's announcements, as well as considering some other choices that the studio could have made, we've collected a list of five different groups of Marvel fans who were probably left a bit bummed by the developments. Read on to find out who.
Black Widow
Today was actually a great day for fans of female superheroes, as the addition of Ant-Man and The Wasp means that Phase Three will have two movies with titular women leads – but still arguably the most popular superheroine in the Marvel Cinematic Universe doesn't have a film to call her own. Scarlett Johansson's Black Widow will have a significant supporting role in Joe and Anthony Russo's Captain America: Civil War, but fans were still left disappointed today as it continues to look as though the comic book company doesn't want to pull the trigger on a feature about the former Russian assassin. There still very much exists hope that she could be front and center in one of the three 2020 mystery projects announced today, but for now Black Widow: The Movie still doesn't actually exist.
Captain Marvel
Fans have not only been waiting a long time to see Marvel Studios create a female-led solo film, but they've also been specifically clamoring for a Captain Marvel movie for years. The good news is that the project is actually happening – with a number of talented directors and actresses rumored to be involved – but there is a very simple reason why acolytes of the Kree-powered hero are disappointed by today's news: now we have to wait even longer for the film to happen. With Ant-Man And The Wasp dropped into the 2018 calendar, Captain Marvel moved from its November 2018 release date to March 8, 2019 (and this move comes just a few months after the movie got pushed from July 2018 to make room for the new Spider-Man). There is still high anticipation for the feature, but seeing it pushed for the second time is definitely unfortunate.
Hulk
The moves that Marvel has made in the last few years suggest that they don't really have a ton of confidence in Hulk as a headlining player. Audiences really fell in love with Mark Ruffalo's version of the character in Joss Whedon's The Avengers - but not only did he not show up again until The Avengers: Age of Ultron, now it looks like we won't be seeing him again at least until The Avengers: Infinity War. While Marvel has no issue adding titles like the new Spider-Man and Ant-Man And The Wasp to their Phase Three slate, they continue to avoid giving the green goliath another solo film. Given the character's past, it's not exactly hard to blame them, but that doesn't mean that fans aren't still disappointed that another film isn't on the horizon.
Inhumans
Marvel Studios is announcing new projects and shifting release dates, and we're regularly hearing updates about titles like Guardians of the Galaxy Vol. 2, Captain Marvel and Thor: Ragnarok, but you know what project we know absolutely zilch about? That would be Inhumans. The movie currently sits at the very end of Marvel's Phase Three slate, and it's actually the only announced title in that group outside of the newly announced Ant-Man And The Wasp with no attached or at least rumored director. The amount of time between now and the start of the movie's production is an easy explanation as to why we haven't heard anything yet – but that doesn't mean that fans of Black Bolt, Medusa, and the rest of the Inhumans Royal Family aren't upset about the lack of updates and news.
Namor The Submariner
There are some complications when it comes to the idea of Marvel Studios making a movie about Namor The Submariner – mostly because the rights to the character are tied up over at Universal Pictures – but that's not stopping fans from constantly crossing their fingers in hope of him getting a live-action adaptation. Unfortunately, it seems that the comic book company sees a sequel to Ant-Man as a safer bet than a film about their notorious underwater antihero – so fans of Namor are once again left disappointed. Obviously all hope isn't exactly shattered, as it's not as though the character is super necessary in The Avengers: Infinity War, but every new project announced that's not Namor The Submariner is just more time to wait.
Assistant Managing Editor
NJ native who calls LA home and lives in a Dreamatorium. A decade-plus CinemaBlend veteran who is endlessly enthusiastic about the career he's dreamt of since seventh grade.
Your Daily Blend of Entertainment News
Thank you for signing up to CinemaBlend. You will receive a verification email shortly.
There was a problem. Please refresh the page and try again.