The 5 Most Insane Things Inside This Year's Oscar Gift Bags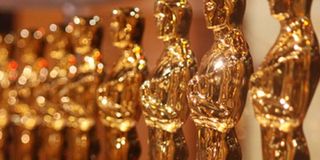 Obscene pageantry and wanton opulence exists at the Academy Awards unlike anywhere else in the world at any time. And while regular Johnny-and-Jane Paychecks get ready for February 22nd to roll around so they can watch on in hypnotic awe, there's a story floating around that drives home the very obvious idea that celebrities get a few too many perks in life: the contents of this year's Oscar Swag Bags! This year's bag of goodies in particular seem to represent the ridiculously rarified air in which many folks in "Hollyweird" perpetually live.
According to a report from Variety detailing the goodies that all Oscar contenders will receive from the award show, this year's unconventionally eccentric collection of tchotchkes is both hilarious and head-scratching to say the very least. Here's a list of five from the bunch that will leave you legitimately reanalyzing the uniform rational ability of self-awareness in humanity. Proud of your Comic-Con swag from last year? That's nothing compared to the stuff that the likes of Eddie Redmayne, Richard Linklater, Julianne Moore and more will be going home with later this month:
5) $1,500 Worth of French Mediterranean Sea Salts
4) $14,500 Luxury Train Ride Through the Canadian Rockies
3) $250 Vibrator
2) $1,500 Custom Silver Necklace Inscribed with Coordinates of LA's Dolby Theater
1) $20,000 Gift Certificate From Enigma Life For A Housecall Horoscope/Dream-Analyzing Session
It's certainly an eye-popping quintet of WTF-ness. Let's first discuss the runners up. While that $250 vibrator may have seemed to be an early front runner for swag eccentricity, in the very least, it serves as an objective metaphor for what many filmmaking hopefuls will ultimately experience when the Academy's decisions are revealed. Likewise, the $1,500 worth of French Mediterranean sea salts makes you wonder if the loopy, faux-cosmopolitan condiment will ironically be used to season cheap, chewy cuts of American beef. Yet, a seemingly luxurious ride along the rails in what certainly must be a majestic path through the Canadian Rockies might make one wonder exactly what $14,500 FREAKING DOLLARS is going towards. Also, the only clearly-identifiable need for someone to create shiny silver necklaces inscribed with the latitude/longitude coordinates to the Dolby Theater may be that celebs were constantly getting lost attempting to find what must be a proverbial Shangri-La of grindhouses.
However, the winner and undisputed champion of insane swag in this year's Oscar bag set clearly belongs to an organization called Enigma Life. These kind folks are here to provide lucky celebs with a service that even comes with the consideration of having its founder, Olessia Kantor actually fly out to their homes. (Presumably on a magic carpet run on the ever-sustainable fuel of Chi.) Upon arrival at their expensive abodes, he will begin the process of getting down to Zodiac brass tacks regarding what the stars (you know, the ones in space,) have in store for their careers and their various other publicized personal problems with a reading and discussion of their 2015 horoscopes. As if that bounty of beneficence wasn't enough, Mr. Kantor will then proceed to rake through their REM results and "analyze dreams," additionally teaching them "control techniques." Just what the guy who plays a doctor on TV ordered.
Yes, it seems that us boring, unenlightened normal folk are missing out on quite a assortment of edification-inspiring swag. As tragic as that may sound, we can at least take comfort that the snubbed in attendance and the "no chance in hell" nominees get something more out of the experience than a few seconds in the ignominious group shots while the on-stage presenter fumbles with the envelope, joking that they should be easier to open.
Your Daily Blend of Entertainment News