5 Ways To Properly Celebrate Groundhog Day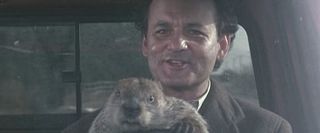 It's Groundhog Day, and even if you didn't wake up to Sonny and Cher singing "I've Got You, Babe" on the radio or spend the morning trying to flirt with your producer who's not at all interested, you're probably thinking of Phil Connors today. It's been 20 years since Groundhog Day was released, and yet it's hard to let this holiday go by without remembering the Bill Murray and Harold Ramis classic, which only seems more perfect as the years go by. How can you see the news about Puxsutawney Phil today and not think of Phil Connors driving with the groundhog over the edge of a ravine, or his rant about an entire town full of people turning out to watch a rodent?
If you've got the movie on the brain today like we do, we've found five good ways for you to celebrate today's holiday properly. From a virtual visit to the town where the movie was filmed to a podcast that reveals behind the scenes secrets, here are five ways to properly celebrate Groundhog Day. Ice sculpting and rescuing various townspeople are other options, but we'll leave that call to you.
#1. Watch the movie, of course. Groundhog Day is available streaming on iTunes and Amazon, but for a price-- you have to buy it for $10 on iTunes and stream it for $5 on Amazon. According to TV Guide, it's also airing on CMT tonight at 9 pm. And let's face it, the odds of someone in your life owning the movie on DVD are extremely, extremely high. Get on that or watch it streaming for free on Crackle.
#2. Listen to the Tobolowsky Files episode in which Stephen Tobolowsky talks about making it. Yes, Needlenose Ned himself has a wonderful storytelling podcast in which he recounts stories from his long career in the entertainment industry, and if you've never listened before, an excellent place to start is the Groundhog Day episode, in which he tells the story "behind the story, behind the story." If you want to dig deep, you can put on the movie while listening to Tobolowsky's own commentary, recorded with the Slashfilmcast crew.
#3. Drink a sweet vermouth, on the rocks, with a twist. The cocktail that Andie MacDowell orders throughout the film, that reminds her of Rome, the way the sun hits the buildings, sounds disgusting to some of us. But according to the fine beverage-devoted magazine The Mutineer, you can give it a shot if you like-- their recipe suggests twisting lemon peel over the glass, then serving with a cocktail straw and lemon as a garnish, as they do in the film. They don't suggest how much vermouth to serve-- I guess it depends on how bummed out you are that the groundhog is predicting six more weeks of winter.
#4. Check out the action in Woodstock, Illinois. The actual Groundhog Day happens in Punxsutawney, Pennsylvania, of course, but Groundhog Day the movie was shot in Woodstock, Illinois, and boy are they proud of their heritage. The town has a whole lineup of Groudhog Day events you can see here, including a screening of the movie tonight at 5 pm, a dinner and dance at the Moose Lodge tomorrow night, and another screening on Saturday and Sunday morning. If you're in the area you can also visit "Ned's Corner," where there's a commemorative plaque remembering the spot where Ned warned Phil Connors, "Watch out for that first step, it's a doozy."
#5. Take the Groundhog Day trivia quiz. Because what better way is there to kill time on a day when you've got six weeks of winter ahead? There are 25 questions at the quiz you can find over here.
Bonus! Listen to the episode of our podcast Operation Kino in which Matt Patches talks about Groundhog Day as the movie that defines how he thinks about film.
Your Daily Blend of Entertainment News
Staff Writer at CinemaBlend