6 Cool New Movie Theater Concessions Coming To Theaters Soon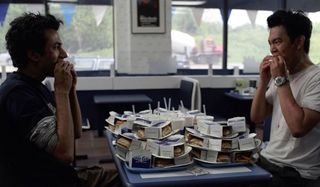 Concessions have long been part of the movie-going experience. Sure, they may cost an arm and a leg, but there's something special about checking out the latest blockbuster with a bucket of popcorn in your lap. That being said, theaters are regularly looking to change things up behind the counter, and the future of this industry was recently unveiled.
The Verge got a look at a number of food products marketed for movie theaters at CinemaCon last week, and it's certainly an interesting batch of <>snacks that you could soon be munching on at the cinema. Click your way through the next few pages, and learn what may soon be coming to a multiplex near you!
Oreo Churros
J&J Snack Foods actually introduced Oreo Churros in November 2014, and late last year they announced that the delicious-sounding treat would starting being available for purchase in local grocery stores, but soon you may be seeing it listed next to popcorn and Raisinets on the display board at your local theater.
This product is exactly what it sounds like: the typical cinnamon-sugar flavor of the outside is replaced by Oreo chocolate, and instead of a dulce de leche filling, they instead have Oreo cream. Given that churros are a common treat at stadiums and theme parks, it seems natural that they would go well in cinemas as well, but there is one drawback to consider. If you think the floors at your local movie theater are sticky now, just wait until hundreds of patrons are purchasing sugar-covered pastries and sprinkling granules all over the place as they eat.
Edamame Buckets
Movie theaters aren't classically known as havens for healthy eating. Sure, popcorn isn't the worst snack you can eat, but it sure isn't good for you when you drench it all in artificial butter. And I don't exactly need to go into detail about sugar content of sodas and candy. If this is something that you've regularly found displeasing in the cinema experience, the good news is that the company Edamovie is working to try and get you some options that will do your body good.
Edamovie was at CinemaCon promoting their flagship product, which is basically a bucket of Japanese soybeans – better known as Edamame – that can be sold right alongside buckets of popcorn in movie theaters. With the exception of the fact that there doesn't seem to be a way to dispose of the pods once you've eaten the seeds, it's hard to see the downside of this idea. Obesity is most definitely a problem in our society, and customers having access to healthy options is a step in the right direction.
Icee Freestyle Machines
If you're like me, when you go to an Icee machine you never just choose one flavor. Instead, you go from machine to machine, adding what's available into your plastic cup to try and create something special and new. People have been doing this for years, but now Icee has finally crafted an innovation specifically for this behavior. Allow us to introduce you to the Icee Freestyle Machines.
A normal Icee machine is filled with individual containers of pre-flavored slush, poured out with the turn of a plastic/metal handle, but the new design has a completely different approach. The slush in the machine is not specifically flavored, and users are presented with a digital screen presenting the option of using between one and four different tastes to add. Once the selections are made, you press a digital button and the drink is dispensed. It's basically a take on Coca-Cola's Infinity Machines (which can already be found in theaters everywhere), and makes plenty of sense for cinemas.
Top n Go
Most of the products on this list are fairly simple, but the so called "Top n Go" snack system would be a bit of an investment for movie theaters. Rather than just being a product in a bag, it's a new snack that needs its own little station filled with fixings that you might want to put on top of your chips.
Basically, Top n Go is a new type of packaging for Cheetos, Ruffles, Tostitos and other kinds of snacks that allows the consumer to basically use the bag as a nacho dish. You tear open the bag, top the chips/cheese curls with cheese, salsa, pico de gallo, jalapenos, and other stuff, and then head on over to your theater. This definitely seems like it would be pretty messy, but nachos are now standard fare at the movies, and this isn't a huge step beyond that. That being said, I bet every theater employee is going to utterly dread their turn cleaning the Top n Go station.
Complicated Drink Enhancer
Thanks to the aforementioned Coca-Cola Infinity Machines and Icee Freestyle Machines, movie theaters are increasingly providing more and more beverage choices, but Complicated Drink Enhancers are basically marketed to add a little something extra. A small bottle of liquid, the idea is that you can add it to pretty much every drink – from straight water to soda to coffee to whiskey – and treat yourself with something a bit different.
The non-alcoholic product is currently offered in 10 different varieties, including more basic fruit flavors and more interesting tastes like cinnamon, pina colada, and vanilla. It's hard to say precisely how they plan to fit into the movie theater concessions market, but perhaps the idea is that small bottles will be sold at the counter to go along with drink orders. The practicality of adding the drink enhancer while moving from the food stand to the theater is a bit odd, but certainly do-able.
White Castle Sliders
Excluding the frozen burgers that you can find in your local grocery store, White Castle is primarily known as a regional brand – stores only popping up in a handful of states in America. Of course, a tie was created between the fast food joint and the movies thanks to the stoner adventure Harold And Kumar Go To White Castle, but now that relationship is being taken to the next level thanks to the company's apparent move into theater concessions.
Excluding cinemas where you can have a full meal brought to you in the theater, for years the most hearty concessions you could find in theaters were hot dogs and nachos, but it's not hard to see the potential of White Castle sliders. They're easy to hold and consume even when you don't have a surface in front of you to eat off of, and they're basically mess free (depending on how much ketchup you personally prefer to use). It certainly seems like a good idea.
Your Daily Blend of Entertainment News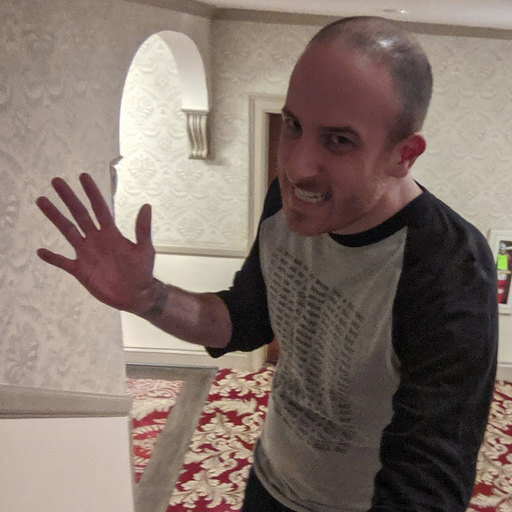 Assistant Managing Editor
NJ native who calls LA home and lives in a Dreamatorium. A decade-plus CinemaBlend veteran who is endlessly enthusiastic about the career he's dreamt of since seventh grade.