Booze And Snacks Are Coming To The Rescue For Regal Cinemas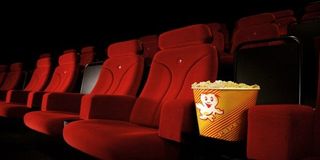 Concession stands to the rescue. Regal Cinemas are seeing an increase in profits thanks in part to an uptake in concession stands sales as a result of offering alcoholic beverages and new menu options.
According to The Hollywood Reporter, Regal Entertainment CEO Amy Miles recently revealed that first quarter revenue for the chain is off to a good start, thanks in large part to many of their theaters now selling alcohol. It seems moviegoers are responding positively to the additions to the concession stands, which is translating to company success for Regal Cinemas. Miles had the following to say about the improved concession stand results during a call to analysts Thursday:
Miles credits this boost to the addition of alcohol sales, as well as enhanced menus with a wider range of options. The nation's largets theaters chain set a new company record with an average of $3.92 in concession sales per customer, which is up 9 cents per patron over this first portion of 2015.
Why is this a big deal for Regal Theaters? To put things into perspective, consider that the per capita amount spent at concessions in the first quarter of 2014 was $3.62. With these new numbers so far in 2015, this amounts to an increase of 7.5 percent. That 7.5 percent bump helped to smooth over some of the loss in total revenues in comparison to last year's figures. Booze sales are helping to bring in the bucks for Regal Cinemas, and it could put the movie theater giant on the path to a highly successful year. It's not just concessions that are behind this, although they are contributing a lot. Blockbuster movies that bring in the crowds—like the upcoming summer slate of big films, as well as the holiday season—and, of course, a great customer experience, are also likely to contribute to better than expected results for the remainder of the year, according to Miles.
Regal Cinemas is also serious about enhancing the theater going experience, as the largest theater circuit in the U.S. has been working diligently to convert its existing theaters to accommodate luxury seating, which will feature reclining seats. The theater company is actively looking to acquire other theaters in order to fuelontinued growth. While the goal is to encourage repeat business, the new luxury options, in conjunction with the additions to concession stands, moviegoers are pretty much guaranteed to have a better time at the movies. Everybody wins.
Your Daily Blend of Entertainment News