6 Hilarious Batman Forever Stamps That Are Way Better Than The Post Office's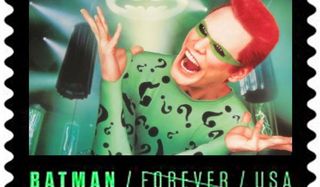 New York Comic Con is coming, and with this fandom festival that now rivals its West Coast cousin comes a new set of superhero stamps from The U.S. Postal Service that will honor Gotham's caped crusader.
Comic Book Resources drew our attention to a first-day-of-issue celebration that the USPS will be hosting at New York Comic Con. There, Batman's 75th anniversary will be ushered in with the official unveiling of a Batman stamp collection, which will feature designs from DC's Golden Age, Silver Age, Bronze Age, and the New 52 era.
Check out the official Batman Forever stamps below:
Okay. Now I get that these are called "Forever" stamps because despite costing 49 cents each, they'll be sufficient postage to mail a simple letter for all time. But did the Postal Service totally forget there is a Batman Forever movie? With that in mind, I did a simple re-design of true Batman Forever stamps in honor of Batman's big 7-5, and in honor of the 1995 Joel Schumacher's action-adventure that was chock-full of madness.
Val Kilmer as Batman. This first one's in honor of the glory that was Kilmer, slender, strong and vogueing for promo photos in his flashy batsuit.
Chris O'Donnell as Robin. Somehow, this role didn't totally kill his career the first go 'round; so he reprised it in Batman & Robin. That one did the trick.
Nicole Kidman as Dr. Chase Meridian. Forget Vicki Vale and Catwoman. Batman got a new love interest. And she was a…um…nightmare doctor? A nightmare-ologist? A nightmare scientist?
Jim Carrey as The Riddler. Remember that time when Ace Ventura became a Gotham villain? Yeah. That was a thing.
Tommy Lee Jones as Two-Face. After winning the Academy Award for The Fugitive this is what this esteemed actor did for his art. Never Forget.
Just for the WTF Factor. Drew Barrymore was in this movie in a role that was practically an under-five. She played Sugar to Debi Mazar's Spice. Because why not?
At the end of this reflection, if there's one thing we can say for the legacy of Batman Forever, it's this: at least it wasn't Batman & Robin.
Your Daily Blend of Entertainment News
Staff writer at CinemaBlend.