Here's More Evidence Spider-Man Is Coming To The Marvel Cinematic Universe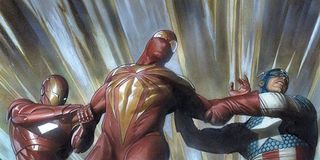 If rumors can be believed, there is a real chance that Spider-Man could someday end up in the Marvel Cinematic Universe. The webslinger has been forced to live outside the Avengers bubble the last few years thanks to the fact that Sony owns the rights to the character, but reports have suggested that barriers may be coming down in the near future. If true, this means that the number of adaptable, epic Marvel comic book storylines could increase dramatically, as it would suddenly open up all of the plots where Spidey played a crucial role. A good example of this is the great Civil War crossover that was first published in 2006 - which makes recent developments all the more interesting. Spider-Man played a big role in that arc. If Civil War is coming back, is this further evidence that Spider-Man's poised to make the leap into the MCU?
As we told you earlier today, Marvel Comics has announced that they will somehow be bringing some form of Civil War back as part of an event planned for summer 2015. Of course, at this time there is no definite link that can be made between the announcement and the developments at Marvel Studios, but if it can be seen as a hint at what's going on in the future of the Marvel Cinematic Universe, then it might just be more evidence that Marvel is working on some kind of deal with Sony that would allow them to have Spider-Man pal around with Thor, Hulk, and the rest of the Avengers. With the wall-crawler on board, the comic book company would have the opportunity to not only do a more complete big screen adaptation of the limited-run that was written by Mark Millar and drawn by Steve McNiven, but also make one of the biggest blockbuster movie events of all time.
Those who have read Civil War will remember that Spider-Man wound up playing an absolutely huge role in the story. In a fight between pro-registration superheroes (led by Iron Man) and anti-registration superheroes (led by Captain America), Spider-Man finds himself caught in the middle, but is convinced to join Tony Stark's side. In a show of support for the movement, he winds up doing something radical, and actually goes on live television to reveal that he is Peter Parker:
There is plenty of drama that unfolds after that point in the story, but if Marvel Studios is actually interested in pursuing a big screen adaptation of Civil War, the public reveal of Spider-Man's identity is one of those crucial moments that they would want to be featured. And while we don't know much of anything about this new version of Civil War that will come out next year, the teaser art released for it (seen at the top of this article) suggests that the friendly neighborhood hero will continue to play a big part in the action and politics (meaning that the comic book company isn't trying to bury his importance like they're actively doing with the Fantastic Four and X-Men). It's all speculation at this point, but these events, rumors and conversations do open up interesting lines of thought and possibilities for the future of Marvel Studios and Spider-Man.
What do you think about the idea of Marvel Studios adapting Civil War for the big screen with Spider-Man involved? Let us know what you think in the comments below.
Your Daily Blend of Entertainment News
Assistant Managing Editor
NJ native who calls LA home and lives in a Dreamatorium. A decade-plus CinemaBlend veteran who is endlessly enthusiastic about the career he's dreamt of since seventh grade.
Your Daily Blend of Entertainment News
Thank you for signing up to CinemaBlend. You will receive a verification email shortly.
There was a problem. Please refresh the page and try again.