8 Movie Weddings We'd Rather Attend Than Edward And Bella's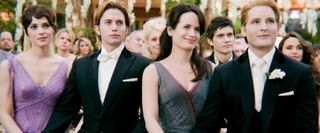 The promos for The Twilight Saga: Breaking Dawn - Part 1 have promoted the nuptials between Edward and Bella as the "Wedding of the Year"-- you know, the Wedding of the Year that isn't Will and Kate's, or Kim and Kris's, or that awesome one you went to this summer with the champagne fountain. But Breaking Dawn is far from the first movie to throw a big ol' wedding, and we'd argue it doesn't do it nearly as well as a lot of other classics. From a blended-cultures reception where the bride wears a sari and a Brazilian drum line plays to the poofy shoulder pads of an 80s party, weddings on film can often look way more fun than the ones you attend in real life. So, with all due respect to Bella and Edward on their blessed day, here are 8 movie weddings we'd much rather attend, whether it's to make out with the foxy bridesmaids or cut a rug with everyone else on the dance floor. We'll see you for the bouquet toss.
The Godfather
Weddings inherently involve the joining of two families but in The Godfather, well, family means more than just relation by blood. These two families are plenty familiar with blood, but absolutely none would be spilt at the Big Fat Italian Wedding of Carlo Rizzi and Connie Corleone. Hell, the FBI are parked right outside, trying to keep a keen eye on the attendees. The party outside is warm and welcoming, filled with song and spirits. Kay functions as our surrogate, our wide-eyes taking in the festivities and marveling when even Johnny Fontaine, a famous singer, stops by for a song or two (and maybe a minute with the Godfather). Of course, Kay (and we) are not privy to what's going on inside the old, dark home. You see, no Sicilian can refuse any request on his daughter's wedding day, which, if you're in a bit of trouble or looking for justice, makes the wedding a must attend event. I'd be happy enough taking in all the color, culture and culinary delights that the party has to offer but, if I did get a second with the Don, I might request no horse heads in my bed please. Salute!
Wedding Crashers
To be perfectly honest, none of the weddings in David Dobkin's 2004 comedy hit Wedding Crashers look out-of-this-world amazing. Sure, there is plenty of cultural variety in the opening montage and the main wedding in the film, being thrown for a senator's daughter, looks insanely fancy (you know they have amazing food there), that's not the real draw. So, you may ask: why the hell is this movie on the list? The answer is because of John Beckwith and Jeremy Grey, the characters played by Owen Wilson and Vince Vaughn. For years the two have been going to witness marriages for people they've never met and they've developed a system where they become the life of the party everywhere they go. And who doesn't want to hang out with guys like that? Sure, they may be liars and phonies – and will probably ignore you the second a hottie they thing they can sleep with rolls around – but they can turn any celebration into a rager, and that's the kind of wedding that I want to go to.
Father of the Bride (1991)
George Banks (Steve Martin) had a dream. He and his supportive wife, Nina (Diane Keaton), would host an intimate wedding ceremony for his baby girl, Annie (Kimberly Williams), and Bryan (George Newbern), that monster who dared to steal her away. Nothing fancy. Less is more, as George proposes. He even offered to make his famous guacamole. The dream turned into a nightmare. It had to. Charles Shyer's endearing father-daughter comedy – a Baby Booming remake of the 1950 Spencer Tracy charmer – made its money by stacking the deck against Martin's overwhelmed dad, and the wedding ended up becoming a perfect storm of celebratory chaos. I blame party planner Franck Eggelhoffer (Martin Short). As the father of two, I'm a Grade-A sucker for sentimental parenting pap like Bride. It plays me like a fine-tuned violin. So, if given the chance to attend any on-screen wedding, I'd be at the Banks' warm, inviting Pasadena abode – one of my favorite Hollywood homes. And I wouldn't be there to celebrate. I'd be there to help out. I'd park the overflowing cars. I'd distract the Danish relatives. And most important, I'd move heaven and earth to make sure George got to kiss the bride.
I Love You Man
First of all, any wedding where Rashida Jones is the beautiful bride seems worth attending to me, especially if you're lucky enough to be the groom. But Joben, there are plenty of reasons to attend the Klaven-Rice festivities. It'ss gotthe best line-up of groomsmen ever assembled (The Hulk, enough said), Paul Rudd rockin' a snazzy blue tuxedo, and even two declarations of love. The film flips the 'if anyone has a reason why these two should not be married' moment and instead has Sydney arrive on his sweet scooter and interrupt the wedding. Their bromance is not only mended but they fittingly admit their feelings for the other standing right by the altar… insert movie title here! After that's settled, we move on to the originally intended ceremony, which is just as nice, maybe. And no wedding would be complete without a kick-ass reception; besides getting to hang with the groomsmen, bridesmaids and Hank Mardukas, we also get Peter slappin a little bass. Rushified!"
The Wedding Singer
The scene: Ridgefield Banquet Hall, 1985. Mr. and Mrs. Harold Ventri have just gotten married and everyone is partying hard, spinning right round, baby, right round, like a record, baby, right round round round. The dresses are loud, sequined and glittery. The men are wearing teal cummerbunds and pink shirts. And the only thing poofier than the bride's hair are her sleeves. From the music to the mullets, the opening scene in The Wedding Singer screams '80's wedding and it looks like a total blast. To top it off, Steve Buscemi's Dave takes the microphone and delivers a classic drunken speech, announcing that his brother might have partied with some prostitutes in Puerto Rico once, and whining about constantly being out-shined by him. Of course, Robbie saves the day in the end, offering an impromptu romantic speech to the bride and groom, who are seated at the dais in gaudy-looking high-backed pink wicker chairs. It's a wedding with everything: Great music, ridiculous clothing, whacky dance moves and family drama. With love in the air and Hart at the mic, who wouldn't want to be there?
Rachel Getting Married
There's a lot of high drama going on in the background at the wedding of Rachel and Sidney, from the continued rift between Rachel's divorced parents to the rain pouring down to the unmistakable black eye sported by the maid of honor, Kym-- a black eye given to her by her mom. But if you're just a guest at this Indian-themed wedding, which also features Brazilian belly dancers and a drum line? You are bound to be having a great time. As ridiculous and maddening as Rachel's family and friends can seem, they also know how to throw a great party, packed with music and dancing and every imaginable culture melted together, with all of their best parts left intact. And even the craziest members of Rachel's family, including the moody and self-centered Kym, know how to cut a rug when the time comes. The wedding in Rachel Getting Married might not be the relaxed gathering at a family estate you expect, but it's a lot pricklier, and a lot more interesting and fun for it.
Very Bad Things
No event churns out awkward moments as consistently as a wedding. You can't feed two hundred people of various ages and outlooks with booze and expect to get by without an inappropriate toast, a bridesmaid wipeout or a married dude hitting on a college girl. These faux pas might be hard to watch at the time, but they tend to both get funnier and inspire conspiracy theories later on. Often these I-wonder-what-happened-between-those-two conversations are baseless, but if ever there was a time for letting one's imagination run wild, it was during and after Kyle and Laura's wedding in Very Bad Things. He started out with four groomsmen. In between the bachelor party and the ceremony, one died via a murder-suicide and another was run down by a car. Just moments before the I-Dos, a third disappeared amidst shouts from the back, leaving poor Charles lonely and isolated opposite four bridesmaids. I have no idea what the hell would have gone through my mind were I in attendance, but I imagine the inter-guest conjecture would have been epic. I wish I was there, even though that longing probably makes me a horrible person.
The Philadelphia Story
Tracy Lord isn't really the kind of person you want to marry-- she's spoiled, selfish, flighty, and prone to get drunk and flirt with exactly the man she shouldn't be. But attending her wedding, held at her parents' enormous house in the Philadelphia suburbs, is an entirely different story. Not only are you plunged into an estate filled with wisecracking children and servants, but Tracy's ex-husband C.K. Dexter Haven is attending too-- and since he's played by Cary Grant, you'd be crazy not to want to spend the rest of the wedding weekend in his company. The ceremony itself isn't really important by today's standards, but of course it's not nearly as important as all the mayhem that goes on before it, as Tracy rekindles her spark with Dexter, tries to convince herself to marry her poor fiancee anyway, and then flirts with Jimmy Stewart's character Macaulay Connor, mostly for the hell of it. In case you can't tell from the glorious character names and the classic actors in the lineup, The Philadelphia Story is old-school movie glamour and fun. It's a wedding that would require some time-traveling and a really good pair of wide-legged Katharine Hepburn pants, but if you can look the part and sneak some of Tracy's champagne, you'll have a grand old society time.
Your Daily Blend of Entertainment News