Aaron Eckhart Playing Dennis Wilson In Beach Boys Biopic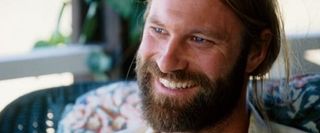 Actors must love a good biopic. You are, by definition, playing somebody who is already famous to some degree -- possibly even more famous than you -- and your average biopic is a heady cocktail of drama, internal struggle, and Oscar-ready emotional turmoil. It's a chance to test your thespianic tendencies by portraying a well-known figure, which means audiences will be more critical of your performance than they would when you're playing somebody Joe Screenwriter just made up. Now the man who was Two-Face is stepping into the shoes (and hippie hair) of one of the founding members of the iconic Beach Boys. EW reports that Aaron Eckhart will play Dennis Wilson in the upcoming biopic The Drummer.
The second oldest of the three Wilson brothers, Dennis helped found the Beach Boys and was -- as you might expect -- the group's drummer. The movie will follow the last six years of Wilson's life, leading up to his death in 1983. Wilson spent years struggling with alcohol abuse (amongst other things), and he finally drowned at Marina Del Rey after drinking all day, purportedly while diving to try and recover items he'd tossed into the drink at that spot several years earlier. If that isn't the makings of a Oscar-bait tragedy, I don't know what is.
Eckhart is taking vocal lessons and learning to play piano and drums for the role, which suggests The Drummer will be letting its lead sing rather than having him lip sync to Wilson's voice. Director Randall Miller and Jody Savin will be reuniting on The Drummer as director and writer, respectively. The flick is tentatively slated for sometime in 2012. Here's a photo of Wilson himself if you want to compare it to long-haired Eckhart in Erin Brockovich to find a resemblance.
Your Daily Blend of Entertainment News
Thank you for signing up to CinemaBlend. You will receive a verification email shortly.
There was a problem. Please refresh the page and try again.