New Steve Jobs Trailer Shows Off The Three Stages Of Michael Fassbender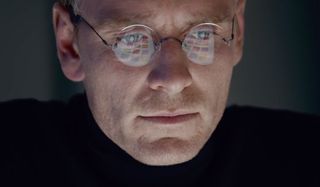 Following the film's debut at the Telluride Film Festival and ahead of its upcoming premiere at the New York Film Festival, a new Steve Jobs trailer has hit the web. Michael Fassbender stars as the man behind the big Apple, surrounded by a star-studded cast and crew. Watch the new footage below.
Unlike the other Jobs film starring Ashton Kutcher and the Man in the Machine documentary, this film takes us behind the scenes of three product launches — the first is the unveiling of the Mac in 1984, the second is Jobs' rival computer with his NeXT company after he split from Apple in 1988, and the third is the launch of the iMac in 1984. These three stages are clearly spotlighted in the new footage, which depicts Fassbender's three different characterizations of the man throughout his life. In addition to his technological advancements, his personal drama — such as the strife among his subordinates and with the mother of his child — take center stage.
Early buzz coming out of Telluride praised Fassbender's portrayal of the tech giant. But he's bolstered by a cast that includes Seth Rogen as Apple co-founder Steve Wozniak; Kate Winslet as Joanna Hoffman, one of the original members of both Apple and NeXT; Jeff Daniels as Apple CEO John Sculley; and Katherine Waterson of Inherent Vice as the mother of Jobs' first child Chrisann Brennan. Danny Boyle (Slumdog Millionaire, Trance) directs Steve Jobs from a screenplay by Aaron Sorkin.
Despite this critical acclaim, a certain Apple figure portrayed in the film wasn't too happy with the work, at least initially. Cough, Steve Wozniak, cough. When the Apple co-founder say an earlier trailer, he remarked that while some of the lines spoken carried the same messages, they were not something he would say, and that the drama with Jobs was exaggerated. However, after seeing a rough cut of the film, he told Deadline that it was as if he were watching real Jobs and himself interact on the screen, instead of the actors.
This has been a good year for Fassbender. Though critics pointed out issues with Steve Jobs as a whole, nearly all praised the actor's chops. Also considering his performance in Macbeth, co-starring Marion Cotillard and directed by his Assassin's Creed helmer Justin Kurzel, this could very well be Fassbender's chance at an Oscar. At the very least, he'll be one to watch, along with Eddie Redmayne in The Danish Girl and Leonardo DiCaprio in The Revenant.
Steve Jobs will hit up NYFF on October 3 before a limited theatrical release on October 9 and a wide release on October 23.
Your Daily Blend of Entertainment News
Thank you for signing up to CinemaBlend. You will receive a verification email shortly.
There was a problem. Please refresh the page and try again.