Steve Wozniak Has A Strong Opinion On The Steve Jobs Movie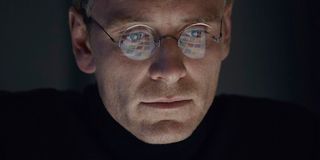 Making a movie is a tough enough endeavor, but biopics, where the creative teams deal with real people, often ones who are still alive, adds a whole other layer of complication. The latest cinematic attempt to tell the story of a real person, Danny Boyle's simply titled Steve Jobs, premiered over the weekend at the Telluride Film Festival, and Steve Wozniak, played by Seth Rogen in the film, sang the films praises.
Deadline caught up with key player in the history of Apple, and after he knocked the Ashton Kutcher starring Jobs from a few years ago, he piled acclaim on Steve Jobs for being authentic. He said:
That's high praise, considering that Wozniak was there for most of these real life events that the film portrays on screen and is intimately familiar with the subject matter. Not to mention, when you think back to how many people who are the subjects of movies like this come out and publicly bash the finished product.
Written by vaunted screenwriter Aaron Sorkin (The Social Network, The Newsroom), unlike many other similar biopics, Steve Jobs doesn't try to tell the Apple founder's entire birth-to-death life story. Instead, the action is split into three segments, each of which revolves around a key product launch in his career, and through that lens, provides a glimpse at the life and personality of the tech genius. The film begins with the launch of the Mac in 1984, follows with the debut of NeXT, and then wraps up in 1998 with the unveiling of the iMac. Through Jobs' professional life, you come to get an idea of the personal side, as family struggles, specifically his relationship with is daughter Lisa, come into play.
Though it just premiered at Telluride a few days ago, Steve Jobs has already gathered a good amount of critical acclaim. The two elements most singled out have been Sorkin's sharp-witted script and Michael Fassbender's transformative performance in the lead role. Between Fassbender's turn and Eddie Redmayne's performance in The Danish Girl, which also debuted this weekend at the Venice Film Festival, the buzz around the Best Actor Oscar race has already started in earnest. Kate Winslet, as Joanna Hoffman, a member of Jobs' team, has also won high marks for her performance, as has Danny Boyle for his directing.
Those of us who weren't in Telluride this weekend will have to wait a while to see Steve Jobs, but not too terribly long. It plays the New York Film Festival on October 3, and opens wide on October 9.
Your Daily Blend of Entertainment News
Thank you for signing up to CinemaBlend. You will receive a verification email shortly.
There was a problem. Please refresh the page and try again.