Full Steve Jobs Trailer Takes Us Into The Complicated Mind Of A Genius, Looks Great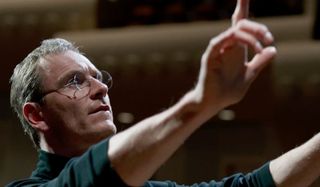 After a mere 60 seconds of footage, the new Steve Jobs trailer, featuring the remarkable Michael Fassbender as the celebrated Apple co-founder, has been released. Many called the man a visionary, a genius, an icon. But, according to the characterizations presented here, there's a darker side to him that we haven't seen before. Watch the riveting new footage now.
This is not the same old Ashton Kutcher song-and-dance routine. Though we've only seen what's been afforded through these trailers and the latest image releases, released by Universal, you can already get a sense that this is a step up. Directed by Danny Boyle with a screenplay from Aaron Sorkin, the film promises to explore the "trials and triumphs" of the man behind one of the biggest technology companies in the world. Some of these include frustration and anger exuding from Jobs's underlings and fellow co-founder, Steve Wozniak; his refusal to acknowledge his daughter as his own; and, of course, that time the board felt he was no longer needed. According to the official plot synopsis from Universal Pictures and Legendary Pictures, the film is structured around the backstage events behind three product launches, the final one being the unveiling of the iMac in 1998. Better still, the trailer features the same stylized, flashy footage that instantly sold us with the teaser.
Joining Fassbender for this ride are Seth Rogen as Wozniak; Kate Winslet as Joanna Hoffman, one of the original members of the Macintosh team; Jeff Daniels as John Sculley, a tech investor who became the chief executive officer of Apple in 1983, a position he held until 1993; Katherine Waterston as Chrisann Brennan, Jobs's ex-girlfriend; and Michael Stuhlbarg as Andy Hertzfeld, another addition to the original Macintosh development team.
The trials and triumphs of the film itself has been widely reported. The Girl with the Dragon Tattoo helmer David Fincher was originally being eyed for the director's chair, while The Dark Knight himself, Christian Bale, was looking to fill the role of Jobs. But the two were a package deal. Bale ultimately decided he wasn't right for the part, which meant that Fincher would eventually drop out if he wasn't going to have his pick for Jobs. In stepped Boyle, who was coming off of directing Trance and the Bablyon TV miniseries. According to Fassbender, who was furthering his impressive resume of indie roles on top of his duties to X-Men, Boyle approached him with the script. Fassbender was so blown away by the story and the director's vision that he immediately signed up.
And thankfully he did. With the release of this latest and full-length Steve Jobs trailer, we're already sold by Fassbender's performance. The film will hit theaters on October 9.
Your Daily Blend of Entertainment News