The Actual Warner Brothers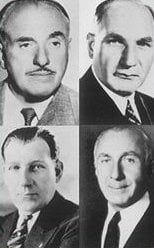 What do you do if you are the granddaughter of a founder of one of the biggest and most famous movie studios in history? Well, you make a documentary called The Brothers Warner about it, that's what. At least, you do that if you are Cass Warner of the family that founded Warner Brothers way back in the day. Cass' grandfather, Henry, and his three brothers Albert, Sam, and Jack formed the forerunner to the movie giant in Pittsburgh in 1904.
Variety says that Cass Warner has joined with co-writer Eddie Schmidt, who produced the documentaries This Film is Not Yet Rated and Twist of Faith, and is currently looking for a distribution deal. The film interviews about 30 people including family members and various actors and producers who worked on major Warner Brothers' projects. They also had access to Warner's achieves and used pictures, letters, diaries, photos, and interviews from the past eighty plus years.
This sounds like something that would go better on PBS with one of those deep voice of God announcers than something I would want to go see in a movie theater. I love documentaries, but there isn't much immediacy to the Warner Brothers story. It doesn't lend itself well to anything but sitting home on a rainy Sunday afternoon, watching four Jewish brothers invent the motion picture industry.
Your Daily Blend of Entertainment News