Adam Sandler Will Be Haunted By Spirits For New Comedy Hello Ghost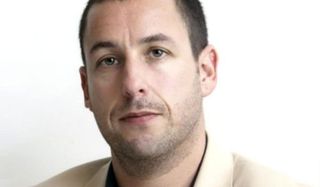 Following a path carved by the likes of Bill Cosby and Eddie Murphy, comedian Adam Sandler is taking his show into the afterlife by working with a supernatural co-star.
The Hollywood Reporter says that the Grown Ups star will team with director Chris Columbus for Hello Ghost, an American remake of a Korean supernatural comedy that will be set up at Universal. The pitch sounds an awful lot like A Christmas Carol, with Sandler set to play a suicidal man who's visited by four ghosts who won't leave him alone until he achieves some form of inner peace. Sandler will star in and produce through his Happy Madison shingle. Columbus will direct from a script by Karen Croner (Admission).
Sandler often gets ripped for taking the safest route possible to box-office success, leading to films like Jack & Jill or his Grown Ups franchise, which will have a second movie in theaters in July. This movie sounds no different, and even though Columbus has made some good movies in the past, I'm not sure this is setting up to be one of his career highlights. At the same time, I'm glad Sandler's working with a filmmaker not named Dennis Dugan. Maybe Columbus can shape Hello Ghost into a watchable comedy … which, given Sandler's last few efforts, would be a step up.
If you love Sandler's humor, you have a lot to look forward to. As mentioned, he has Grown-Ups 2 in the hopper. He's also filming Blended, which will reunite him with his 50 First Dates co-star, Drew Barrymore. Finally, the comedian had talked about getting an ensemble Western off the ground, but committing to Hello Ghost might move that movie to the backburner, for the time being.
Movie junkie. Infatuated with comic-book films. ReelBlend cohost. Resident dad. Extroverted introvert. Wants to see the Snyder Cut. Managing Director at CinemaBlend.
Your Daily Blend of Entertainment News
Thank you for signing up to CinemaBlend. You will receive a verification email shortly.
There was a problem. Please refresh the page and try again.