Adam Sandler Met His Doppelgänger On Reddit, Invited Him To A Movie Premiere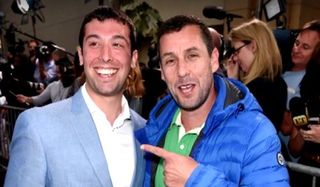 Following after his first Netflix movie The Ridiculous Six, Adam Sandler's next project for the online streaming platform is The Do-Over, which also stars David Spade and Paula Patton. While it remains to be seen how the movie will be received among fans and critics, this new movie has already gained notoriety for a bizarre coincidence. Sandler's character in the movie is named Max Kessler, and not only is there a Max Kessler in real life (probably several, if we're being realistic), but he looks just like Sandler. It's super weird, but see the comparison for yourself.
"
The real Max Kessler went on Reddit to show everyone how he's essentially Adam Sandler's younger doppelgänger, made all the weirder by how Sandler's latest character is named after him. This post soon caught the actor's attention, and he left a comment asking whether Kessler could replicate one of the trademark Sandler facial expressions. Kessler obliged, and satisfied with the result, Sandler invited him to The Do-Over world premiere in another picture.
"
This Reddit encounter happened about a month ago, and last night during the premiere, the two of them finally met in person. You can watch Max Kessler explain the whole experience to Entertainment Tonight in the video below, from when he saw the first The Do-Over trailer to how he was invited to the premiere, before having his first conversation with the comedy star.
Not only do these two look alike, but it also sounds like they got along excellently. Adam Sandler even invited Max Kessler to play basketball with him sometime, so they'll be staying in contact. Seriously though, the phrase "Art imitates life" is frequently applicable to everyday life, but rarely does it represent itself in a way like this. Despite the age difference, maybe Kessler can be brought in as Sandler's stand-in for a future project.
As Adam Sandler's second Netflix movie (of a four-picture deal) and his first action-based comedy, The Do-Over follows two down-on-their-luck guys, Sandler's Max Kessler and David Spade's Charlie McMillian, who decide to get a fresh start by faking their deaths and leading new lives. The problem is that the people they're pretending to be are in "even deeper trouble," thus resulting in hilarious hijinks.
The Do-Over will be released May 27 on Netflix.
Connoisseur of Marvel, DC, Star Wars, John Wick, MonsterVerse and Doctor Who lore. He's aware he looks like Harry Potter and Clark Kent.
Your Daily Blend of Entertainment News
Thank you for signing up to CinemaBlend. You will receive a verification email shortly.
There was a problem. Please refresh the page and try again.