Adam Sandler And Russell Crowe Almost Played The Leads In This Oscar-Nominated Classic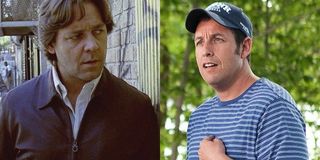 Michael Mann has revealed that his 2004 LA-noir-thriller, Collateral, almost starred the unlikely pairing of Adam Sandler and Russell Crowe.
Stuart Beattie's script went through many different permutations before it was decided that Tom Cruise would play Vincent, the contract killer who takes Jamie Foxx's taxi driver, Max, hostage and then drives him around Los Angeles as he systematically takes out the people he was hired to assassinate. The duo were roundly praised for their subsequent performances, and Foxx was even recognized with an Academy Award for Best Supporting Actor nomination.
According to The Hollywood Reporter, Mann made this revelation as he spoke to students at Loyola Marymount University in Los Angeles earlier this month. After being reminded by his interviewer, "This film started as a script called The Lost Domino, it was developed with Russell Crowe, and Adam Sandler," Mann responded:
Mann admitted that he "didn't like the screenplay" at all when he first read it, especially the dialogue, but he was able to instantly recognize that there was a terrific structure and narrative to it. "It's one of the most beautifully constructed stories I had ever run into," he noted.
Even as Mann considered filming the script, there were different potential line-ups for the leading pair. Russell Crowe had been interested in playing Vincent until constant delays forced him to leave the project, while Adam Sandler was then considered for the cabbie. Beattie even told Dreamworks that he wanted Robert De Niro to play Max as an homage to his portrayal of Travis Bickle. However, they insisted they wanted a younger actor for the role, and sacked the meta-casting idea instantly.
But the celebrated The Last Of The Mohicans, Heat and Ali director still found himself attracted to the film, which led him to rewrite the script himself. Mann then took his altered version over to Tom Cruise, and after the pair briefly flirted with having the Mission Impossible star play the cab driver opposite a female assassin, the filmmaker then came to conclusion that Foxx would be perfect for the role after working with him on Ali.
And what a decision that proved to be. Jamie Foxx and Tom Cruise's dynamic was one of the key reasons for Collateral's success, while Mann's intoxicating, complex portrayal of L.A. showed the metropolis in a seldom-seen light. Despite the film's success, though, am I the only one who would have loved to see what Crowe and Sandler would have brought to the picture? I can only imagine that it would have involved a lot of shouting.
Your Daily Blend of Entertainment News
Thank you for signing up to CinemaBlend. You will receive a verification email shortly.
There was a problem. Please refresh the page and try again.