Adam Scott And Alison Brie Up For Sleeping With Other People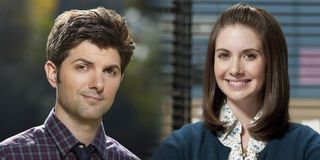 Good news for fans of NBC's Thursday night line-up! Stars from Community and Parks and Recreation could join forces for a new--and likely deliciously twisted--romantic comedy called Sleeping With Other People.
THR reports that Parks and Recreation's Adam Scott and Community's Alison Brie are in negotiations to join writer-director Leslye Headland's second feature, Sleeping With Other People. We first got word of this project in the summer of 2013, when Kirsten Dunst and Jason Sudeikis had been lined up to star.
Penned by Headland, Sleeping With Other People will focus on the friendship that blossoms between a womanizer (Sudeikis) and a serial cheater (Dunst). As you might expect, the ladykiller and the man-eater end up falling for each other, and their bad romance habits become a real obstacle.
Dunst, who fronted Headland's directorial debut Bachelorette, had to drop the project over a scheduling conflict. Should Brie sign on, she'll step into Dunst's vacated role. For now, though Headland, who spoke with THR at a stage production of Bachelorette, said, "The only person that's a definite, in that he's been announced and is on board, is Jason [Sudeikis]." What role Scott is up for is currently unknown.
Headland first turned heads in 2012 with Bachelorette, in which Scott co-starred. Though the film has been unfairly dismissed by some as a Bridesmaids coat-tail rider, it is actually a wickedly funny comedy about bridesmaids gone wild in its own right, featuring hysterical performances from Kirsten Dunst, Isla Fisher and Scott's Party Down co-star Lizzy Caplan. Which is to say, if you haven't yet seen the VOD hit that took in a whopping $5.5 million on demand, you should immediately. Hey, it's available on Netflix Instant right now (opens in new tab), you really have no excuse.
From the red-band trailer of Bachelorette above, you can get a pretty good feel for Headland's fearlessly raunchy brand of humor. She sold us on it once more with the winsome and wild script for the About Last Night remake.
This gives us faith that Sleeping With Other People will overcome its clichéd plotline to become something dementedly fun and surprisingly heartwarming. While I still don't personally get the appeal of Sudeikis as a leading man, the potential additions of Brie and Scott is great news. Scott is a master of sly one-liners, and Brie has been scene stealing and adding verve comedies like The Five-Year Engagement, The Kings of Summer and The LEGO Movie. It's about time she got a lead comedy role she can really sink her teeth into.
As they did with Bachelorette, Will Ferrell and Adam McKay's Gary Sanchez Productions will be tackling Sleeping With Other People. Jessica Elbaum, who is heading up Gary Sanchez's new female-fronted films division Gloria Sanchez, will produce. At this point its unclear when this production is looking to lens. But considering the talent they are going after, it will presumably be in the window where both Community and Parks and Recreation are on break.
Staff writer at CinemaBlend.
Your Daily Blend of Entertainment News
Thank you for signing up to CinemaBlend. You will receive a verification email shortly.
There was a problem. Please refresh the page and try again.