Will Ferrell And Adam McKay Launch Female-Focused Production Company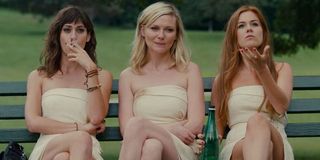 In 2006, funnymen Will Ferrell and Adam McKay got serious about filmmaking by founding the production company Gary Sanchez Productions. Since then, they've launched such hysterical film and television projects as Funny or Die Presents, The Other Guys, Eastbound & Down, Hansel & Gretel: Witch Hunters, and Anchorman 2: The Legend Continues. Now they're announcing a new addition to the Sanchez family.
THR reports that Ferrell, McKay and Chris Henchy are forming a new division called Gloria Sanchez Productions. Headed up by longtime collaborating producer Jessica Elbaum, this branch of Gary Sanchez will focus on developing film and television projects fronted by women. The mission statement of Gloria Sanchez is developing content that will support established comediennes while launching new talent and female voices.
Female-fronted comedy is not something new to Gary Sanchez. The company previously produced the spectacularly funny R-rated comedy Bachelorette, as well as the upcoming Melissa McCarthy vehicle, Tammy, which just dropped its first trailer. Check it out below:
As for Elbaum, she was a former assistant of Ferrell's who worked her way up from associate producer on Step Brothers and Land of the Lost to producer on Bachelorette and Casa de mi Padre, then executive producer on Anchorman 2: The Legend Continues. Speaking of her pitch for Gloria Sanchez, Ferrell and McKay released the following statement:
Devotees of Ferrell might know that Gary Sanchez Productions is said to be named after a Paraguayan entrepreneur/place kicker/financier. Continuing this ruse, Ferrell and McKay insist "Gloria Sanchez Productions" is the name chosen by Gary, who asked to have this new division christened after his favorite step-granddaughter. So keep that under your hats for movie trivia.
It's crazy to think just a couple of years ago there was a great deal of attention put to the incredibly stupid question of "Are women funny?" And now one of the most interesting producers of contemporary comedies is investing an entire division to female-focused fare. Cheers to Ferrell, McKay, Henchy and Elbaum. But let's get serious: social politics aside, this is good business.
Back in 2011, Bridesmaids was a game-changer. An R-rated comedy with only TV stars in its line-up, and female ones at that. It seemed a risk for Universal, but the $32.5 million went onto earn a whopping $288 million worldwide, making it one of producer Judd Apatow's most successful films to date. It out-grossed major R-rated hits like Knocked Up ($219 mil) and The 40-Year-Old Virgin ($177 mil).
Then last summer, Bridesmaids breakout star Melissa McCarthy teamed up with Sandra Bullock for the buddy-cop comedy The Heat. This also proved a major hit, crushing its competition (poor White House Down), and going on to make $229 million worldwide. That makes it the fifth highest domestic grossing action/buddy comedy ever made, coming in behind Men in Black 1-3 and Rush Hour 2. And this kind of success is not specific to comedies. The Jennifer Lawrence adventure The Hunger Games: Catching Fire ended up beating out the mega-hit Iron Man 3 for 2013's highest domestic-grossing picture with $422 million earned in the US to the Marvel movie's $409 mil.
Female-fronted movies are no longer the risk they once were thought to be. Audience both male and female turn out for them. Filmmakers are realizing that great comedy need not be a sausage fest, and women like Amy Poehler, Tina Fey, Sandra Bullock, Melissa McCarthy, and Bachelorette writer-director Leslye Headland are breaking down barriers, but perhaps more importantly, they are giving TV and film audiences something spectacularly funny.
Staff writer at CinemaBlend.
Your Daily Blend of Entertainment News
Thank you for signing up to CinemaBlend. You will receive a verification email shortly.
There was a problem. Please refresh the page and try again.