Jason Sudeikis And Kirsten Dunst Are Sleeping With Other People For Bachelorette's Director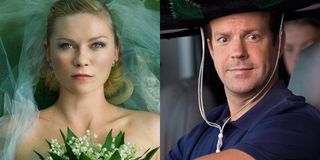 Bachelorette, a pitch black comedy that you should resist comparing to Bridesmaids for reasons we'll discuss later, was a quiet and surprise hit last year, making just $450,000 in theaters but $5.5 million on VOD- that's iTunes rentals, cable on-demand, everything. Starring Isla Fisher, Rebel WIlson, Lizzy Caplan and a magnificently mean Kirsten Dunst, Bachelorette seemed to have the right combination of star power, humor and an alluring title to inspire people to take a gamble on it, a heartwarming success story that gives hope to many, many indie films that are avoiding theaters. And that might include Bachelorette"s writer-director Leslye Headland, who's now finally getting started on her follow-up.
She's made at least one smart move by reuniting with Dunst, who Deadline reports will star opposite Jason Sudeikis in Sleeping With Other People. Headland once again wrote the screenplay and will direct, with Dunst and Sudeikis starring as a pair who spend a lot of time sleeping with a lot of people but then, inconveniently, start to fall for each other. Yes, that sounds like an abominable, way too familiar premise, so tired that even Justin Timberlake has done it. But Headland is a fresh and, more importantly, uncompromisingly dark voice who seems hellbent on reviving the idea of "romantic comedy" and shaping it to her will. If you're going to trust anyone to make this work, trust the woman whose directorial debut included this moment-- and it was actually heartwarming in context:
Dunst, who got a lot of money but not much to actually do in three superhero movies, stepped out of the spotlight for a few years before returning in two roles that seemed to reveal a niche she'd never explored before: the heinous mean girl. Sure, some of that came out in Marie Antoinette, but between Bachelorette and Lars von Trier's bizarre and fascinating Melancholia, Dunst has fully left behind her years of playing dream girls you'd want to have as your girlfriend. And though the description of Sleeping With Other People sounds like it's putting her back in a rom-com, don't fall for it-- Headland can be counted on to bring out the brittle, selfish qualities of someone who refuses to commit, and Dunst has proven several times that she can do terrifying, selfish beauty better than anyone.
The real question in this duo is Sudeikis, who's shown gifts for dark comedy in Horrible Bosses and this summer's surprise hitWe're the Millers, but who has usually been the amiable guy with the nice haircut in the middle of the truly dark stuff. Can he dig deeper and be an even match for Dunst? Based on how fierce she was in Bachelorette, he's got his work cut out for him.
Your Daily Blend of Entertainment News
Staff Writer at CinemaBlend