The Akira Remake Has Hit Yet Another Snag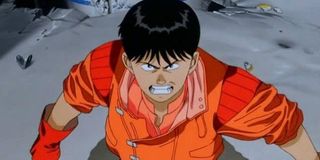 The long touted Akira remake isn't any closer to making it to the big-screen, according to the man who was given the job of doing just that. Director Jaume Collet-Serra previously admitted that he was hard at work on a live-action remake of the beloved 1988 animated epic, saying that despite the fact that budget issues had delayed his progress, there was still hope that the project would make it to the big screen in the near future. In contrast to that prior confidence, however, a new interview with the filmmaker suggests that all hope is currently lost for the film.
Jaume Collet-Serra was talking to Collider about his recent work on Run All Night when he was quizzed about the current status of his Akira remake. After being asked for an update on the film he solemnly replied, "No, no. There's nothing." And then just to crystalize how stalled the project has actually become, Serra confirmed that after working on both Non-Stop and Run All Night back-to-back that he had no plans to focus his attention on Akira for the foreseeable future. In fact, he only has one thing on his mind:
But rather than putting the final nail in Akira's coffin, when he was asked what the future holds for the project he teased, "It's a Warner Bros. question." This to me is a passive aggressive way of saying that the studio has long-been delaying his plans to bring Akira to the big-screen.
The animated Akira - based on the manga of the same name - was set in a dystopian version of Tokyo in 2019. Its lead character was the teenage biker Tetsuo Shima, who has psychic powers and looks to release the imprisoned psychic Akira from his cell. However, Shotaro Kaneda, who is the leader of Tetsuo's bike gang, tries to prevent this from happening, and the film revolves around their conflict. Upon its release, Akira was met with rave reviews thanks to its glorious animation and the hyper-real blood and violence that it depicted. It instantly helped to legitimize the anime genre, while its effect on western films, specifically action movies, can still be seen to this day.
When Warner Bros. purchased the rights to Akira in 2002, a live action remake was thought to be just a few years away. However, even though the likes of Stephen Norrington, Jon Peters, Leonardo DiCaprio, Gary Whitta and Albert Hughes have tried their hands at getting it to the big screen, it just hasn't happened. After Hughes' proposed $180 million budget was dismissed by Warner Bros., Collet-Serra was able to get it down to $90 million. However the studio wanted it to be closer to $65 million. Now it looks as though they may have to start from scratch again.
Your Daily Blend of Entertainment News