Alice Braga Joins Neill Blomkamp's Super-Secret Elysium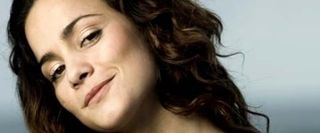 In the summer of 2009 Neill Blomkamp went from being the unknown South African director who almost got to direct Halo to a genuine phenomenon. His debut feature District 9 was an enormous hit that scored 4 Oscar nominations, of course, but it also felt like the future of sci-fi, a low-budget and ridiculously clever take on the alien invasion genre that proved you only need a smart script and a few great ideas to make sci-fi feel new again. Blomkamp has taken his time choosing his next project, but it doesn't seem unreasonable to hope he'll be revolutionizing the genre again with his next project, Elysium, which finally starts shooting this summer.
Blomkamp has been assembling the cast for months now, with Jodie Foster set to play "a head of state on an alien planet", District 9 Sharlto Copley also playing a major role, and the likes of William Fichtner and Wagner Moura also rounding out the cast. Now Deadline reports that Alice Braga has also joined, though given the secretive nature of the story we of course don't know which role she'll play. Braga and Moura are both Brazilian-born actors, which has me wondering if that will play into the plot somehow, but it seems just as plausible that Blomkamp wants a diverse, international cast. Braga is no stranger to sci-fi, having starred in I Am Legend, Repo Men and Predators all since her breakthrough role in City of God, so even though we have no idea what to expect from Elysium, it seems likely Braga will be on comfortable terrain.
Staff Writer at CinemaBlend
Your Daily Blend of Entertainment News
Thank you for signing up to CinemaBlend. You will receive a verification email shortly.
There was a problem. Please refresh the page and try again.