Amanda Bynes Vs Mandy Moore: A Full Analysis Of Who Had The Better Career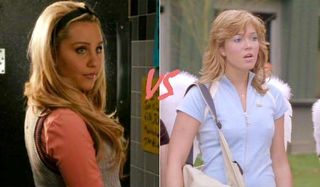 Mandy Moore and Amanda Bynes. Two seemingly different actresses, but when you put their movies side-by-side, well it starts to become abundantly clear that they were in pretty deep competition back in the early 2000s. The two had different character traits in many of their roles, Mandy Moore falling heavier on the disgruntled, sappy teen side, while Amanda Bynes' conquered the comedic, quirky. But they both were in the same game when it came to teen, coming-of-age, romantic-comedies. So naturally we have to wonder, who was better at it?
Both broke into the movie industry around the same time, and though Mandy Moore is still going fairly strong while we lost Amanda Bynes to fashion or something like that, the two actresses prime years ranged from 2000-2010. From The Princess Diaries to Easy A, Mandy Moore and Amanda Bynes still rank high on our guilty pleasure movie list, and we owe it to them to figure out who really had the better career. So here we split the competition into 7 categories, the one with the most wins comes out with the title: Best Overall Career.
Best Breakout
Winner: Mandy Moore, The Princess Diaries
Loser: Amanda Bynes, Big Fat Liar
Both Mandy Moore and Amanda Bynes had substantial careers in their early years. Moore with her music, becoming a pop star at the young age of 15, and Bynes with an early Nickelodeon career on All That and then her own series The Amanda Show. The two child stars headed to the big screen around the same time, and while Bynes had a one-up on Moore with an already professional acting career in TV, Moore comes out on top in the Breakout Role category.
Mandy Moore's role in 2001's The Princess Diaries may be minor, but it sure does stick out. One of the highlights of The Princess Diaries has to be the "Stupid Cupid" beach scene where Mandy Moore and her popular girl posse get on stage for a sassy number. Amanda Bynes' breakout in 2002's Big Fat Liar is not one to be dismissed though. Her role itself may not be quite as memorable as Mandy Moore's but, as the best friend to Frankie Muniz, Bynes' holds her own in a hilarious adventure of trickery and wit.
Best Catty Villain
Winner: Amanda Bynes, Easy A
Loser: Mandy Moore, Saved!
Acting in the teen drama genre, these actresses are no strangers to the catty villain. If we are going by sheer number of catty villain roles, Mandy Moore would take the prize. But even with Princess Diaries to Saved! nothing tops Amanda Bynes super-Christian good girl in Easy A. It's funny that these two villains are paired against each other, since they are pretty similar characters in their good-girl-personas with evil ways. But what makes Amanda Bynes' villain that much better is just how catty she is.
In Easy A Amanda Bynes' Marianne Bryant is borderline insane in how much she hates Emma Stone's Olive Penderghast for 'sleeping around'. While she doesn't do anything as outright evil as Mandy Moore's Hilary Faye in Saved!, her prissiness and catty tendencies are far more annoying. This marks Bynes' final acting role, right before the actress started making headlines for all the wrong reasons. And maybe that's why the role was so perfect, she was already well on her way to the crazy starlet we see her as now.
Best Deception
Winner: Amanda Bynes, She's The Man
Loser: Mandy Moore, Chasing Liberty
Can you even call it a fair competition going up against Amanda Bynes in She's The Man? It is arguably her best movie to date. Not to discredit the adorable Chasing Liberty, but based on who had a better disguise, pretending not to be the president's daughter versus pretending to be a dude to kick ass on a soccer team, the latter wins every time.
Amanda Bynes' character Viola Hastings refuses to let a sexist coach kick her off the boys soccer team after her girls team is cut. So what does she do? Well put on the perfect disguise of course. And alongside Channing Tatum, Amanda Bynes comedy is in full throttle. Everyone remember the tampon in the bloody nose bit, of course. Mandy Moore's Chasing Liberty had two disguises in it, her's and her new boyfriend, but even with more tricksters in the movie, it doesn't come close to She's The Man.
Best Sappy Teen
Winner: Mandy Moore, How To Deal
Loser: Amanda Bynes, What A Girl Wants
There are too many Mandy Moore films that would win this category, but my definite favorite has to be How to Deal. Not only does the plot set up for some ultimate tearjerker moments, but Moore's character Halley is just such a disgruntled, sappy teenager. I seem to recall more than one screaming into the pillow sequence. And on top of that Halley is so anti-love it hurts. How would you feel if your radio personality dad played by Peter Gallagher ran off with a young blonde? But alas, the end she finds what love really means, and yay the sappiness was all worth it!
On the other hand we have Amanda Bynes' Daphne in What A Girl Wants. Now, it's difficult to place Bynes in this category, as her comedy often shines over any dramatic portrayals, but when a girl just wants to find the father she never met, well cue the sappy. On her journey, Daphne has plenty of sappy teen moments, and this coming-of-age story tends to stay more on the drama side of the spectrum than any other Bynes film to date. It still can't top Moore's signature role though.
Best Modern Princess
Winner: Amanda Bynes, Sydney White
Loser: Mandy Moore, Tangled
I'm sure this category is going to catch some flak, considering the sheer popularity that comes along with a Disney film. But if you haven't seen Amanda Bynes in Sydney White just yet, go rent it/download it/whatever the kids do these days, right now. It is wonderful. Bynes' character Sydney is far from your typical Disney princess. She tries, joins her moms preppy sorority, only to find being raised solely by her father means she's not all that fond of the girliness, which apparently translates to being a way better person.
Mandy Moore's Rapunzel in Tangled helped start the trend of more badass, empowered princesses, since her character is the one to ultimately save the day, and her the male protagonist's life. The modern take on the classic Brothers Grimm tale is a breath of fresh air. But Amanda Bynes' Sydney White still takes the cake, as it promotes a message of acceptance and kindness and some quirky comedy to boot.
Best Ridiculous Rom-Com
Winner: Amanda Bynes, Love Wrecked
Loser: Mandy Moore, License To Wed
Critically, both of these films were major flops. License to Wed has a 7% rating on Rotten Tomatoes, and while Love Wrecked only has a bit higher, it still at least has that Amanda Bynes charm to keep it afloat. License to Wed is just absurd. With a cast alongside Mandy Moore such as John Krasinski and Robin Williams, you would expect great things. But the plot was silly at best. The creepy robot babies are at the center of this ridiculous, but while this was Moore's biggest commercial success, you have to wonder, is even a rom-com worth it?
There's a line that is crossed when a rom-com becomes so incredibly implausible and ridiculous, that there's no going back. And while some of those types of rom-coms could easily win this category, Mandy Moore's License to Wed was too weird and creepy to even make fun of. At least with Love Wrecked, Amanda Bynes may play the extreme of a lovestruck teen meeting their pop icon for the first time, but we've all been there. And at least the ridiculousness of her film, Bynes carries you through laughing.
Best Musical Number
Winner: Mandy Moore, "Only Hope", A Walk To Remember
Loser: Amanda Bynes, "Without Love", Hairspray
Mandy Moore gets this category, but not without competition. Though it may be considered cheating considering she's a pop star first, when she sings "Only Hope" in A Walk To Remember it is the by far the best moment of the movie, and arguably one of the best moments of her entire acting career. Tears every time. A Walk To Remember was Mandy Moore's first starring role, and though cliche in many ways, the school play scene when she sings "Only Hope" is unforgettable.
Amanda Bynes' "Without Love" also had its strength though. The girl got chops. By no means does she have the singing skills of Moore, but complete with the performance, Bynes' musical number in 2007's Hairspray was another of the more memorable in her film. And with a more upbeat tempo, Bynes was able to let her comedic facial expressions shine along with the singing.
Best Overall Career:
Winner: Amanda Bynes
To put it nicely, Amanda Bynes is off of our radars now when it comes to acting, but that doesn't mean we should discount her incredibly hilarious career. Mandy Moore has a far more extensive resume, but when all's said and done, more movies don't necessarily make you a more memorable actor. She's The Man, Sydney White, Hairspray, Big Fat Liar, Easy A, What A Girl Wants, and Love Wrecked, Amanda Bynes only had seven feature length films, but each one stands out as uniquely hers. Whether she's trying out a more dramatic role, or reveling in her quirky weird norm, her personality shines through every time, and always feels like a relatable character.
Basically what it comes down to is we want her back. The nice, funny, just a little bit, but not over-the-edge crazy Amanda Bynes that we all fell in love with back in her The Amanda Show days, and got the opportunity to love her a little bit more with each new film. We want the Amanda Bynes that made us laugh till our stomachs hurt in She's the Man, the Amanda Bynes who we cheered for when she stood up for her fellow nerds in Sydney White, and even the Amanda Bynes giving us her best mean girl impression in Easy A. Amanda Bynes, please find your sanity again, we miss you.
Where do you stand on this? Weigh in with our poll on the next page...
This poll is no longer available.
Your Daily Blend of Entertainment News
Thank you for signing up to CinemaBlend. You will receive a verification email shortly.
There was a problem. Please refresh the page and try again.