The Amazing Spider-Man 2 Comic-Con Panel Live Blog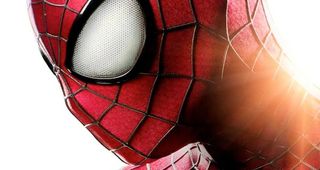 Sony and Screen Gems have blocked off a little over two hours to show us what they have in store. This panel will feature Cloudy with a Chance of Meatballs 2, The Mortal Instruments: City of Bones, RoboCop and The Amazing Spider-Man 2. With so much to sort through, we're dividing this live blog up into parts. This part focuses on The Amazing Spider-Man 2, which is due out next May. Though we know the sequel will have Andrew Garfield and Emma Stone returning to their roles as Peter Parker and Gwen, neither actor is listed as being in attendance for this panel. In fact, the description is a big vague, and there's no mention of any new footage, but with the film's release date so far off, that's not entirely surprising. But we'll be sure to keep you posted on whatever the panel has to offer.
Here's the official description for the panel:
5:35 It's the last segment of the Sony/Screen Gems panel and people are very excited to see what's in store for the Amazing Spider-Man 2 segment. Two side screens were just revealed. The Amazing Spider-Man 2 log appears over a web on the center screen and two side-screens. Marc Webb is brought out, along with Dane DaHaan and Spider-Man himself... but he's not here. They say he's still outside. A video of Comic-Con outside starts playing. Spider-Man drops down. Scales down the side of the Hard Rock hotel, over the railing and to the front of the Hall H entrance. A security person sends him away. Spidey scales the building, lets himself in through a back entrance and the screen goes black. Everyone's waiting. Where is he? Lights are still out. They come back on. Spidey runs onto the stage. He's in full costume. He apologises. Says there was a Chewbacca fight he had to break up. He sits at the table in front of his "Spider-Man" nametag. He still has the mask on.
5:42 - Emma Stone's not here but she has a video. She apologizes and then the video cuts out and to a tease of Electro. It's dark and crazy and we only get to see his face for a second, lit up and glowing. The video ends and Jamie Foxx is here. Spider-Man tells Jamie that he loved Django. Foxx says, "I love the way you die, boy." Spidey's enamored by Jamie. He brings up Any Given Sunday. Foxx starts quoting the movie. Spidey joins him. Moderator asks why Spider-Man chooses to help people for no money. "At the risk of sounding ernest, I just have this overdeveloped sense of responsibility" Spider-Man says. And he doesn't like assholes. Spider-Man says he dreams of having a day off. He just wants to hang out with whoever and then something happens. It could be people dying in a building or a cat up a tree. He doesn't know until he gets there. Spider-Man wants to know who "Andrew" is. He thought Eduardo Saverin played him. He rambles a little bit and then he tells the fans he loves them and then Spider-Man makes his exit.
5:48 - Jamie says it's extremely fun to play the villain. You don't have to color inside the lines. Foxx says they wanted his character to be betrayed by three things, love, his family and his work. When we see Max Dillon, it's his birthday. And even his mom doesn't remember his birthday. We see that he's in a hole, so when he turns into Electro, it makes sense that he has so much venom. He wants to burn the city down and burn Spider-Man along with it.
5:51 - Marc talks about retelling the origin story, but once they finished it, it felt incredibly liberating. At the beginning of this movie, Spider-Man is having fun being Spider-Man. But whenever Spider-Man gets a little cocky, someone like Electro comes around to teach him a lesson or two. Clip!
They just finished shooting about three weeks ago, so this is early days footage. Not all visual effects are done. Storyboards and green screens. Starts with the city. A truck coming down the street. Cops following. Truck plows through barricade. Spider-Man jumping on cop cars. Jumps onto the hood of the truck. Lets himself in. Cut to Peter arguing with his grandmother about doing laundry. Back to the truck. Spiderman flies down and saves someone. It's Max! Max says he's nobody. Spider-Man assures him that he's not a nobody. He's a somebody. Then he webs the trucker to the center of the street. Max watches Spider-Man in awe. He seems awkward and insecure. He wishes he was like Spider-Man. Gwen says she loves Peter Parker more than Spider-Man. Max] climbs into a tube. Gets electrocuted and then falls into a tank full of something swimming. The tank bursts. Next time we see his face, it's glowing under a hood. "You will never be invisible again," Harry (pretty sure) tells him. Max says he wants people to feel what it feels like to live in his world. A world without power. We see him floating and zapping people with his hands. All the lights in Times Square go out and then everything explodes. Spider-Man catches a cop car just before it lands on someone. The video ends and Andrew Garfield's on stage (no costume).
5:57 - Andrew says Peter's life is complicated. Dane says it's amazing to play Harry. Doesn't know what else to say. Giving a modern take on Harry is an awesome thing. Fan question - Andrew says Spider-Man represents everyone, any race or sexual orientation. But - responding to comments he made about Peter Parker being gay - it just wouldn't make sense for Spider-Man to be with a black guy. But part of the beauty of Spider-Man is that he's covered from head to toe. He's a hero, gay, straight, black or white. He's a hero.
6:02 - Andrew is being very nice to each fan that steps up, thanking them for their question. He says he identifies with Peter Parker as a younger brother. He access his older brother and himself playing the two roles. "My older brother is perfect and it irritates the hell out of me," he says. His brother isn't a superhero, but he is a doctor. Superman steps up to ask a question. He gets nervous and someone on the panel (Jamie?) hums the Superman music to pump him up. The fan admits he's in high school, he wants to be an actor and failed chemistry. Andrew says, you want to be an actor, who cares about chemistry?! Serious advice is to find something passionate. "Just chuck yourself into it. And screw chemistry, man."
6:07 - Dane says Harry goes to boarding school and then comes home and has to reconcile his relationship with Peter. Jamie says Max is the first black man to ever have a comb-over. There's a scene in the trailer when Spiderman fixes it for him (when he tells him he's not a nobody). Foxx says Max falls into this almost-worship thing of Spider-Man, so when he turns into Electro... he gets sidetracked translating the word "crib" for us. It's an urban word for home. They move on to another question, but I'm guessing Foxx was getting at Max's obsession with Spider-Man turning dark when he does. But maybe there's more to it than that.
6:11 - Fan demands Carnage from Spider-Man 3. But he is worried there will be too much (like Spider-Man 3) . Webb talks about Electro. He says he's god-like. Touching him is like touching a million third rails. He says Electro is the main villain in the movie. Webb also mentions that Electro can merge with an electric socket somehow. Jamie Foxx says they crafted Max's transformation as rugged and raw. He's not worried about what he has on. He wants to get to this guy and really make him pay.
6:16 - Andrew says he'd like to see Spider-Man with The Avengers. But he's not allowed to say that. (Huge applause to the suggestion though). Andrew says meeting Stan Lee was like being in a room with Mickey Mouse - he's so iconic. He says his tongue went dry and his heart stopped and his stomach wasn't in his stomach anymore. And Lee was charming and self-effacing.
And the panel is over! Thanks for reading!
Kelly joined CinemaBlend as a freelance TV news writer in 2006 and went on to serve as the site's TV Editor before moving over to other roles on the site. At present, she's an Assistant Managing Editor who spends much of her time brainstorming and editing feature content on the site.
Your Daily Blend of Entertainment News
Thank you for signing up to CinemaBlend. You will receive a verification email shortly.
There was a problem. Please refresh the page and try again.