The Amazing Spider-Man Trailer Leaks Online; Meet A Darker Peter Parker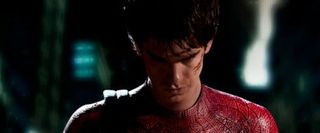 It's coming to theaters with Captain America: The First Avenger this weekend, out as seems to be the trend lately, the first trailer for The Amazing Spider-Man has leaked online a little early. You can watch it embedded below, but don't expect it to stick around too long. It's also definitely not the best version of the trailer, apparently filmed with a phone and dim to the point that you can't tell what's going on in some scenes. When you get to the end and see Spidey climbing the walls of New York City from his point of view, it's pretty clear-- and pretty awesome. Take a look below.
The darker tone seems to be distinctly setting this apart from Raimi's Spider-Man universe, but otherwise this is the same origin story we're pretty familiar with, though with an added emphasis on Peter Parker's parents that may or may not come into play later in the film. It's also nothing like the supposed description that leaked a few weeks ago, so even if you don't watch the trailer above you can stop worrying about that.
The embed above will likely be gone by the time many of you read this article, but discussion about The Amazing Spider-Man can live on in the comments! What do you guys think about the idea of a darker Spidey? They've been setting it up since the release of the first official image, but now it seems to be confirmed. Give us your take in the comments, and keep an eye out for an official version of the trailer online within the next few days-- probably following the movie's big Comic Con panel on Friday.
Your Daily Blend of Entertainment News
Staff Writer at CinemaBlend