American Sniper Is About To Topple An Incredible Record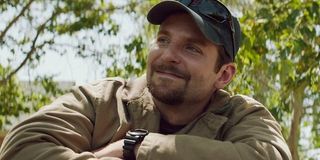 Despite the bevy of headline-making news item, American Sniper continues to display an impressive fortitude on the box-office battlefield. The film is still sitting comfortably despite being in business for over two-months and now seems set to nab a rather huge, yet somewhat head-scratching record. From the looks of things, Sniper is well on track to dethrone The Hunger Games: Mockingjay Part 1 as the top grossing domestic film of 2014. Yes, the 2014 domestic moviegoing crown will soon replace Katniss Everdeen's revolution-inspiring three-finger salute with a more simple in-unison shout of "Oorah!"
As observed in a report from Deadline, American Sniper, estimated at $322.59 million during the mid-week, is currently hot on the heels of displacing the $336.45 million made from the November 21-premiering Mockingjay. With that displacement, Sniper would also nab itself the #30 spot currently held by Mockingjay in the all-time domestic gross charts, nestled just below the $336.53 million from 2007's Spider-Man 3, which it would also soon likely overtake.
While one might think that Sniper would easily be classified as 2015 movie, its early release on Christmas Day actually qualifies it for the 2014 running, seemingly defying everything the business world knows about the concept of "fiscal years." From a certain standpoint, it almost seems like a bizarre technicality, since the Clint Eastwood-directed film only did 7 days of business in 2014, and was widely-released on January 16. Now, it will manage to retroactively take the fiscal crown for 2014, despite the fact that a cited 99.5% of its business was conducted in 2015. American Sniper heads into what will be its 10th weekend at the box office, still showing little signs of fatigue for a two-month old film.
Analysts may argue for ages about the numerous possible causes of the film's staying power. It could be the result of the its ability to resonate with the general popcorn-pounding audiences, or due to the array of controversies that continue to plunge the film into the top of global news cycles, or even its status as a political rallying point for Conservatives who view it as a rare product of Hollywood that reflects their values. Of course, it may have simply tapped the previously ignored silent majority of rabid pro-Bradley Cooper groups.
Regardless of the hypothetical motivations of moviegoers, Sniper continues to be a huge moneymaker. While it does appear that the entry of new weekend releases in the Will Smith vehicle, Focus, and the supernatural horror flick, The Lazarus Effect, will knock Sniper out of the top 5 for the first time since its January 16 wide release debut, the film still seems poised to make enough green to nab its aforementioned status as Domestic Cinematic King of 2014. Plus, it will likely hang firmly enough on the cliff to look down on the dramatic chart descent of the hyped short-term topper, Fifty Shades of Grey.
American Sniper can be seen at theaters now, where it oozes enough wartime family values drama with sharpshooting accuracy for the moviegoers looking for that type of thing, which are apparently a lot.
Your Daily Blend of Entertainment News
Thank you for signing up to CinemaBlend. You will receive a verification email shortly.
There was a problem. Please refresh the page and try again.