Amy Schumer And Bridesmaids' Director Are Joining Forces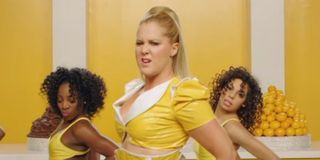 Amy Schumer is basking in the massive success of her Comedy Central series Inside Amy Schumer, she killed it as host of the MTV Movie Awards, and she's set to star in the highly anticipated film Trainwreck, which she also wrote, under the direction of Judd Apatow. So what's next for the comedy giant who has it all? She's joining forces with Paul Feig, the man who brought us Bridesmaids, for even more laughs.
According to The Hollywood Reporter, Schumer has signed on to co-write and star in a currently untitled film that Feig is producing. Both of these figures are big in the female comedy scene, with Feig having worked with such giants of industry like Melissa McCarthy, Sandra Bullock, Rose Byrne, and Kristen Wiig. Now he'll bring his magic touch to this Schumer project and you can practically hear everyone's teeth grinding for more intel.
The film is described as a mother-daughter action comedy. While plot details are being kept under wraps for the most part, it's said to center on a mother and daughter who are trapped in a vacation gone wrong, and is also in the same vein as Feig's The Heat. The original story treatment was written by Katie Dippold, who wrote The Heat and is writing the screenplay for the female-driven Ghostbusters, but Schumer is rewriting with her sister Kim Caramele so the character is more in her voice.
We've been keeping tabs on Schumer for a while now, and it's exciting to see her get the recognition she deserves for her unique, unapologetic, female-centric brand of comedy. Even as she continues to branch out in the big screen realm, her TV career further flourishes. Unlike most of her competitors, Inside Amy Schumer offers sketches that tackle women's issues, including age and body standards, sex, rape, and lots and lots of vagina gags. They also tend to go viral, especially ones like her "Milk Milk Lemonade" video and the Friday Night Lights spoof tackling sexual assault.
Schumer even became the first person to say "pussy" uncensored on Comedy Central, after one of her producers realized how unbalanced the scales were with "dick" fired off at every available opportunity. Being the feminist symbol that she is, it makes sense for her to team with Feig in this way, even if he doesn't end up directing. Though there is a vacant director's seat that needs to be filled. (Hint, hint.)
Schumer makes her feature film debut in Trainwreck, premiering in theaters on July 17.
Your Daily Blend of Entertainment News
Thank you for signing up to CinemaBlend. You will receive a verification email shortly.
There was a problem. Please refresh the page and try again.